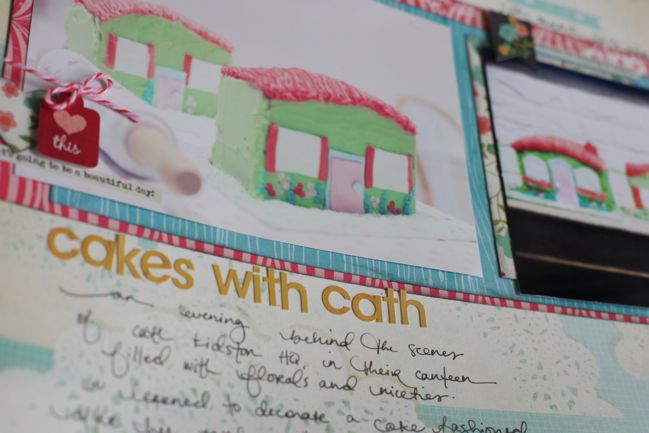 I'll be honest: my scrapbooks as a whole are certainly about the stories. I refer back to my albums as I make each and every page to see how the story unfolds, and that is my long-term love with this craft. But my short term love is patterned paper, and when I find a design I love, I don't always want to cover it with other page elements. I fall back to a handful of designs that work as some sort of compromise between those two points – room to tell a story, but also a place to include much of a pretty paper design.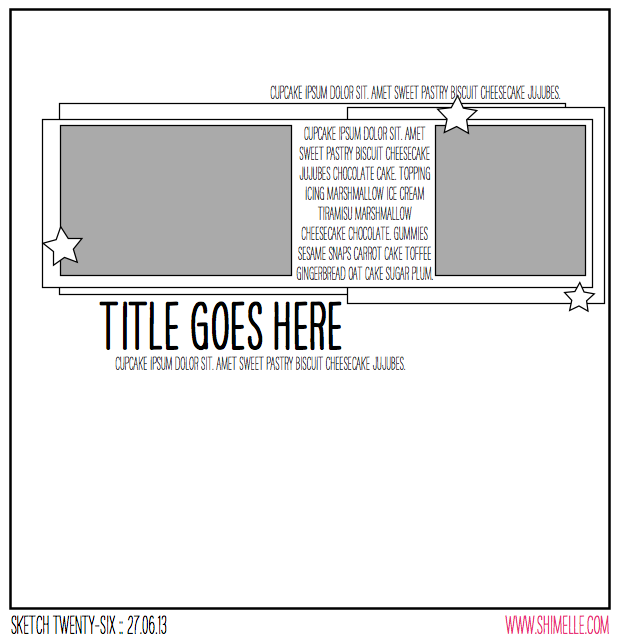 This sketch is another intended to mix a rectangle and square photo, but this time at 4×6 and 4×4, so it could work well for two photos that both started at 4×6 and one just looked better cropped to a square. This design also works perfectly for patterned papers you don't really want to cover entirely, as there is plenty of open space to let a pretty pattern appear without interfering with your photos.

The supplies for this page come from the June Best of Both Worlds kit, and I'm still a little amazed at how much I like this title with just small, flat letter stickers and not Thickers. My love for Thickers has not gone away, but given the challenge, I like how this title is a bit more delicate and understated, though not in any way script or fancy.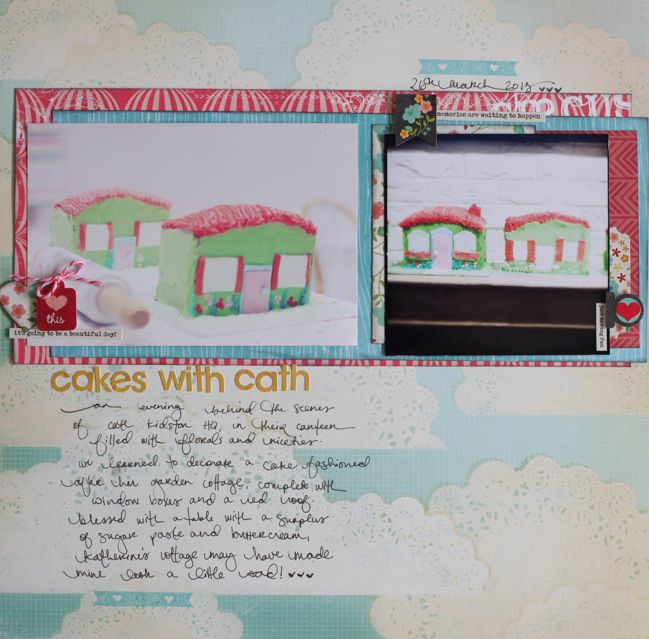 And yes, this page is about making cottage-inspired cakes at Cath Kidston headquarters! Workshops are something new at Cath Kidston, and something tells me this was a bit of a research and rehearsal opportunity for their upcoming flagship store on Regent Street, reported to include a classroom space. I'm saving my pennies now, because I'm not sure how often I'll be able to say no to crafting and baking workshops in the land of pretty fabric and flowers.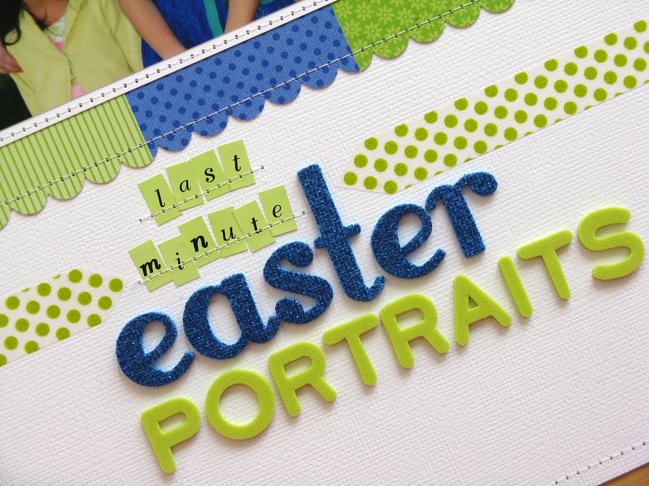 Please welcome Mendi Yoshikawa as today's guest. Mendi has some great ideas for adapting a sketch to work with your photos when they don't fit the design exactly, and she was able to make that journaling-between-the-photos element work too.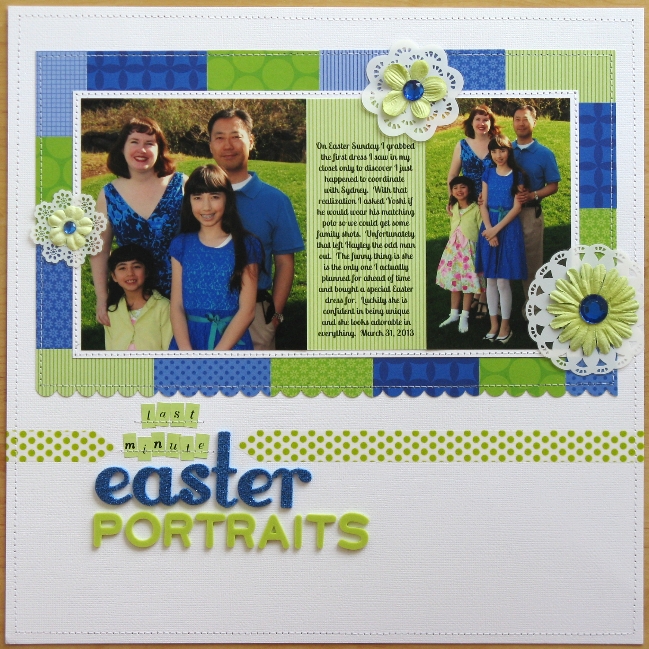 As soon as I saw this great sketch I immediately thought of some recent family photos my family had taken this past Easter. Unfortunately when pulling them out I realized unlike the sketch my photos were vertical and square. With a little creativity I was able to alter the design to fit my needs by enlarging my square photo and making my vertical photo the same height. In the sketch the mats which framed the photos in varying sizes inspired me to cut small strips of Doodlebug papers in a fresh blue and green color scheme to compliment my photos. In my planning I had originally planned for this to be a border made up of washi tape, but in the end my tapes weren't quite the right hue and I went in a different direction. To add a bit of frill and softness to my intense color palette I decided to cut some doilies from KI Memories Doily Transparency sheet using them in place of the stars in the sketch to form my visual triangle. For my title, it somehow felt like it was floating out there all alone so in an effort to ground it I created a washi tape border cut into pointed arrow tips to tie it all together. To complete my layout I stitched a simple white on white border around the perimeter of my page for a small subtle finishing touch.
| | |
| --- | --- |
| Mendi Yoshikawa lives in Washington state with her husband and two girls. She has a passion for using sketches, loves linear designs and brightly colored tone-on-tone patterned papers, and has a self-described addiction to her sewing machine. You can find her at her blog , pinterest , and see more of her work at her online gallery at Two Peas In A Bucket. | |

Read more about: best-of-both-worlds-kit sketch-of-the-week
14 July 2013

Next post: Sketch to Scrapbook Page :: Starting with mist
Previous post: Sketch to Scrapbook Page :: Scrapbooking with a title on the photo