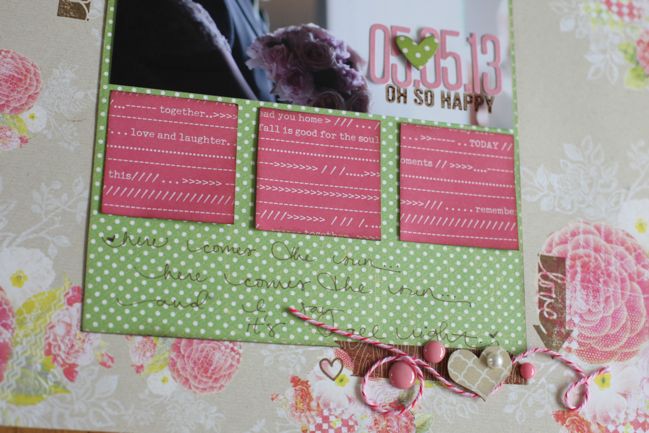 Since making the transition into sharing most of my pages through video, I've found I get feedback on things in a slightly different way, since it's easier to see what I was thinking when I made a decision to add this here or that there. Maybe before it was more likely to look at something unexpected on a page and just say What was she thinking? but now it's all there, readily explained! One thing I didn't realise was just how many scrappers squirm at the idea of putting anything on top of a photo. On my own pages, it's been rare for me to not have some element of the page overlap a photo somewhere in the design. Sometimes more, sometimes less, but it's always a stylistic choice of how to connect the different parts of the page and have less separation between paper and pictures. I like the flow of one to the other, without a straight line of division between the two. I understand the idea of wanting the entire photo on show and I wouldn't start sticking pop dots on top of a one-of-a-kind photo from a hundred years ago, but maybe digital photos have just made me brave! But with this next sketch, I decided it was time to just embrace the over-the-photo idea in a pretty direct way.

This sketch is another that can be used with a mix of square and rectangular photos – so the square photos are from my phone and the 4×6 photo is from my standard camera. The squares below the photo are shown as patterned paper, but if you had additional square photos, you could add them here. Likewise, this sketch could be followed directly with just the one photo in the centre and all the boxes from paper.

The supplies for this page are mostly from the June Best of Both Worlds product picks. If you haven't seen other pages from this album, Glitter Girl's Wedding Album Answers episode covers the set-up for this book, including picking the colour scheme and supplies.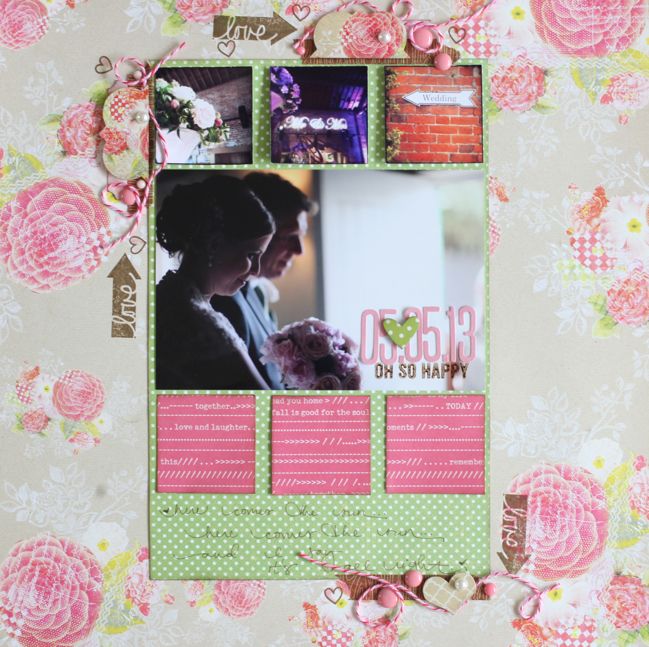 One thing I think I would do with this sketch in a second interpretation is to dress up those three squares of patterned paper. Perhaps keeping the embellishment around the edges simpler, this would be a great place to stack up layers of punches and labels or add something dressy like flowers, but with the smaller details and textures included in those three areas of embellishment around the edge, I felt extra embellishment on the squares would just be too much, especially for the feel of this particular album. But I do like the lettering right on top of the photo, and pictures that have space for that like this image work really well. I can also imagine placing the title in the centre of a 4×6 photo of a beautiful sky, surrounded by six square snaps from a hike perhaps. What type of image would you be happy to use as a base for the title?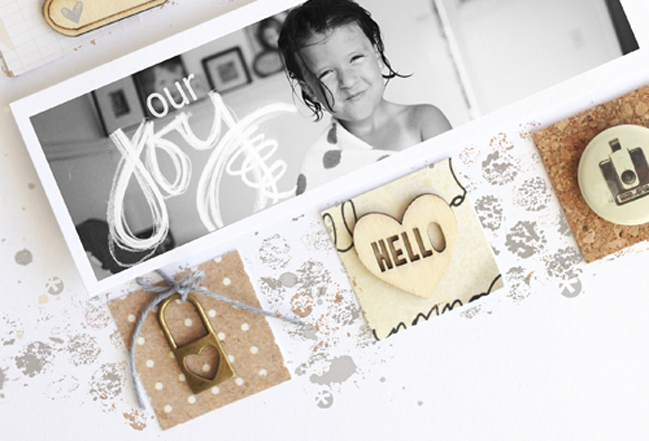 Please welcome Shanna Noel as today's guest artist. I love how she added an unexpected twist to this sketch, and the more varied embellishment she included has such lovely detail.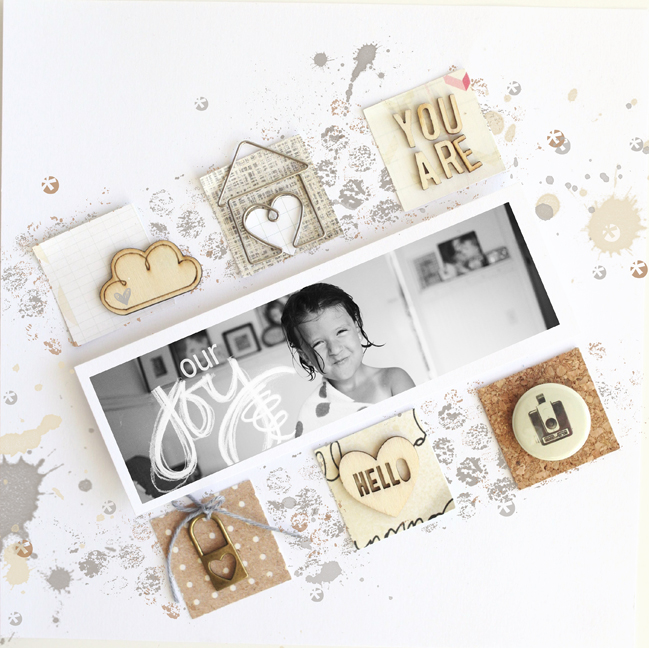 I have a difficult time working in graph designs and always look forward to pushing myself to work 'outside the box' and work in ways that I wouldn't naturally. Many of you might feel very comfortable working in graph designs and if that is the case I challenge you to find a way to mix it up a bit to work outside your box! To get started, I got out my square punch and punched six squares from random papers in my stash. I found myself going for some browns and greys and decided to continue that theme throughout the layout. From there I laid the squares on my layout and decided on my photo size from there. I work mostly with 8 × 8 pages and chose a long and lean photo space. Gathering some of my favorite products from around the room, I paid attention to texture and weight of my elements I was adding, making sure to keep it all as balanced as needed. I like that the alpha, cloud, and heart are all wood and form a triangle on the page. I then added some metal with the locket and metal paper clip, and I finished off that triangle with a piece of flair. At this point I decided that straight on design was just not cutting it for me and this layout, so I decided to put it all on an angle. Now that I had the bones of my layout, I wanted to add some mess to it! I made the base of my layout in Photoshop using some elements from CD Muckosky and Amy Martin to match the colors I had already put together. I love how paper and digital elements come together in such a customizable way! I can't wait to see what you all do with the sketch.
| | |
| --- | --- |
| Shanna Noel lives in Northern California with her high school sweetheart and husband of 14 years. They are loving having a house full of laughter that includes their two children Jaden (11) and Addison (6). She discovered digital scrapbooking when she was pregnant with Addison and just loved capturing her families memories in such a creative way. In June 2011 she ordered her first paper kit, and never looked back! You can now find her work in the gallery at Studio Calico as well as a peek into her daily life on her blog and instagram. | |

Read more about: best-of-both-worlds-kit sketch-of-the-week
14 July 2013

Next post: Sketch to Scrapbook Page :: Scrapbooking with a favourite patterned paper
Previous post: Sketch to Scrapbook Page :: Scrapbooking with 4x6 and square photos