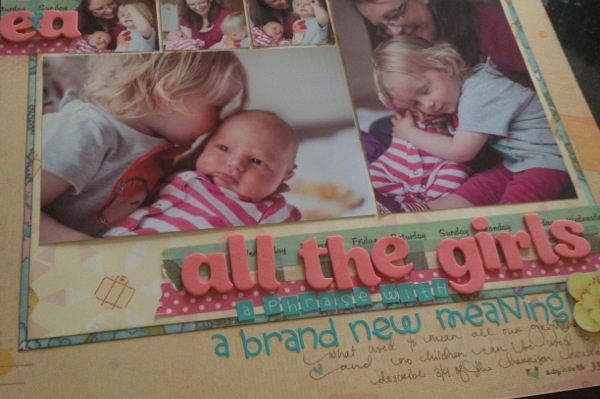 Does your calendar tell you today is called Sunday? This week it's wrong: today is called Sketchday! All day today I'll be sharing new scrapbooking sketches, pages, and videos right here. I hope you enjoy!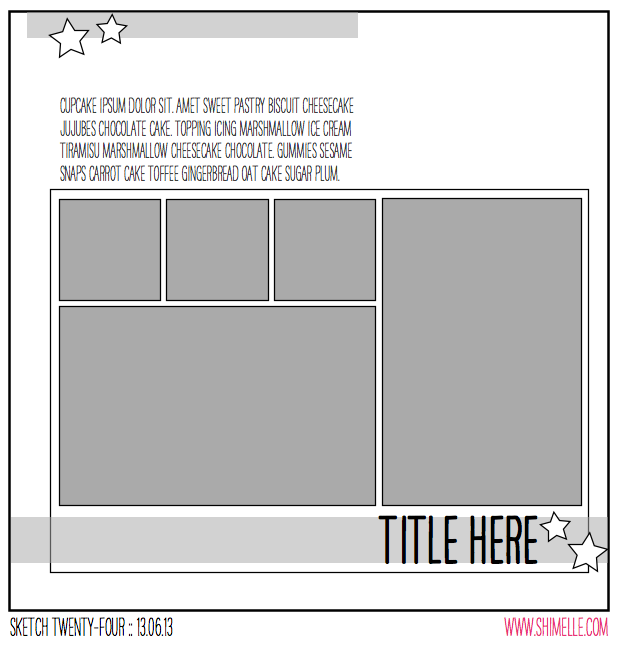 Several of these sketches include ways to mix square and 4×6 photos on the same layout, perfect if you find you have photos on your phone and your 'proper' camera from the same event. Of course you can really crop photos from any camera to any size you want, but I know my photos often fall into those two categories – rectangles from my camera, squares from my phone. I'd like to use them together more often.

For this page, I used a couple sheets of older Sassafras papers and some current Cosmo Cricket papers, plus Doodlebug letter stickers, Junebug Thickers, Amy Tangerine stamps, and tapes from October Afternoon, Glitz, and Freckled Fawn. (Not to worry if you're looking for pages with Best of Both Worlds supplies – there are those coming up today too.)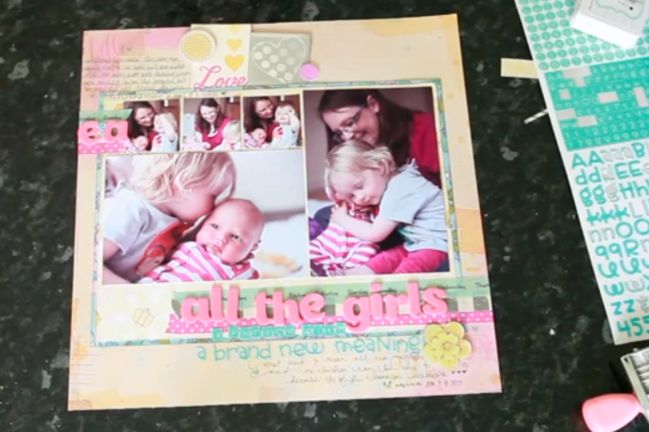 On choosing supplies for this page, I found I have really started to associate a few paper collections with specific people, and this is one of those cases. Several pages featuring this particular friend and her family feature Sassafras papers, and the more I looked at different papers, the more Sassafras just felt like it was right for continuing that story! (It may be influenced by the fact that the friend in the photos also scrapbooks and is a Sassafras fan.) Do you have any paper collections that you connect with the people in your photos? I'm thinking I have a few more of these connections, but as I hadn't really thoguht about it before this page, I'm not sure to what extent I'll find this in my books. I'll be sure to report back with empirical evidence, obviously!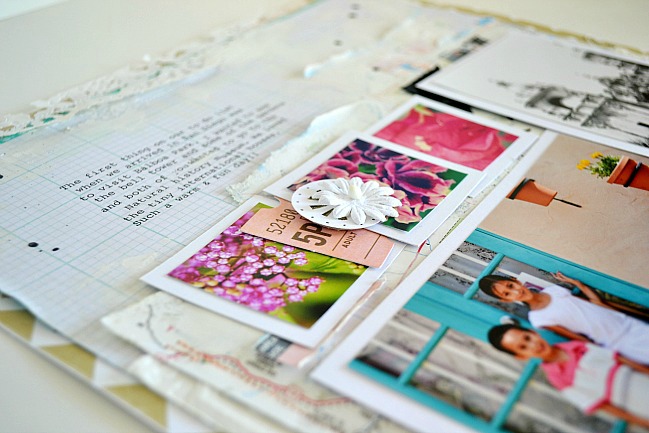 I'm delighted to welcome our guest artist Tara Anderson to share the beautiful page she created with this sketch. I may have given her something out of her comfort zone on purpose: I wanted to find out what happened when an artist known for beautiful layers and soft edges went to work with a sketch as boxy and linear as this. I love what she created, and I hope it inspires you too.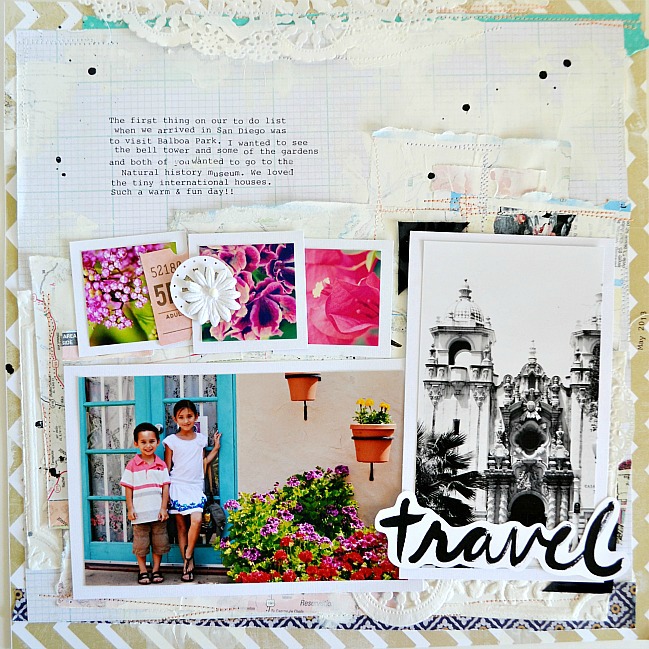 I'll admit that initially upon seeing this sketch, the straight lines were completely intimidating for me. I've always viewed straight lines as too formal for me. So, after a bit of playing with the arrangement of the photos, I found that by slightly off centering them, it gave my layout a more casual and collage type feel – which I really loved! It was one of those "a-ha" moments, and then the sketch became totally do-able and a lot of fun to quickly pull together. Since this page was about traveling, I really wanted to somehow include map pages but quickly realized that the bright map colors were too distracting, so I chose to tone them down by 'white-washing' them with a little gesso. I also created a visual triangle, although it's quite subtle, using pieces of a paper doily. You'll notice that all of my accent papers were light and or white. This way I was able to layer many papers together and still keep the focus on the five vacation photos I used!
| | |
| --- | --- |
| Tara Anderson resides in Arizona with her family. She has been a designer and challenge coordinator for various manufacturer design teams, and contributed to scrapbook publications from around the globe but is more widely known for her colour combinations. Tara's scrapbooking style is full of mixed media, combining a love of vintage paper products with traditional scrapbook products and a few art supplies to create a layered, eclectic style. She loves spending time in the classroom during the school year tutoring math and summers spent traveling with her kids, taking photos with an antique Anscoflex camera and creating new memories. You can find her blog here & make your way around her Etsy shop here. | |

Read more about: sketch-of-the-week scrapbooking-videos
14 July 2013

Next post: Sketch to Scrapbook Page :: Scrapbooking with a title on the photo
Previous post: Making the Most of Phrase Card Booklets:: A Scrapbook Tutorial by Becky Williams