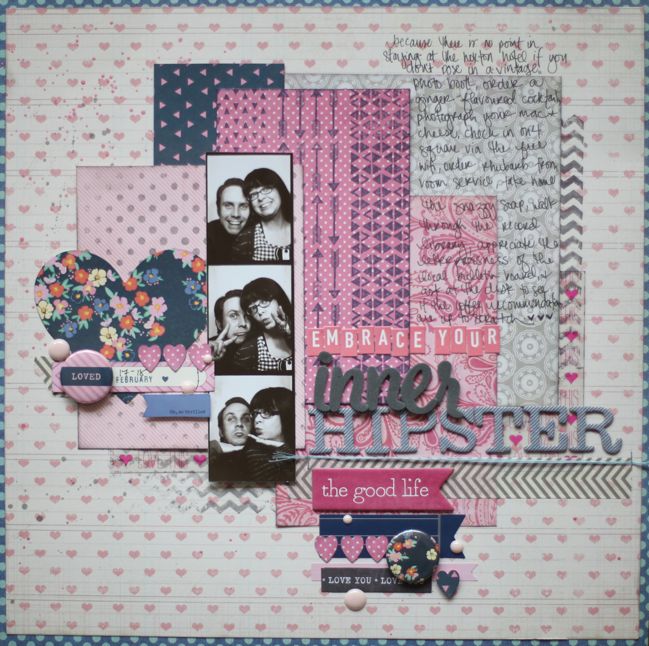 And it's officially here: a very happy NSD to you! That's National Scrapbooking Day, of course. Of which nation is completely up to you at this point! I'm celebrating on this time zone, so it's officially the 4th of May and that means all systems go – and that will be the way right through to the end of the day! There are plenty of challenges and guest artists to share their ideas with you, and the challenges are open until the end of next weekend so you have more time to participate than just NSD itself. A prize winner will be drawn from the participants on each challenge, so by enjoying some crafting in honour of NSD, you might find yourself with a gift certificate to go shopping, a class pass, or a box of scrapping goodies on your doorstep. Sound fair enough?
There are a range of challenges to take us through the day, and they are designed so they can be followed in one of two ways: if you are so inspired, you can pick and choose from each challenge and create one page per challenge for as many challenges as you like, or you can follow them in order, with four challenges per layout. The challenges follow an order that takes you through supplies, design, technique, and theme, so you can take the first four challenges and put them together to get a complete page, then start on the second four challenges for layout two and so on. I hope that provides a happy medium of creative freedom or practical structure, whichever suits your crafting personality!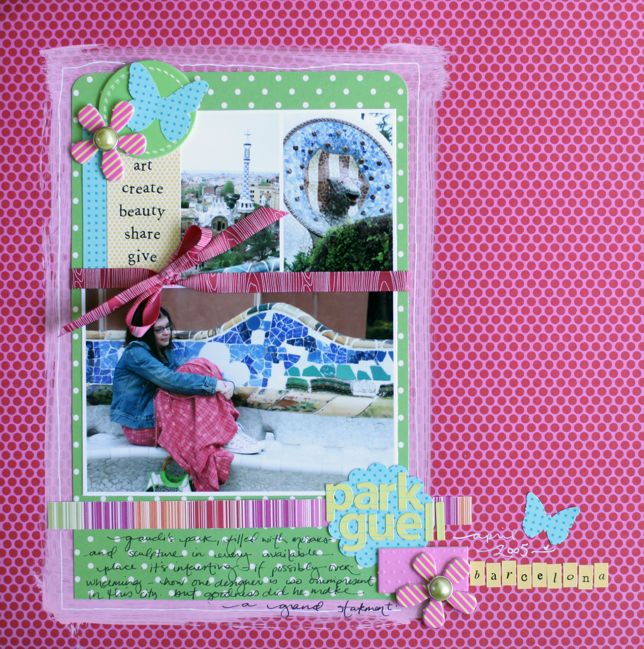 I don't think it's a secret that I like to scrapbook with pink. I haven't exactly tried to hide this fact, and I'm more than a little aware that some scrapbookers would like to hurl a tomato at Glitter Girl with a shout of 'enough with the pink and turquoise!' but pink still inspires me to create. As such, it appears on plenty of pages! I wanted to start us off with something relatively simple, so here we go – pretty in pink!

In truth, there are plenty of videos I could have chosen for this pink theme, but just one with hot pink right there in the title! Brightly coloured Cosmo Cricket from their Upcycle collection. I've realised in putting my papers away that I still have a few sheets of that… perhaps it needs to come out and get put to use in something very pink indeed!
And now for our guest artist, Louise Fortune! She may have found pink a somewhat greater challenge.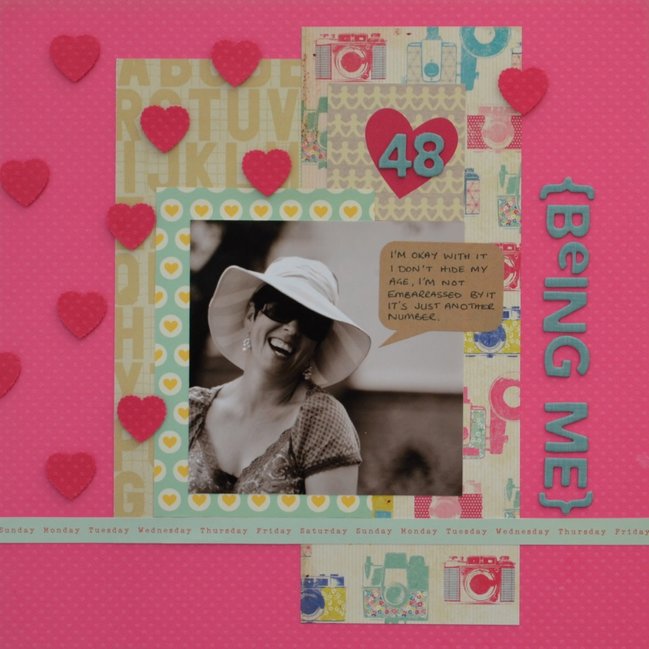 The dictionary definition of a challenge is 'a task or situation that tests someone's abilities'. It is also an invitation to work outside of your comfort zone. so when that is related to scrapbooking that could be using a supply, a style or a subject matter that you would never normally use, exactly why I opted for the 'using pink supplies' as my Shimelle NSD challenge. I am not a girly girl and since my entire household is male (including the dog) I very rarely use pink in any of my projects, I can in fact be heard to groan, very loudly, when my scrapbook kits arrive and they are pink and/or floral. My scrapbooking style is very simple, usually quite graphic and type orientated and I usually use more than one photo and I normally put a design together and then leave it unstuck on my desk, for several days, coming back and looking at it, a lot, before I commit to sticking everything down and calling it done.
This layout was done in 90 minutes. I began with the photo, converting it to black and white to eliminate any colour clashes, then I picked the cardstock and papers, straight in there with the bright pink swiss dot card, next the papers. With no time to faff I opted to cut all three of my paper choices down to four inch strips, enough to play with, not too much to be overwhelmed by. These were placed more or less centrally. Next letter stickers, I was limited in choice here as I tend to cut most of mine on my cricut, luckly I had some that were the right co-ordinating colour and size. Got to have the title going sideways, a quirk of mine. finally embellishments always used sparingly, I don't do fussy, I chose a kraft sticky speech bubble, great place for my token gesture journalling, the manufactures strip from my patterned paper (thank you manufacturers for making these usable) adds another typographic element. some punched out cardstock hearts, in a darker pink (more pink !) randomly placed, something else I don't normally do. Ta Da its done in record time without compromise!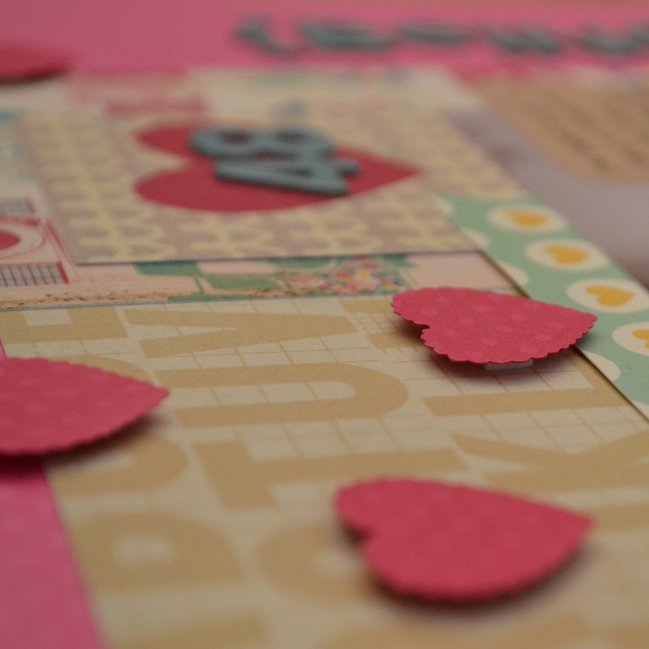 About the Artist
Louise has been familiar with scrapbooking as a hobby since 1996; when she was introduced to it by a friend in the states and has been scrapping seriously since 2004. She is a work-from-home-mum who puts her "drawing and colouring-in degree" to good use designing simple graphic printables. She regularly designs cards for Papercraft Inspirations and has been published in Scrapbook Inspirations. She was a member of the scrapagogo design team and also designed the bespoke GoGo kit hybrids and stamps. Louise also has a blog where she shares some of her freebie printables.When she isn't scrapping, taking photos, designing or eating chocolate, Louise can be found working in an admin capacity for an association of private school doctors.
Your first challenge is to scrap in pink! Entries close at the end of next Sunday, the 12th of May. Please check back on the 14th of May to see if you have won a prize.




Read more about: inspiration-party
03 May 2013

Next post: Scrapbooking with 4x6 photos
Previous post: 5 Ways to Finish Raw Chipboard by Michelle Hernandez