Those of you who subscribe over on YouTube got an earlier glimpse of three Sketch to Scrapbook Page videos this week. I'm almost caught up to the dates on the sketches, and when I really do reach that point I may dance around my studio in joy! But now it's far time for me to get these sketches on the blog so you can see not just the videos, but also the sketches, pages, and unique interpretations by the sketch guests. First up is a two photo layout to document a recent weekend away with friends.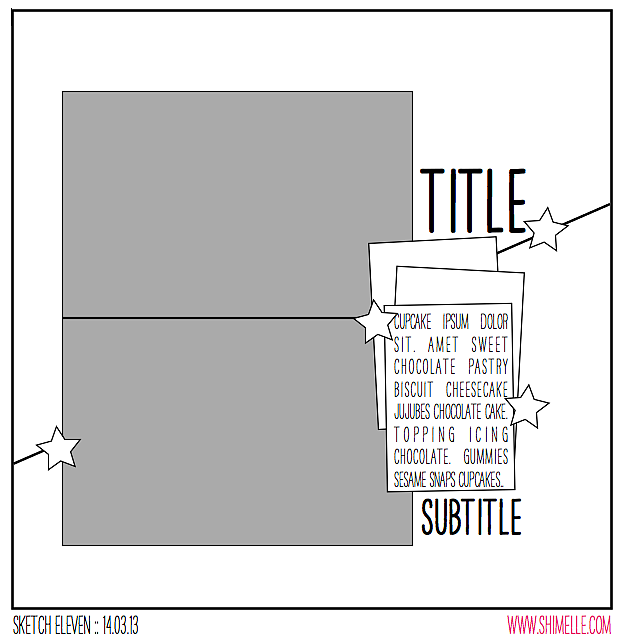 This sketch is designed for my favourite combination of photos – two standard 4×6 prints in the same direction. This time, that's landscape. Then two patterned papers to make up the background, with one cut on the diagonal to add a quick and easy twist on a really simple page design. I just cut the diagonal with my paper trimmer, angling the paper on its side instead of lining up all tidy like normal. I'm sure there's some amazing way you can measure this and work it out if there is an exact angle you want to achieve across your page, but I was just going for an angled line and didn't need to be precise about that.

Most of the supplies here are from my March Best of Both Worlds product picks, but I added in the woodgrain arrow paper and some red patterned paper for the photo mat.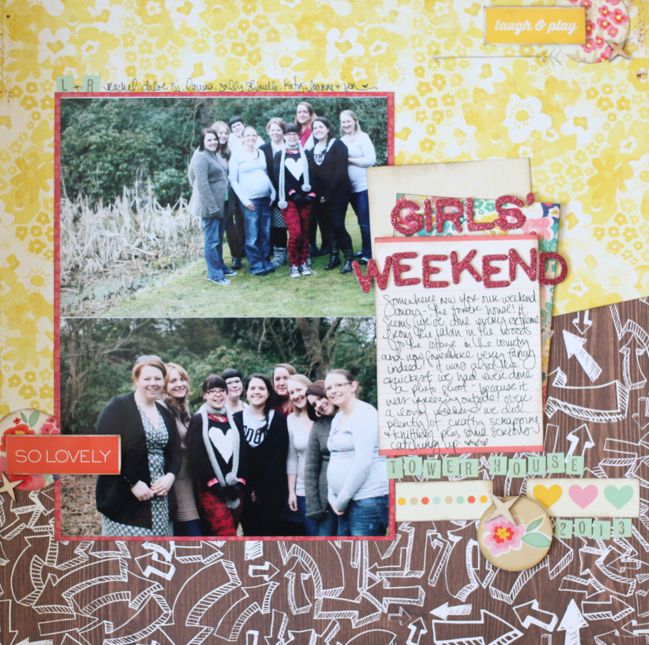 These photos were actually taken at the beginning of March, but it was freezing and definitely felt like the middle of winter. We always have a group photo session when we go away for a weekend now and then, but this one was finished in record time because we couldn't wait to get back inside to the warm. They will forever make me laugh because I was so cold, I didn't bother to tie my shoes for wasting time once the door was open. I love these getaways with such lovely and creative girls I'm so lucky to call friends, and I tend to scrap most of the photos we take on our little escapes – so you'll see a page soon that goes opposite this one in my 2013 album.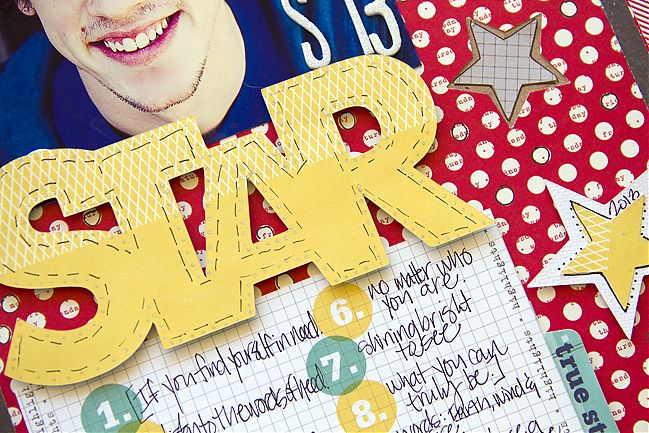 Today's guest, Leslie Ashe, has a different twist on this sketch, having taken her inspiration from different parts of the design that what I first noticed. If the diagonal line isn't your thing or you don't want to use two landscape photos, check out how Leslie took her inspiration from the two stacked elements on the left and the stars as embellishments.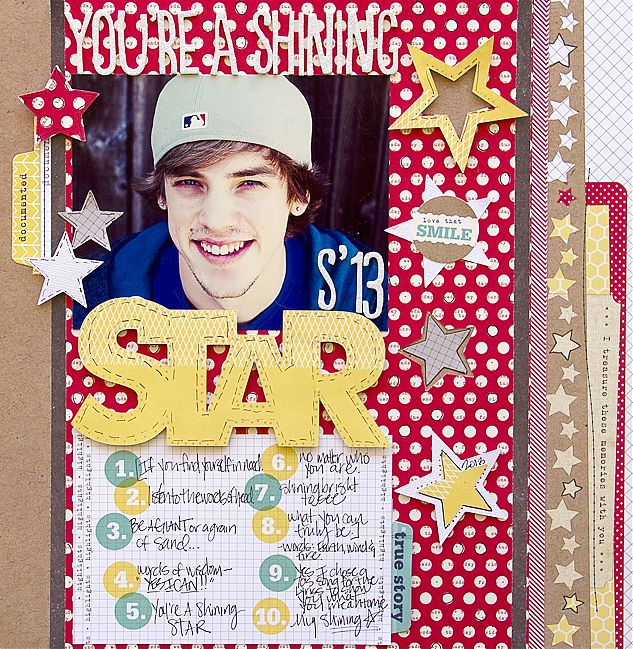 This sketch was so fun! It let me be creative in my own way, with keeping with some of the details of the sketch itself. I decided to stay with the rectangle shape by using a 4×6 photo and a journaling card. I wanted to separate the two, so I cut a title with my Silhouette Cameo and placed as a border. I used that as my main title and my subtitle is my note card with numbers and journaling. I love stars so of course I had to use them on this layout about my sweet son! I was inspired by the Elle's Studio paper and tags (from the Day To Day collection) I used and built my layout from there. Punching several stars to embellish my title really made my project stand out and draw you to my subject.

| | |
| --- | --- |
| Leslie Ashe is a born & bred Texan girl who loves to create memories with her family & put them on paper to remember always. She began scrapbooking over sixteen years ago after going to a craft party with friends. She's blessed to have work published in Scrapbook Trends, Cards, Simply Handmade, Create: Idea Books, and Creating Keepsakes magazines. She designs for American Crafts, Pink Paislee, Lily Bee Design, Prima and Noel Mignon Kit Club. You can see more of her work on her blog, or follow her on Twitter, Facebook, Pinterest or Instagram. | |
And now it's your turn! Create a page in your style with this sketch, post it online, and share it with us. You can upload to your blog or to a scrapbooking gallery like Two Peas or UKScrappers, then just follow the steps to link to your project wherever it can be found online!

Read more about: sketch-of-the-week best-of-both-worlds-kit
06 April 2013

Next post: Sketch to Scrapbook Page :: Scrapbooking with both square and standard photos
Previous post: Five Ways to Make Your Own Lettering by Kirsty Neale