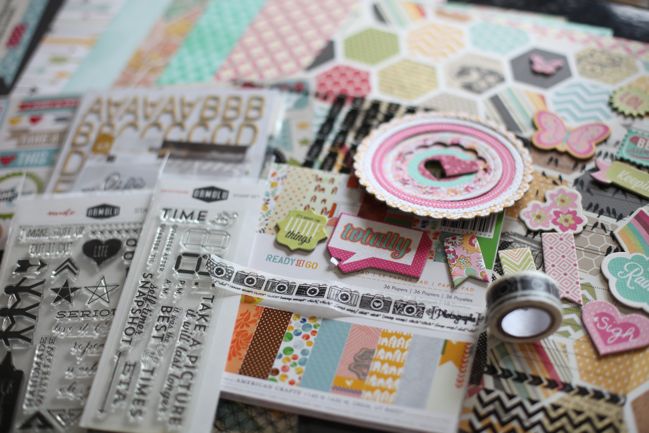 It may be the first of April, but I promise I have no April fools planned here! It's still a holiday here today and I'm looking forward to a day of mostly scrapping! My studio is almost all back in place, and taking all my supplies off the shelves, into boxes, and back onto the shelves again has made it so tempting to just give up on the unpacking and scrap away for hours and hours.
One thing I'm very much looking forward to diving into is the new box of goodies set aside for April's Best of Both Worlds collection. The April selections are now available to add to your shopping cart, and you can find them right here. Of course there are a few things I hope you'll keep in mind, as each month's product picks have a slightly different train of thought behind them!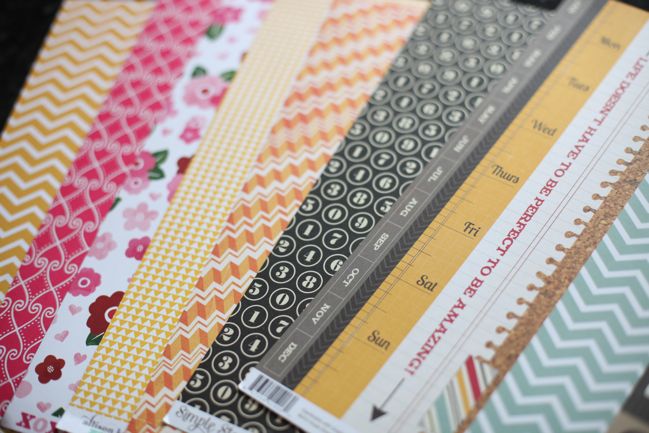 A look at the b-sides of the patterned papers.
This month I've included a 6×6 paper pad and just a couple fewer 12×12 papers (there are still seven 12×12 sheets plus a 12×12 transparency). The 6×6 paper pad is on sale at a great price, and it's a collection of papers I have really loved using. Throughout the next month's projects, I'll be including different tips for using 6×6 papers on 12×12 pages, plus a few thing along the way will highlight other useful spots for 6×6 papers too. If you're already a 6×6 fan, you might already have that tablet in your collection; if you haven't yet ventured to 6×6, this is a great way to give it a try at very little cost, and I know this particular one is very versatile and will mix and match easily with lots of other supplies.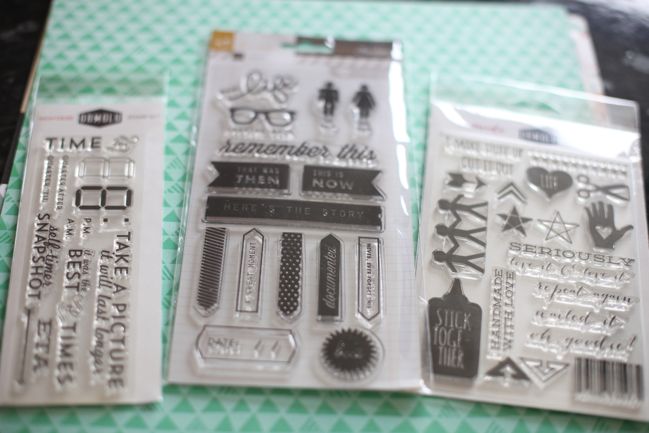 You'll also notice there are three sets of stamps on the list this month. I don't expect you to order all three (unless you are a total stamp fiend, and then by all means go ahead), but much like the letter stickers last month, I've included three different designs so you can pick something that is most likely to fit the type of pages you do. One has a very general theme, one is more specific to daily routines or everyday documentation, another is quite quirky with a crafty vibe. They are three different prices so you can also look at what best fits your budget – they range from $7.99 to $14.99. Of course, if you prefer not to stamp at all, you can omit the stamps from the kit and take the price point down straight away.
Click here to shop for the April Best of Both Worlds scrapbooking kit.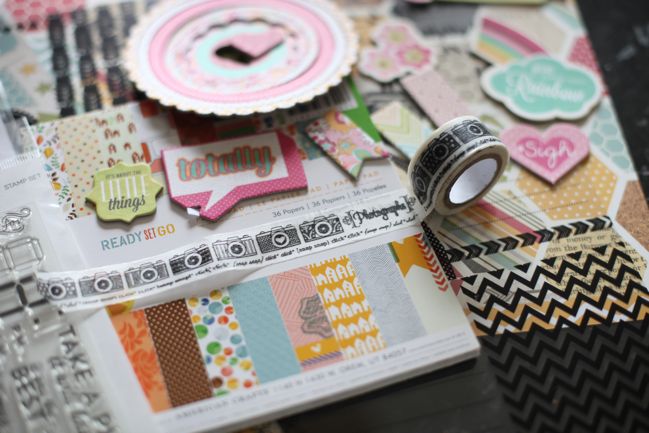 One of the embellishment choices this month is a great pack of printed chipboard shapes. I've chosen the more girly colour option, though there are only a couple pieces that are really specific to little girls (there is a pink crown that says 'princess', for example, but there are also lots of butterflies, circles, and flowers). If you have a household of boys and don't do any pink scrapping at all, it still may be too much. There is a boy equivalent of this same pack here, but it's currently sold out. I would suggest this die-cut pack instead, but please note that's not chipboard so they will be flat embellishments (that's fine – pop dots are your friend), and I don't have that one in my own stash so I won't be showing examples that use that pack specifically.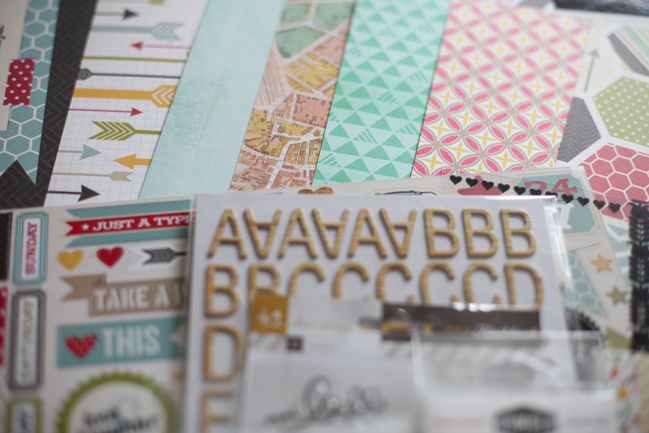 For lettering this month, I have only added one option to the list – a set of woodgrain Thickers. It's actually not the set in this picture, I'm afraid. The set in the picture is the Goodness font in woodgrain, but that's sold out at the moment. I'll actually be using the set that is in the list – the darker woodgrain alphabet in the Patchwork font. It's just that those are newer and my set is still on its way! I think either would work fine, so if you have one of the two sets already, you're all set. But I think the darker woodgrain will be easier to read on the patterned papers. The Thickers are often the first things to sell out from the list, so if that happens quickly, I will come back to this post and add some suggestions for others that would work too. But I just wanted to point out that I didn't add the usual set of smaller letters too. Right now, I have a big stash of all sorts of half-used sheets of small letter stickers, and I'm thinking that maybe quite a few of us are in the same boat. So this month rather than add yet another sheet, I'm challenging myself – and you! – to use those sheets that are stacking up in our own collections. If you don't fit that description in the slightest, choose a lovely new sheet of a small alphabet you will use and consider yourself a pillar of virtue when it comes to getting the most from your scrapbooking purchases!
If you're new to the Best of Both Worlds idea, the basic premise is that it has the convenience of a scrapbooking kit, but without the subscription concept – so you can jump in on the months you like and sit out when you know your scrapping time or budget is limited or you're just not convinced the selections are your style. Plus you can make customisations – so if I've selected an item you already have, you don't need to pay for that duplicate as you can just pull it from your existing stash. Likewise, you can add more of something if you know it will suit your style best that way – add two of a patterned paper if you like double page layouts; add cardstock if you tend to use it as a base for your pages and don't already have it to hand. Make sense? Then throughout the next few weeks, I'll be using those supplies on my layouts here on the blog, including plenty of them in videos. That's all free to read and watch right here.
All the order placement is done through Two Peas in a Bucket and you're welcome to add in any other shopping you want from their wide variety of supplies (and amazing sale section). If you're treating yourself to some lovely crafty luxury, don't forget that Two Peas offers free US shipping for orders that include $50 of full-price goods, and that same order qualifies for a $5 discount on international shipping. You will need a coupon code for that – it can be found at the bottom of their weekly newsletter. Your Best of Both Worlds purchases count toward their loyalty program too. There is good stock of all items as this post goes live, though it is all first come, first served – leaving items in your shopping basket doesn't reserve them, just to make that clear. (It happens to me all the time with my own orders – I tend to leave my shopping for a week or so and then I find some of the most popular items have jumped out of my cart. Such is life, I suppose.) If the items you would like are out of stock by the time you are ready to buy, you have two options – click the 'request and notify me' button on any sold out item, and Two Peas will send you an email as soon as that is restocked. Or take the shopping list elsewhere and collect your supplies from wherever is best for you.
Purchasing through the links from shimelle.com (and my Twitter and Facebook pages) to Two Peas helps support this blog – it makes the free videos and guest artists all possible, so if you are sharing or bookmarking this shopping list, I would love for you to link or bookmark this individual post and not the shopping list itself, as going straight to the shopping list does not support those projects here. I hope you understand and I thank you so much for making this all possible.
A couple important notes before I go for now!
…Yes, there are more videos with the March product picks! I've finished those now, but for as lovely as our new/old home and studio can be, fast and reliable internet is not a bonus here. That's okay, as I have somewhere else I can do all that sort of thing – but they have been closed for the long holiday weekend while I have been scrapping and filming! So my first order of business at work tomorrow when they reopen is to get all those videos and blog posts uploaded. You'll see them here throughout the coming week, and I hope you enjoy using up the the end of your March kit while April wings its way to you in a cardboard box!
…Thanks for all your patience while we've moved yet again. I won't fib and say we're completely organised and out of boxes just yet, but it is fabulous indeed to be back in a place we love so much, with friendly neighbours and happiness! I'm sure we'll get everything back in its place soon.
Click here to shop for the April Best of Both Worlds scrapbooking kit.

Read more about: best-of-both-worlds-kit
01 April 2013

Next post: Customizing your Projects: A Scrapbook Tutorial by Melissa Mann
Previous post: Five ideas for scrapbooking with pages from old books by Julie Kirk