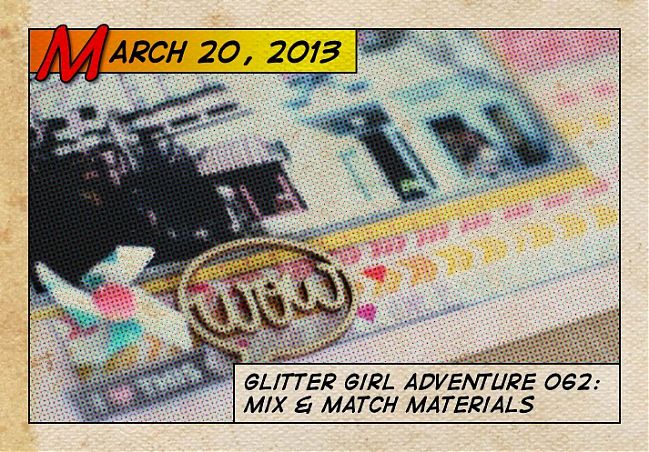 class content ©twopeasinabucket.com.
This week Glitter Girl returns to an old question that comes up now and then: all about mixing patterns. Funny that Glitter Girl likes that topic, since it's one of my favourites too! Okay, rubbish jokes aside, the Out of the Box adventure was one of the most popular episodes in 2012, and similar questions come up on the board quite often, so with a brand new order on my desk, this was a great time to revisit the idea of mixing products from a variety of collections and manufacturers with an up-to-date look at current lines and trends.

You can find all the supplies for this project here at Two Peas, and there are plenty of new things in the shop, of course, like all those lovely new papers, overlays, and embellishments from Allison Kreft's new lines at Webster's Pages.
And yes, that is a Hello Kitty bandage. It turns out Glitter Girl is not immune to cardboard cuts and packing up the studio for this week's move was a bit treacherous. I hope it wasn't too distracting! Clearly hand models are not allowed to pack their own homes when moving. Oh well: welcome to my real world, plasters and all!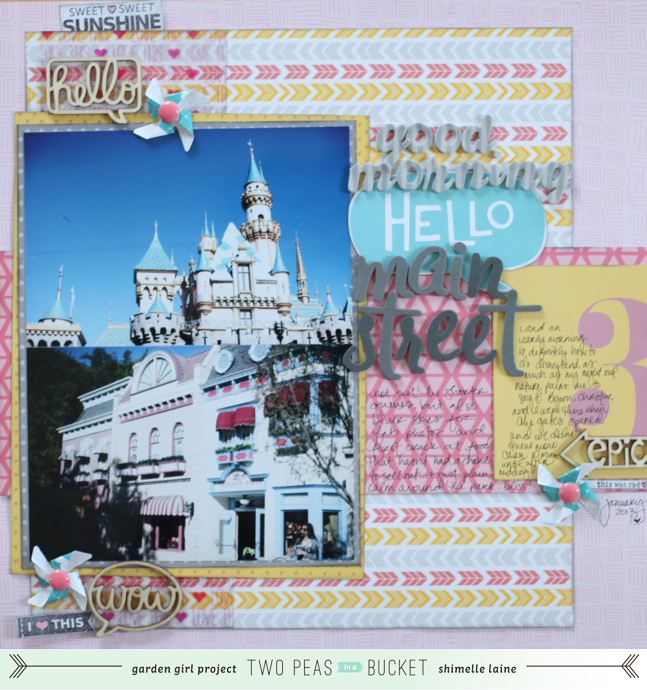 This January was the first time I had been to a Disney park since the grand opening of Epcot, so that would be long, long before I was a scrapbooker, or indeed holding a camera! Now I suddenly understand the entire Disney-related challenges brought to scrapbookers. I've heard about them for years but never really imagined them in full. I was only at Disneyland for a few hours really and have plenty of photos to scrapbook, but not really enough stories to fill a full separate album. And of course, I've now done the child-free version of Disney, and that's a very different experience. I have come up with a few stories I want to tell that are more reflective (especially as I don't think there are any photos from my childhood adventures at Disneyworld, so this is as good an opportunity as any to recall what memories I still have) but some are quite simple and everyday, like this particular page recounting how it was definitely worthwhile for non-morning-person me to get up and go to the park as soon as it opened, since we had very short queues and gorgeous blue skies – until around midday, when more people started to arrive and the haze of white rolled over in the sky. I'm still thinking about what I'll do with the slightly less obvious photos from the day. Exactly what journaling might go with photos of the birds in the Enchanted Tiki Room? Yeah, I'm not quite sure either! We shall see.
Of course, Glitter Girl always challenges you to join in, and this time it's to make your own mix of materials for your next page. Upload it to Two Peas to share it with us!

Read more about: adventures-of-glitter-girl two-peas-in-a-bucket
21 March 2013

Next post: Five Ideas for Using Digital Brushes by Stephanie Baxter
Previous post: Sketch to Scrapbook Page :: Scrapbooking with a central focus