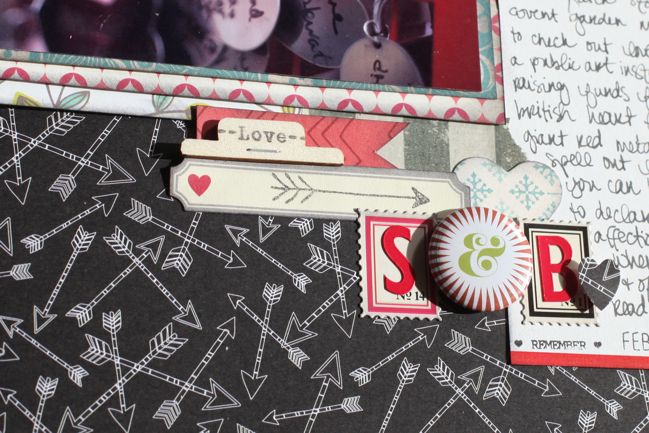 I love little groups of random items from my desk that can come together to make some sort of lovely embellishment on a scrapbook page. Well, I guess you knew that. But when it does honestly happen from just bits and pieces sat on the desk – remainders of a kit or cast-offs from other projects – it makes me happier than searching out all those pieces for ages. This was one of those times when the pieces were all there and they just fit into the space to finish the page. A journaling card, then washi tape, a strip of paper to bring in some colour, a label to bring in something lighter, letter stickers for initials, postage stamps with the right numbers to back those, something round to add a bit of variety (and an ampersand), and some stamping to pull everything together. That's how I finished this most recent Sketch to Scrapbook Page project.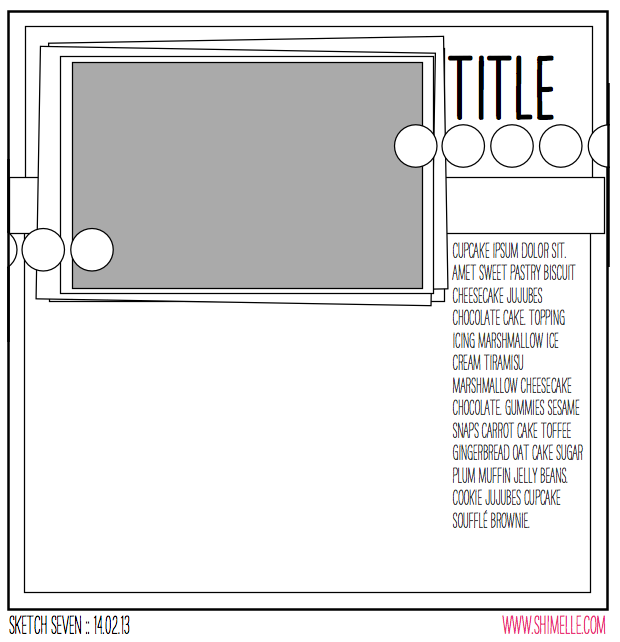 This sketch is designed for those patterned papers you don't want to cover up. Something with a print you really like to see or a pattern that doesn't read well in small amounts. It gives you plenty of room for writing and the chance to showcase a 4×6 landscape photo with some repeated embellishment – perfect for punching shapes from papers to make your own accents.

All the supplies used for this project are from the February product picks for Best of Both Worlds, with the addition of a sheet of 12×12 black cardstock for the background and a date stamp at the bottom of the journaling card. I used an embossing stylus for the dotting tool with the mist – that's a quite general craft supply that you might already have on hand, but if not they aren't too hard to find.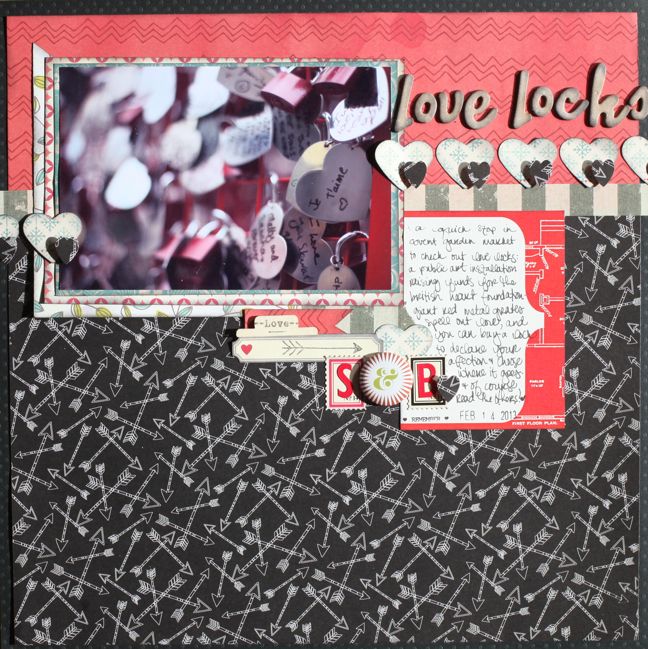 Love locks are something you can see on bridges all over the world, but just in time for Valentine's Day, there were some special love locks in Covent Garden in support of the British Heart Foundation. It was just as interesting to look at all the other locks as to leave your own. And so pretty through the lens.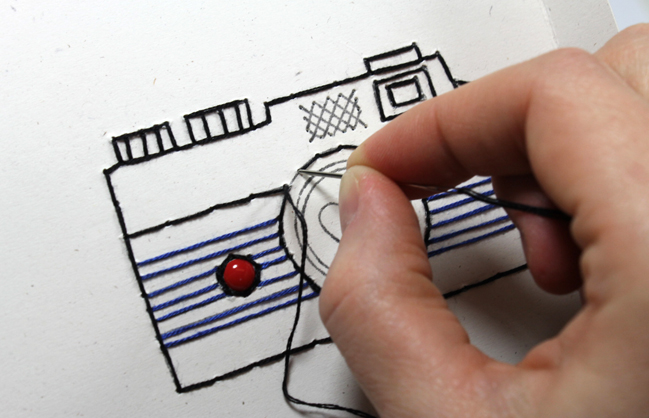 Because I was cheeky and running behind, I've already shared the guest project for this sketch. It's a Valentine card by Julie Campbell, and in addition to making a card from the sketch, she shares a clever trick for using rub-ons with stitches to amaze your friends with your hand-sewing skills! Perfect.
And now it's your turn! Create a page in your style with this sketch, post it online, and share it with us. You can upload to your blog or to a scrapbooking gallery like Two Peas or UKScrappers, then just follow the steps to link to your project wherever it can be found online!




Read more about: sketch-of-the-week best-of-both-worlds-kit
04 March 2013

Next post: Two Sides to Every Story: a Scrapbook Tutorial by Kirsty Smith
Previous post: Best of Both Worlds :: My scrapbooking product picks for March 2013