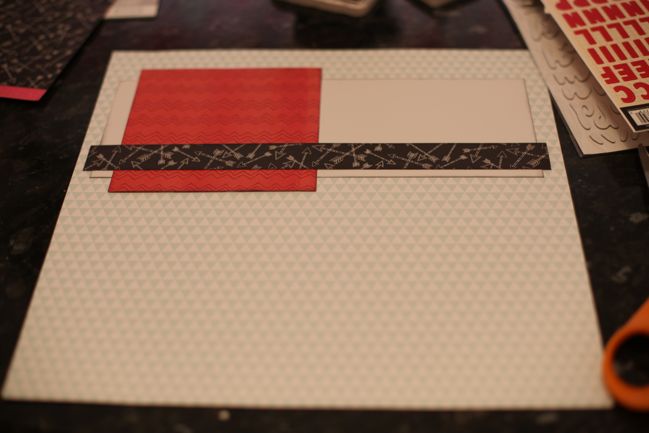 Time to crack open this February edition of goodies and get to some scrapbooking – and also a big thumbs down to flu bugs right now, yes? Anyway, moving on.
This starting point is one of my favourite ways to use a subtly patterned background that I still want to be easily visible. Plus I love baby blue (or turquoise) with red. Such a lovely combination – just a twist on classic red, white, and blue. (In fact, I love it so much I've written about it already as a scrapbooking colour story.) For this starting point, you just need that background pattern in the full page size, plus three more pieces: one 4×11 inch rectangle (I added some plain white cardstock from my scraps here), one 5×5 square (the red chevron pattern), and one 1×11.5 inch strip (the black and white arrow print).
This design leaves plenty of pattern on show and has a variety of places to start adding your page elements, so it could feature one square picture on the red box, for example, or a landscape photo to the right, or a row of small prints across the top of the page. I chose three photos for my page.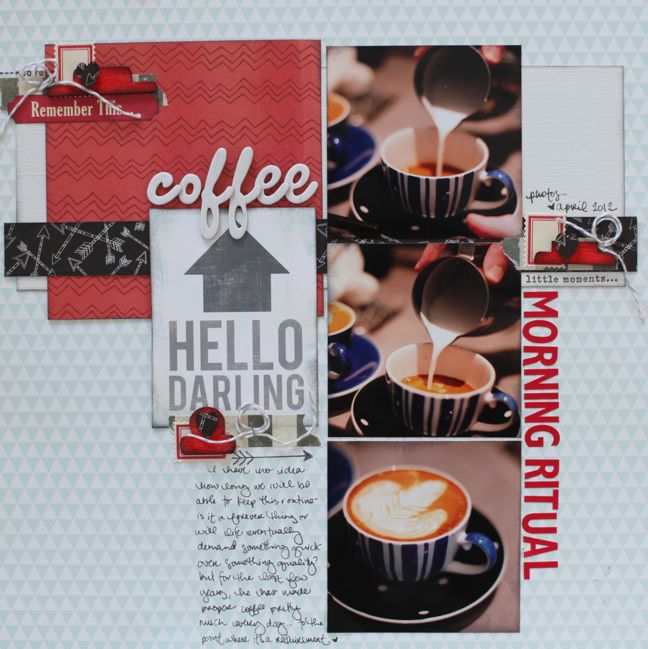 These were originally 4×6 landscape images, but I cropped them to 3.5 square to focus a bit more on what changes in each picture, so they read as the process. In theory, anyway! I like how there is a bit of extra title work here – that the Thickers, the accent card, and the red stickers down the side all contribute to the general idea of the page, but then that 'remember this' sticker at the top left leads into the angle for the writing. I wanted to focus on how this is our routine every morning and has been for a few years, but write it in a way that if years from now this ritual has fallen by the wayside for something quicker or simpler, that at least there is evidence of how much this was a part of our day for many years. (I suppose that is a bit of breaking the fourth wall in scrapbooking – when your journaling admits it is in a scrapbook!)
If you fancy a rather ridiculous look at how this page came together, I snapped it with Vine throughout, which you can see here. Vine is a bit like a video version of Instagram, in that it's a social media app that lets you use your phone to share images, except rather than still pictures, it's six seconds of video that plays in a loop. You can't edit it in another app or anything – it's just six seconds to fill and then you get what you get. Suffice to say, six seconds makes a layout really fast!
How would you finish a page with this starting point? Give it a try and share your results! You're welcome to use any supplies – you don't have to use the Best of Both Worlds kit to join in the fun, but of course you can if you would like!

Read more about: best-of-both-worlds-kit scrapbook-starting-points
12 February 2013

Next post: Sketch to Card Making:: Using Rub Ons by Julie Campbell
Previous post: Scrapbooking Embellishments on a Budget by Wendy Mckee