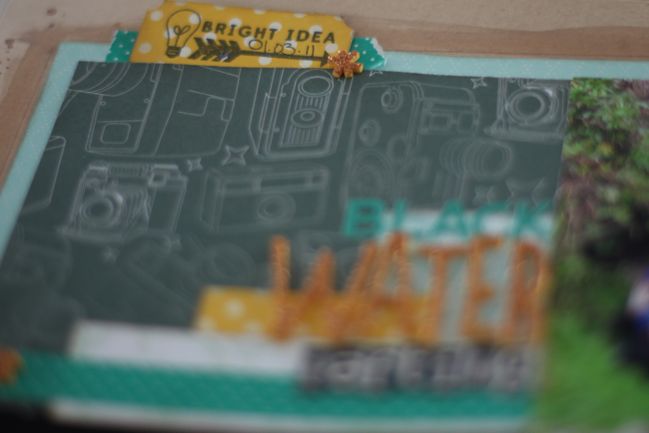 In sketching out a whole collection of page outlines to get things planned for 2013, I realised just how much I like a very simplistic sketch to get scrapping. Yes, it can be lovely to have so many little extras built in, but it can also be so helpful to have just a few basic things in place and then have the freedom to add and subtract without feeling like it's an abandonment of the original idea. So don't be surprised at just how simple some of these sketches may be: that way they are yours to dress up or keep simple as the mood hits!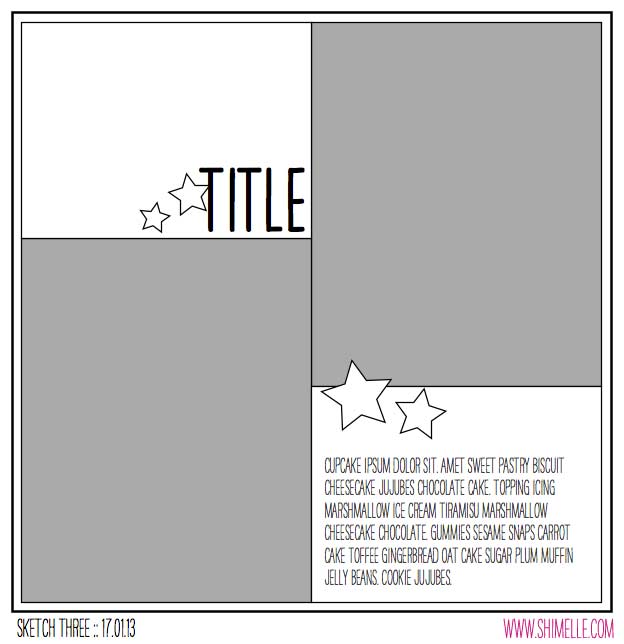 I imagined this sketch with two photos printed slightly larger than my usual, and in fact I printed mine at 5×6 inches. If two photos is too few for you, never fear, as today's guest has made it work with four images instead. And if you fancy making this into a two page layout, look at the middle line of this sketch and pretend that is the centre of the two pages. Then just extend the design outward, possibly with two portrait 4×6 pictures side by side instead of the single 5×6 pictures. Does that help?

This marks my third full project with the January kit, which is now starting to look well-used but there are still some full sheets untouched that I want to use as backgrounds. Because this page will go in my Round the World album, I added a sheet of kraft cardstock so it matches all the other pages in those books, plus some glimmer mist to paint on that frame around the edge, but everything else is from that same set of supplies.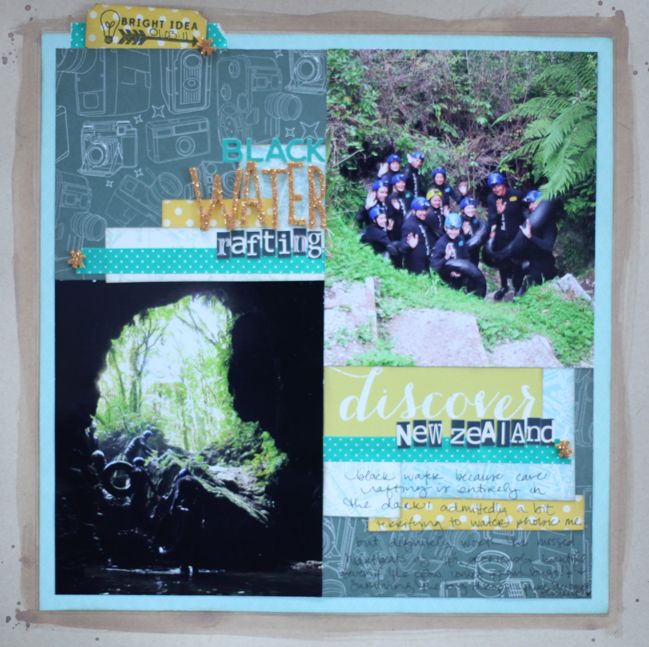 If you check out the Black Water Rafting website, you'll see just how alike all the photos are, but if you ever find yourself touring New Zealand, it is certainly an interesting item for your itinerary. It's called 'black water' rafting because you're in a cave and entirely in the dark. Well, maybe not entirely, as there are glow worms on the ceiling that make it a bit like looking up at the stars, except once you find out what a glow worm really is, it's not nearly as romantic as it sounds, but it is still pretty cool. It's very cold (even in a wet suit) and very touristy, but New Zealand was our stop of 'let's do all the things they show in leaflets', so indeed we went rafting, paragliding, and scuba diving to ship wrecks. (I say 'we'. When it comes to the scuba diving, I mean 'he'. But still.) And at the end of the rafting adventure, they give you hot chocolate and a DVD of pictures from your day, perfect for a scrapbooker.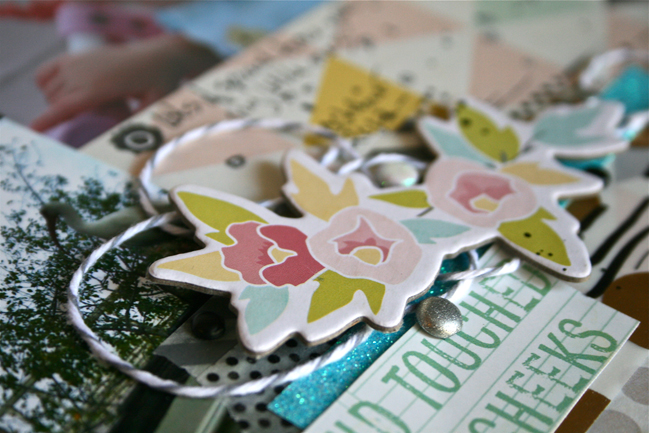 Today I'm thrilled to welcome Ashli Oliver (also known as SoapHouseMama in the world of scrapbooking message boards) with her beautifully layered and detailed style. She had no trouble converting this sketch into one with additional photos, so I know you'll find her ideas inspiring, no matter what your style may be.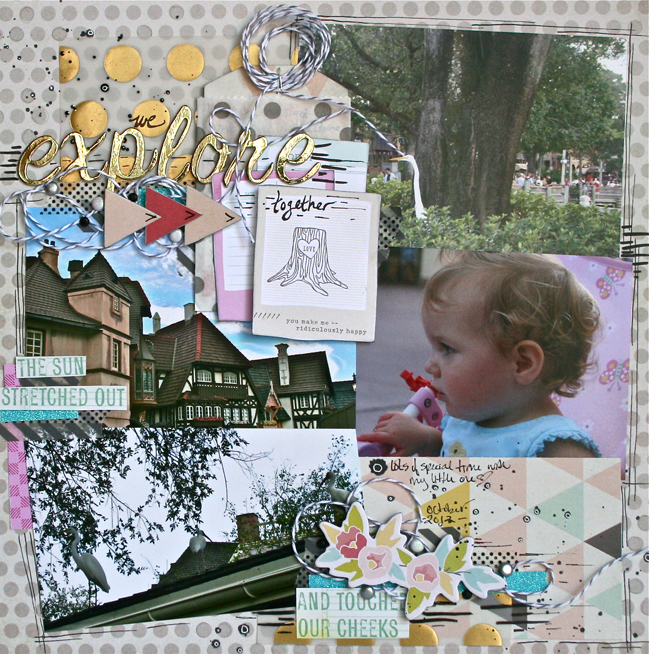 When I saw this fun way to incorporate four photos onto one page, I knew I would be heading straight to my stack of Disney pictures. After all, I took loads of fun pictures and I need to maximize my page real-estate! As you can imagine, this album of our vacation is chocked full of fun and whimsy, so I just overlapped and tilted my photos a bit to maintain this consistency. Not to mention that I just couldn't bring my self to cover up that fabulous polka dot print from Dear Lizzy 5th & Frolic. The choice of the gold dot vellum also allows for the pattern to peek through a bit, while adding a nice touch of sparkle. In addition to the who, what, when, and where journaling, these photos have a bit of a longer story that I wanted to tell. So, I added a little pocket from Whiskers Graphics to include more journaling. A touch of gold in the title work helps pull in the gold sparkle from the vellum and some doodles finish it off. Plenty of room for pictures with still enough space left for embellishments… This is a sketch that I will be returning to again and again, I just know it!
It is such an honor have joined you this week. Thanks you for having me, Shimelle! I hope to see you all over at purplemailbox.com. You can also find me on Pinterest, Instagram, and Twitter. I look forward to "seeing" you soon!
And now it's your turn! Create a page in your style with this sketch, post it online, and share it with us. You can upload to your blog or to a scrapbooking gallery like Two Peas or UKScrappers, then just follow the steps to link to your project wherever it can be found online!

Read more about: sketch-of-the-week best-of-both-worlds-kit
20 January 2013

Next post: Scrapbook Starting Points :: Four Small Photos
Previous post: Sketch to Scrapbook Page :: Scrapbooking two 4x6 portrait photos