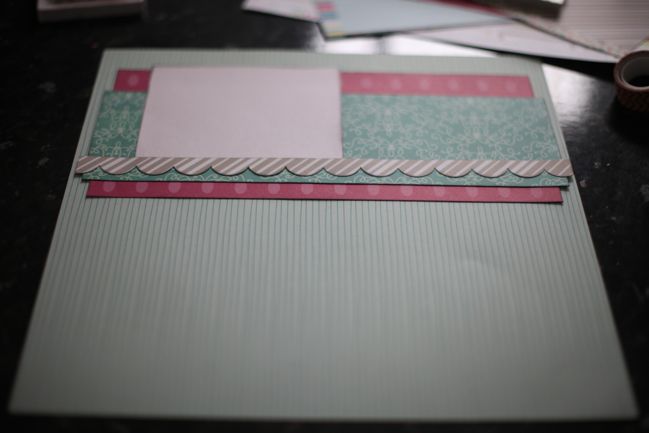 Are you ready to be amazed? I have not completely abandoned starting points! I had just a tiny bit of time to do some just-for-fun scrapping before the moving boxes arrived, so I started with this starting point for a new page: one full sheet of a subtle single-colour patterned paper, like a stripe for the background. Then everything else is arranged on the top third of the page – one 4×11 inch box, one 2.5×11.5, a smaller 4×5 box and a border-punched strip just shy of the full page width. I used my dwindling stash of Garden Cafe for this start – I love all those turquoise tones in that collection from last autumn.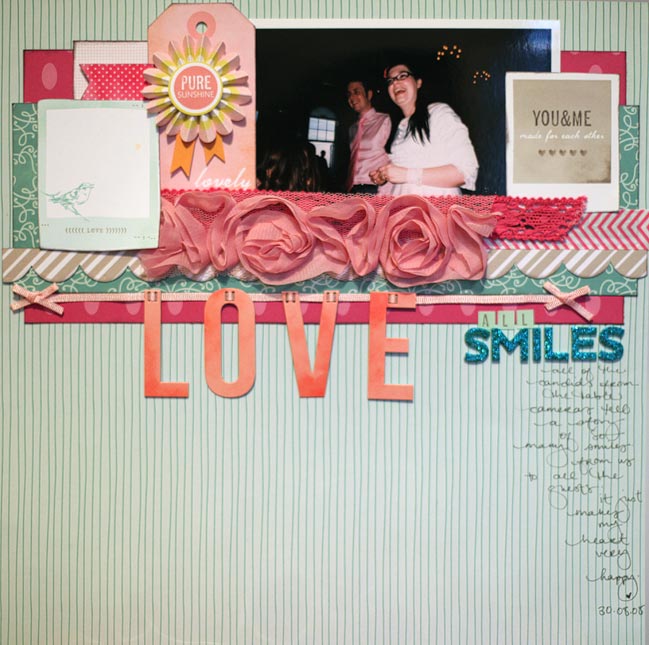 Finished, it looks a bit like this! Some crocheted trim, that lovely rose ribbon from the first Dear Lizzy collection (I'll admit it: I was afraid to use it and now I'm slightly ashamed that it's still in my ribbon drawer. It may appear on a few more projects soon to make me feel much better about that situation!) and lots of paper elements from Dear Lizzy Neapolitan and 5th & Frolic (out soon!). Very pink Bella Blvd chevron tape. Plus those turquoise Amy Tangerine letters I'm using on pretty much anything that stands still at the moment.
New to Scrapbook Starting Points? You can find more here.




Read more about: scrapbook-starting-points american-crafts
17 September 2012

Next post: Scrapbooking Giveaway Day
Previous post: True Scrap 4 :: Win an online scrapbooking weekend!