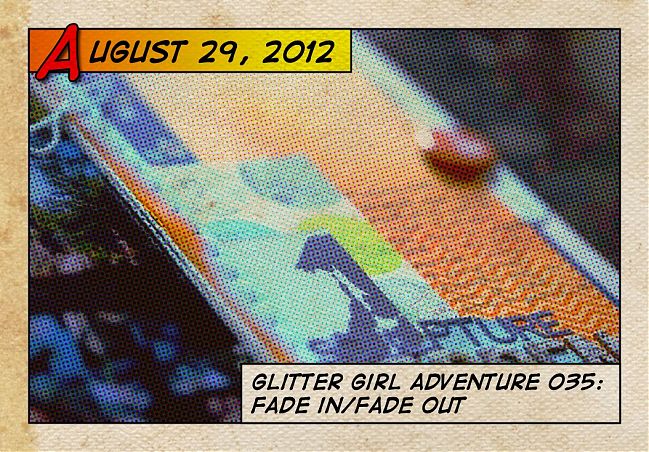 This week Glitter Girl goes a little trendy with the ombre look, prompted by this discussion on the message board. Ombre is essentially a fade – it's often a monochromatic look with one colour starting as a saturated hue and fading out to pale or white. In scrapbooking, there are two different ways to achieve that look – one is tidy and one is messy! The tidy version involves cutting different pieces of paper, like using the same punch on ten different shades of pink paper, then arranging them in order from lightest to darkest. Just paper and adhesive – no mess. (Have a look at this project by Jen Gallacher for a great example of that style.) Or the messy way: using mist, ink or paint to create the faded effect on paper or embellishments. In this week's video? It's the messy version.
Because really: chevron patterned paper AND a bunch of different shades of Mister Huey's spray inks? This is the sort of thing that gets Glitter Girl out of bed in the morning.

You can find all the supplies used in this week's video here. The orange-and-white chevron paper I started with is from Bella Blvd and takes the colour really well. I've included the full line of Soup Staples as well, as they are perfect for creating this chevron-ombre look in any colour – just pick the paper then mist, ink or paint to match. The b-side of each of those is a tiny polka dot, which also works for ombre. Try it with a distress ink pad or two and the foam applicator to blend. All sorts of things to fade in and fade out!

It's been a little while since I went back to the stack of kraft cardstock and the equally large stack of backpacking photos. I have to admit I am now reaching the point where I get a little sad when I'm telling that story, because it's hard to admit it actually wasn't so recent any more! But not so sad that it's not fun to work on, of course. Just a little bittersweet. One thing I'm really looking forward to after moving house in the next couple weeks is to sit down with the now four volumes of this trip and plot out what sections need the most attention and really look at it objectively to see how the story is being told on paper. I love that part of the process, and it's very different from deadline work and that sort of thing, so it's a good change of pace now and then. This message board thread inspired me to head back to the kraft cardstock, and I love that the ombre look worked so well with something that wasn't trend-led or focusing on any sort of fashion in the photos. Ombre is truly just a fade, and that's something that is always around us – not just a fashion trend. So there's more to this look than first meets the eye.
This week Glitter Girl challenges you to take on the ombre trend in your own style, with whatever you would like to make. Share your project in the gallery at Two Peas and let us know how it all comes together for you.
Onward, covered in glitter, my dear scrapbookers!

The Adventures of Glitter Girl is a weekly series on Two Peas in a Bucket, and goes live every Wednesday. I'll share each adventure here shortly after that. I hope you enjoy her quests for crafting happiness, and if you ever have a scrapbooking dilemma yourself, you can always call her to action on the message board.

Read more about: adventures-of-glitter-girl two-peas-in-a-bucket
31 August 2012

Next post: Online Scrapbooking Class Learn Something New starts tomorrow!
Previous post: Sketch to Scrapbook Page with a JBS Summer Games Twist