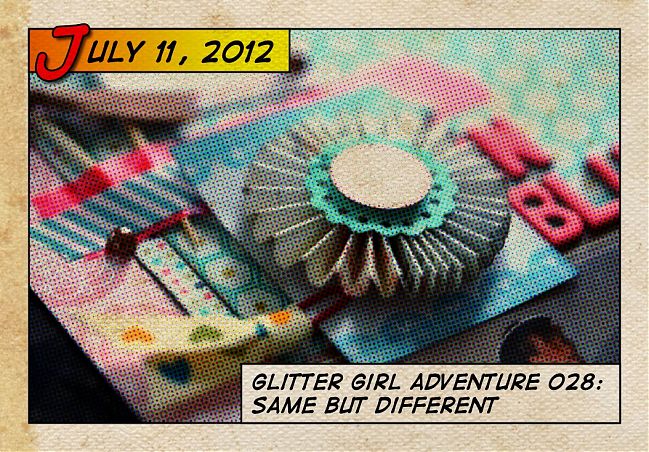 Series content ©twopeasinabucket.com.
This week Glitter Girl read this discussion and thought surely there are plenty of ideas already out there for scrapbooking with ribbon, so she ran a trusty little search in places like Google and Pinterest. She found far, far more examples of how to store your scrapbooking ribbon than to use your scrapbooking ribbon, so she decided it might be best to start simply: a little washi, a little ribbon and a challenge to get you to use both on a layout this week.
This week Glitter Girl was quite excited to start working with BasicGrey's new collection, Paper Cottage. You can find all that plus plenty of options for ribbon and washi tape here – just scroll to the bottom of the page to shop! Thank you BG for this great collection in colours I love.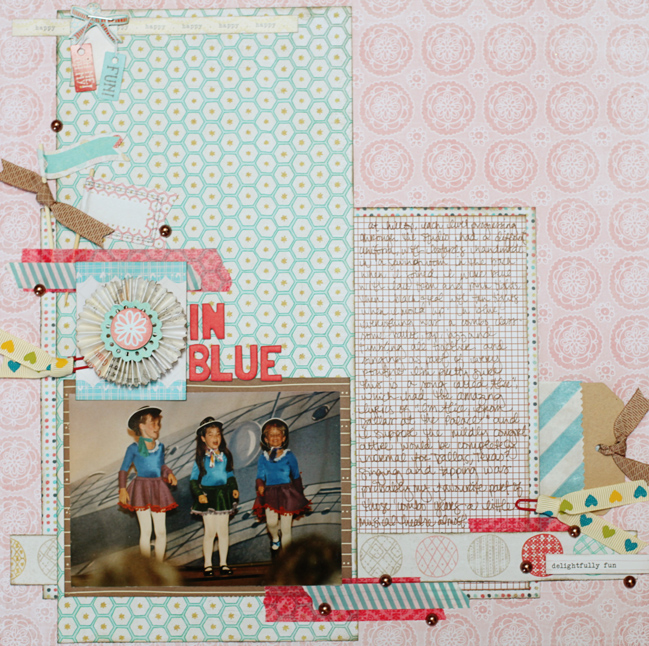 After a little break from this album, I finally got my thoughts in order enough for this picture. The 'In Blue' title comes from the uniform colour – each level or grade or whatever they called the different divisions had a different uniform, with leotards handmade at the studio. So I can tell exactly where this fits in the timeline due to the leotard on its own, but the mismatched skirts and such do make me laugh! I decided to put some of the writing on show (and it is easier – but not completely easy – to read in person) and some additional writing tucked away in the pocket for my own personal notes but not really for public consumption. This album is filled with so much writing and I'm loving it, piecing together the story with so many fewer photos than I take now. It's a good creative challenge and good for the mind to get all those memories filed away in a sensible way. Plus I'm giving myself permission to use pink on every layout. As if I need permission.
This week, Glitter Girl challenges you to use both ribbon and washi tape on your project, then share the results in the gallery! If you don't have both, you can cheat and use what you have, but if you own both, use both! You can also leave a link in the comments here if you like.
Onward, covered in glitter, my dear scrapbookers!

The Adventures of Glitter Girl is a weekly series on Two Peas in a Bucket, and goes live every Wednesday. I'll share each adventure here shortly after that. I hope you enjoy her quests for crafting happiness, and if you ever have a scrapbooking dilemma yourself, you can always call her to action on the message board.

Read more about: adventures-of-glitter-girl two-peas-in-a-bucket
11 July 2012

Next post: Scrapbooking Giveaway Day
Previous post: 10 Things :: July (10 Signs the Olympics are coming to London)