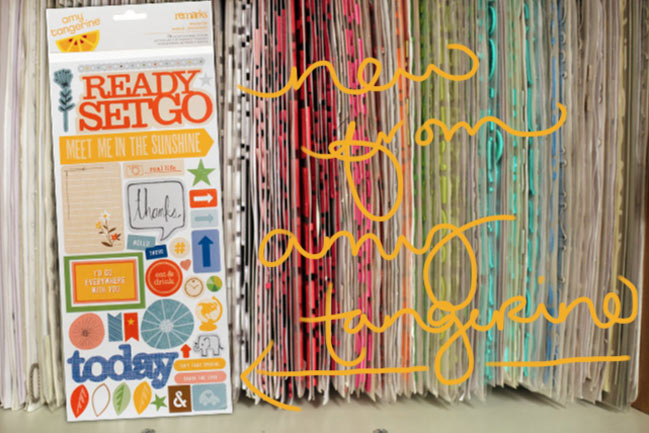 It's not long now till the summer CHA trade show, where this year's autumn, winter and Christmas lines debut to retailers, and with that comes a few sneak peeks at what we can expect to see in stores throughout the rest of the year. As a big fan of her first two collections, I'm very excited to see the new autumn collection by Amy Tangerine for American Crafts, and the name has me hooked already: Ready Set Go! Bring on the globes and arrows and catchy travel/life phrases!
Here's a little look at the Remarks sticker sheet for Ready Set Go, and you can get an idea for the colours of this new collection. Reds and warm yellows, with pops of blue and pink, making me think it will be quite versatile for scrapping photos of boys or girls and possibly even more importantly, it will look fabulous with kraft cardstock. That little 'real life' camera sticker kills me – love it!


Today you can hop around a few scrapping blogs to get a look at this new collection, piece by piece… and you might even win something. Once you hop through all the sneak peeks, you can enter at both Amy's blog and the American Crafts blog for two chances to win the full line of Ready Set Go scrapbooking goodness. Your next stop on the hop is the lovely Kelly Purkey so go see what she has to share today!
And while you're here, what new things are you hoping to see from your favourite scrapbooking brands? I'll be attending the show and bringing you my tour of all the booths and new products, so you can mark your calendar if you like! CHA starts on the seventeenth of this month!
xlovesx

Read more about: american-crafts
02 July 2012

Next post: Scrapbooking with Studio Calico :: Elmwood Park
Previous post: Scrapbooking Giveaway Day