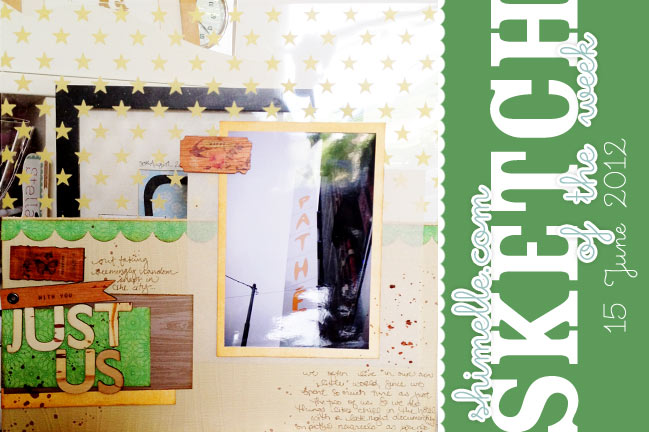 I know: calling it scrapbooking sketch of the week at this point is entirely too cheeky. But I don't know what to change the graphics to say, so for the moment let's just say I have a really creative definition of a week. Or something.
This time around, I had a few bits and pieces left over from working with the May papercrafting kit from JBS Mercantile, including most of a printed transparency sheet. I love transparencies but don't love just layering them all the time – sometimes I like keeping the transparent element in the album, but that takes a little thought about what can go on the back of that page, else it can end up pretty awkward as you turn the pages. So this sketch was designed with a transparency in mind, with a simple design to the rest of the page so it can be repeated on the back to keep that transparent element in the album. Of course, that works best with a pattern that works from both the front and back of the page! Stars, chevrons, lines, checks, polka dots, clouds and all sorts of geometric patterns work better for that than anything with text!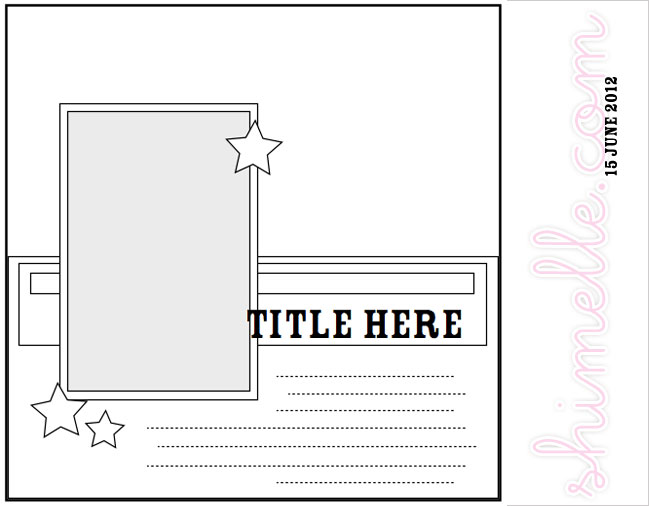 Of course, you don't have to use a transparency to use the sketch. You could simply piece together the background layer with two pieces of cardstock or two patterned papers. Easy enough! But if you do have a transparency kicking around that needs to be put to use, consider this your challenge!

(Oh, and I may have posted things in a different order to what I expected, so that starting point is already live for you! Find it here.)
As this goes live, a few each of both the main kit and the dime store kit are still available. You can find the main kit here and the dime store kit here, and you don't have to subscribe to order either kit.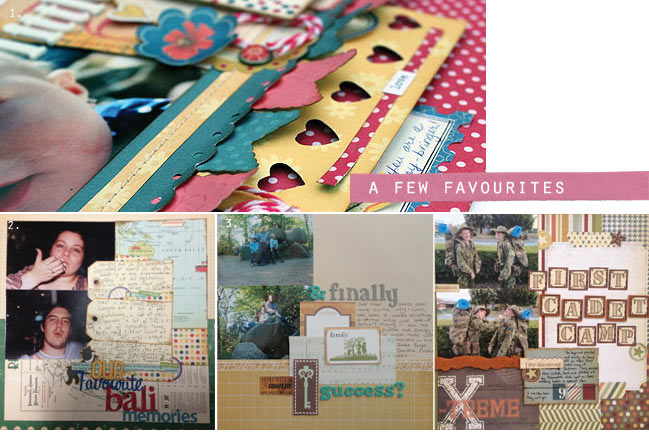 I loved the absolute variety of page themes posted for the last sketch. Here are four favourites: one, two, three and four. Give them a look to see each page in more detail and meet the scrappers who created them!
Sketch of the Week (or whenever!) is always just for fun, and you're invited to join in with some photos of your own. Grab any supplies you want to use, create a page and share it with us via an online page gallery or your blog. We would all love to see where this sketch takes you on your scrapbooking adventures!

Read more about: sketch-of-the-week jenni-bowlin-studio
14 June 2012

Next post: Scrapbooking Giveaway Day
Previous post: Glitter Girl and handwriting on scrapbook pages