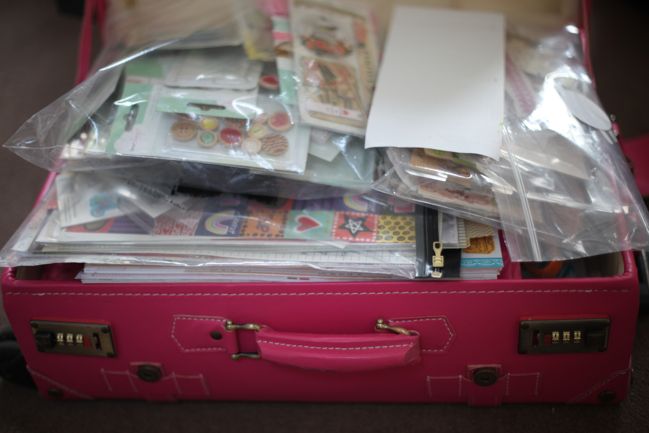 One of the conversations that caught my eye on the message board this week was all about packing for a crop – a day (or more) of scrapbooking away from home, surrounded by other crafters doing exactly the same. I love seeing what various crafters plan to take for such an event, as we all have our different tolerance for how much we like to plan in advance or how much we care to pack up, transport, unpack and then repeat to come home again. Over the years, I've found myself taking less and less and being happier with what I make away from home, so minimal is what works for me (and I don't think it's the most minimal way possible, by a long shot).
But it was one specific answer that had a real wow factor. This one. It's definitely a comprehensive list. You would be never be short of anything you could need. But it's so comprehensive that I don't even own about half of what is listed! The idea of bringing shelving or light bulbs or so many things that require electricity that I also need a power strip and an extension cord? That is totally foreign to me. But keep in mind: I don't have a car. Wherever I'm going, I'm going there by train or bus or maybe even a plane, so it's hardly easy to move my entire craft stash to a new location for the weekend.
As such, I've taken some 10 Things on the Tenth inspiration to create my personal list of what to pack for a scrapbooking crop or retreat!
1. Scissors. And usually just scissors – no paper trimmer. Sometimes I will pack a small paper trimmer, but I don't take my normal paper trimmer, though it does have a handle and it's not heavy. It's just bulky! And I don't scrapbook anywhere with giant table space. I tend to scrapbook in far cozier conditions, where we all sit around one table – or a few tables pushed together – so we are close enough to have one conversation at a time. So I just use my scissors as much as possible, and if I need to cut a straight line, I look for the patterns that give a guideline as part of the design, like grid and ledger papers and evenly spaced polka dots.
By the way, I do think it's worth finding a pair of scissors you really love then always using them for your scrapping. They will become less awkward and more an extension of your hand that way! I get quite a few laughs for using my big Fiskars pair, but they work for me!
2. Adhesive. Forgetting this one can totally ruin a scrapbooking day, especially if there is nowhere you can go to buy some! So don't forget to pack your favourite adhesive and refills. But I don't think you have to take every single kind of adhesive possible. At a crop, I only use my regular adhesive roller and pop dots. Everything else stays home and I can't say I've ever been stuck wishing I had liquid adhesive or double-sided tacky tape or my spray adhesive. But of course, your style might be different enough that you use one of those on pretty much every page… in which case that would definitely be important to pack.
3. Pens. I actually have my journalling pens with me all the time – I keep some in my purse and my backpack as well as with my scrapping stuff. I use the AC Precision Pens in black and brown ink, but pens are another thing where it's important to try a variety and see what feels best to your hand. If I've packed a lot of dark paper colours, I'll also pack a white gel pen, but otherwise I leave it at home. You can always add more writing to a page when you return, and that can be a useful strategy if your crop is too loud or busy to focus on your words, but I find I will forget to finish many things I bring home partly completed and I don't tend to have the writing as my very last step, so I usually add the writing while I'm there.
4. Black and brown ink. Paper just doesn't look right to me any more without inked edges, and at home I have a huge drawer filled with inks of different colours so I have the potential to find a good match for anything, but I generally just use black and brown… so those are the two I take with me. I take the ink pads and the applicator tools to make things easy. (Be sure to pop them in a separate bag of some sort to avoid accidentally inking the rest of your supplies while in transit!)
5. Acrylic block. I pretty much always use the same size of acrylic block for all my stamps, so I have one ready to go in my crop kit all the time, and then I include the different stamps in the next step. I don't tend to take wood-mount stamps with me to a crop since they are bulkier, unless there is a specific design I know I am planning to use.

6. Page kits. This is what has replaced packing separate batches of paper, stickers, embellishments and so forth. Page kits are just a way to put together a bit of this and a bit of that and know it will work together, which also makes it possible to work more quickly at a crop because you've already made those decisions of what to scrap and with what supplies. Leanne is one of the most efficient crop scrappers I know and she has been a queen of page kits for years! I loved how it worked for her and I started to find a page kitting system that would work for me… once I got there, I loved this process! Glitter Girl has a remarkably similar process to how I pack my own page kits… and the concept of having either a larger or smaller kit can both work for scrapping away from home, just depending on what you want to work on and how much variety you need to keep it interesting! When packing a page kit for a crop, I would include the photos, papers, stickers, embellishments, stamp sets and everything else flat right there together. I err on the side of a few extras rather than not enough, but not to the point of packing an entire collection pack when I only want one or two sheets. (Though a collection pack works great for a big series of pages!) If you want to read even more about my specifics for packing page kits, you can find that in this post, where there is also some great stuff in the comments.
7. Album. Or this could be a 12×12 box perhaps, but I find an album easiest. The thing that worries me most about scrapping away from home is getting those new pages home safely, and I've had times when that didn't go completely to plan. Now I keep the page kits each in a page protector and pop that in an album, so each completely page can go right back into the album, and it's protected for the journey home. I've used both a 12×12 box with a lid and an LP carrying case for pages in the past, thinking an album would be too bulky, but I've actually found the album to be the best solution, and it makes it easy to keep everything in a confined space during the crop too.
8. Non-flat embellishments. Namely washi tape and mist. There are some things I use on many pages that just don't fit easily into a page protector because they aren't flat – like bottles of mist and rolls of washi tape. So those things I pack separately – and I bag the mists in case of any inadvertent squished bottle disaster. I don't take my full collection of either. Instead, I look at the page kits I've packed and I grab a few colours of each that will go with multiple pages. I try to limit myself to three mists and six rolls of tape, as that is what fits well in my bag.
9. Stuff agreed on as a group. In scrapping with a group of people, there is no reason for everyone to bring everything and end up duplicating the same stuff. Unless you are all making the same project together, how many of you will be using a butterfly punch at the same exact instant? So we communicate in advance and divide up the responsibility. We do this for both tools and snacks! So one time I might be bringing five punches… another time I might be bringing cupcakes. But all the stuff that will be shared works best when we communicate in advance. Of course there are always a few things we duplicate without realising, just out of having similar ideas of what works as a staple item. The last time I went out for a full day of cropping, three of us may have brought hummus, carrots and croissants. At least we knew we all liked those things!
10. A collection of recent favourites. When I have everything else packed, I look at the space left in my case and I fill a zip-bag with recent favourites that haven't made it into page kits – mostly papers, letters and stickers. I may add a few more photos here too. I have to admit though: I almost never get enough done to dive into that bag or extras! But part of me looks at the empty space in the case and thinks I will be totally stuck if I finish all the kitted pages! So I take some extra stuff… but not once have I even come close to finishing all my page kits. Turns out, I spend a lot more time on each page when you factor in snacks and conversation!
So those are my ten things for packing for a crop! What are your ten things this month?

Read more about: 10-things
10 June 2012

Next post: Scrapbooking Starting Point
Previous post: On Scrapbooking Outdoors & On the Go