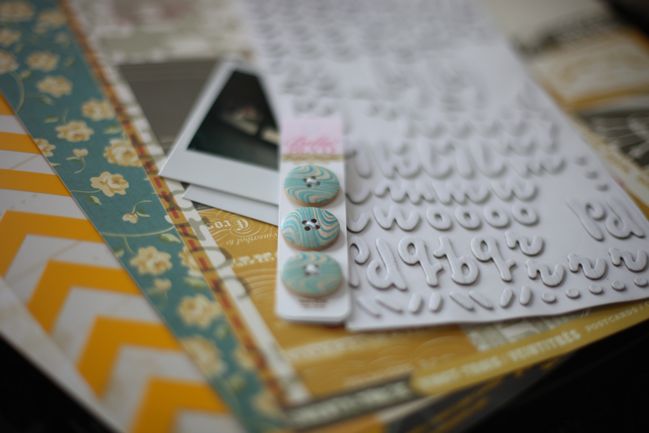 On the twenty-second of every month, we bring you Gardeners' Digest – a blog hop of scrapbooking news from the Garden Girls at Two Peas in a Bucket! Since last month, I've had five different videos at Two Peas: ideas with the new DIY Thickers, products and page ideas for travel themes, how to choose scrapbooking supplies for a page kit, scrapbooking with 8×10 and larger photos and the eight layout craziness that was my National Scrapbook Day challenge – maxing out a set of scrapbooking supplies. And tomorrow is Wednesday, so that means a new video from Glitter Girl. Here's a little peek at this week's episode… can you guess what her adventure might be?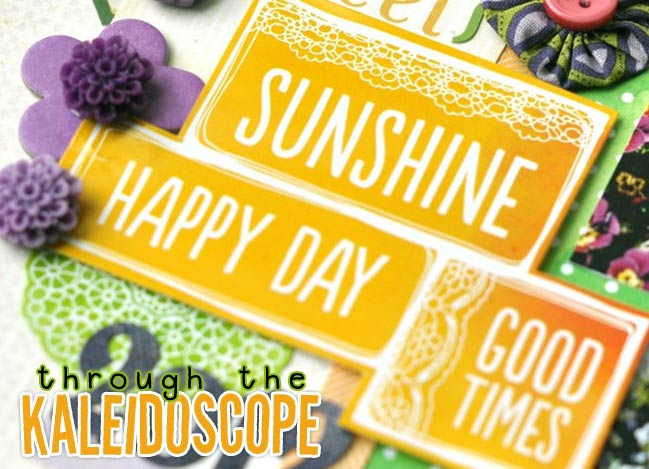 Definitely the most inspiring thing for me at Two Peas right this second is Amy Heller's new workshop on colour – Through the Kaleidoscope. I'm taking this workshop and I just started working on the ideas in chapter one yesterday, but I cheated and looked ahead at all the layouts because I couldn't wait to see them all. I'm really loving how this is expanding my view of colour and making me try some new things mixing my papers and using colour to tell my stories… due in large part to the fact that I have never met an Amy scrapbook page that I didn't like.
You can find her workshop here, but I'm also giving away a free place this week. Find that giveaway here.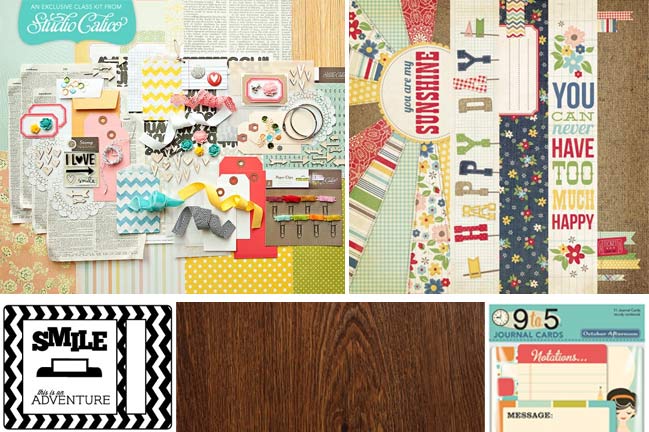 That 'max out your supplies' idea may have gone the wrong way in my head because I've ordered two boxes of goodies from Two Peas this month! Oh goodness. I'll have to keep scrapping in overdrive or I'll be back to square one with nowhere for it all to live! (At least they weren't gigantic orders. Medium-sized, I promise.) Five favourites I'm loving right now include this special kit with a gorgeous mix of things. It can be used for an upcoming minibook workshop but I'm using it for a series of 12×12 pages and loving the colours and designs; this exclusive stamp set has such a great mix of words that can be used on all sorts of projects and I love the clean look of the fonts; these paper pockets from Whisker Graphics are brand new to the shop and just twenty-five cents; papers from Summer Fresh by Simple Stories and the newest collection from October Afternoon, 9 to 5, made a big impact on my need-to-order-twice decision this month! Look for all of these products in layouts appearing over the next few weeks!
Now to kick off this month's Gardeners' Digest with a funny little giveaway this time! The more comments left, the better the prize gets. We'll start with a $10 gift certificate to spend on anything you would like at Two Peas. After 100 comments are left, a second prize is added – the Oh Happy Day exclusive stamp set. After 250 comments, a third prize is added – five rolls of washi tape. If we get to 500 comments, I'll add the Pieces of Me scrapbooking kit. And what the heck, if for some crazy reason we hit 1000 comments, I'll add another ninety bucks to the gift certificate to give you a total of $100 to shop for whatever you want at Two Peas. Which means if we really do get that many comments, the winner would get a prize that is worth $185 plus shipping. Um… don't expect this to be a regular thing! So yes – one comment per person, and you have one week to leave that comment. Entries close at 3pm UK time next Tuesday, the 29th of May 2012. Telling a friend is a good thing!
Now, once you've left that comment, remember to click on over to the next Garden Girl. Your next stop is the incredibly fabulous Jen Gallacher, a blog you should definitely bookmark if you haven't already. Check out her sidebar for all the scrapbooking videos she creates. And enjoy the digest posts from all the Garden Girls!


Gardeners' Digest is a monthly update from the Garden Girls, the design team at Two Peas in a Bucket. To keep up with the Garden Girls throughout the month, check out the garden gallery, find us on Twitter or subscribe to all our blogs with just a couple clicks.

Read more about: two-peas-in-a-bucket
22 May 2012

Next post: Glitter Girl's tips for scrapbooking about yourself
Previous post: Scrapbooking Starting Point :: Pink & Grey