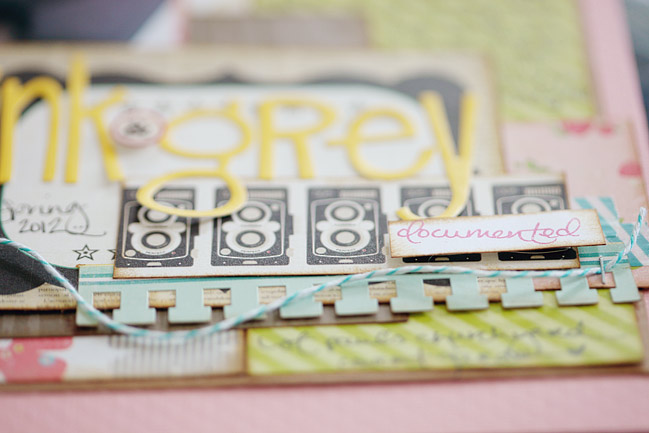 Starting a new week with fresh energy and bountiful intentions. How are you this find morning? And would you fancy a scrapbook starting point, perhaps?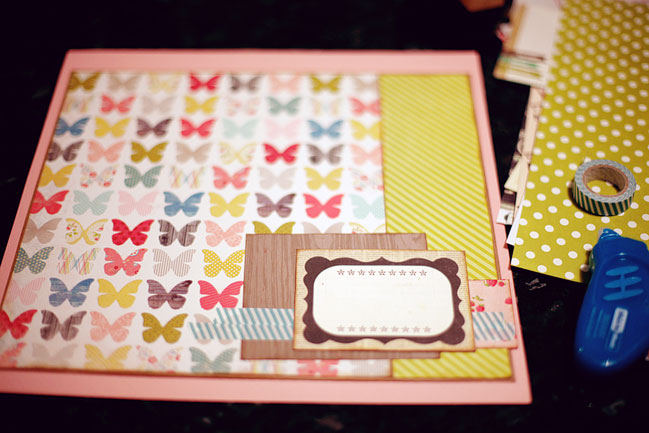 This starting point and resulting page comes from this month's kits at JBS Mercantile. This includes elements from both the main kit and the minibook kit. (There are still a few of the main kits left. The mini has sold out, I'm afraid, but many of the items from that kit can be found here.)
Somewhat odd for my layouts recently, this actually requires two sheets of cardstock: one 12×12 for the background and one cut smaller to mat the two patterned paper boxes in the centre of the page. That full area in the middle pieces together to be 11.5 inches wide and 10.5 inches tall. Then a gathering of patterned paper scraps, a journaling card and some washi tape forms the start to the embellishment. But where will you go from here? Is that the space for writing, the title or more layers of pretty paper?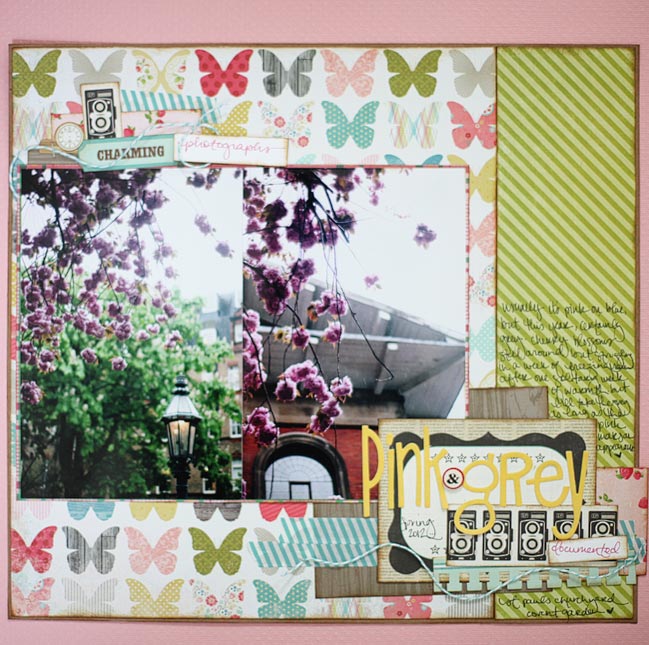 In this case, that spot was just right for the title, and a few more layers of paper both here and at the top left balanced things out, leaving room to add writing on the green patterned paper above the title. I'd been toying with how to write about these pictures without my album starting to have a sort of farmers' almanac twist since the pink trees turn up in my photos every spring. Then I realise the farmers' almanac was actually pretty nifty as it goes – so each year it will document that little bit of perspective on the weather and the seasons and so forth. This year there was very little of the pink on blue and instead pink on grey, with many of the cherry blossoms struggling through since we had one week of really warm weather followed by a cold front and freezing rain. In the end I photographed these under an umbrella in a downpour because I was afraid the rain would bring all the blossoms down, but I did manage to get a few blue sky shots the next morning when we had about two hours of sunshine. So yes, apparently I'm now so engrained in British culture that I will scrapbook the weather. Next: a page about queueing, obviously.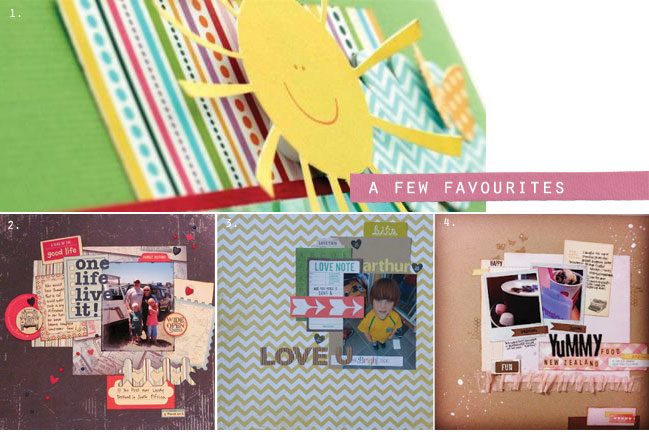 We've actually had two starting points since I last posted a round-up, so here are a few favourites from those two. Click the corresponding link to take a closer look and get to know the scrappers behind these pages: one, two, three and four.
If you use this week's starting point to create a scrapbook page of your own, I'd love for you to share it here!

Read more about: scrapbook-starting-points jenni-bowlin-studio
21 May 2012

Next post: Gardeners' Digest :: Scrapbooking News from the Garden Girls (May 2012)
Previous post: May Photostrip Scrapbook Tutorial :: & Now for Something Completely Different