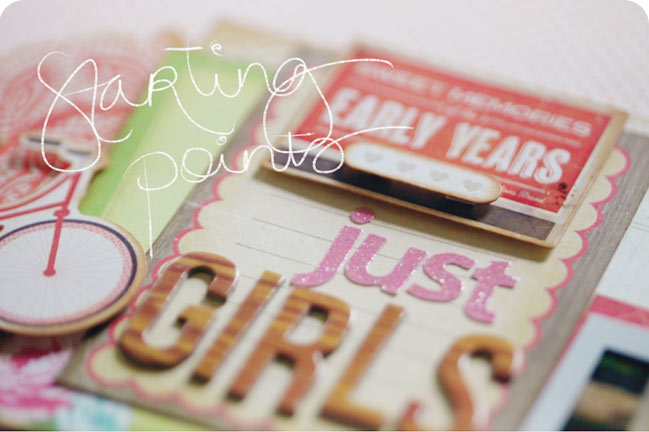 A beautiful (if rainy!) Monday to you, and a new scrapbook starting point to share. Today I've been scrapping with some of the new papers and accents from Crate Paper, including their Storyteller and Pretty Party lines. Just perfect for an older memory here or there.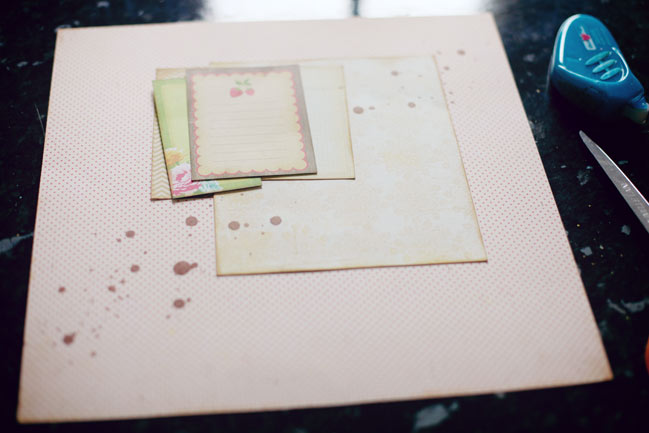 To create this starting point, you'll need a 12×12 pattern for the background (I used these polka dots), then a 6×7" rectangle (books from Emma's Shoppe). With just those in place, I added a diagonal line of splattered ink, though you could replace the ink with another element if that's not your style (sequins, gems, buttons, brads). Then I added three journaling cards from this sheet and a scrap of chevron paper to balance out that stack of papers.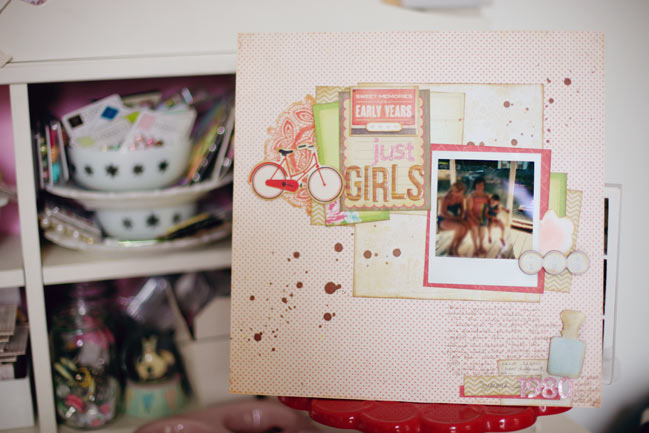 I tried a few different photo options with this starting point and found a 4×6 or two works fine, as does a group of 2×3s, but I kept coming back to something square. I almost used a currently picture printed at 4×4 but the tones of the papers and the motifs on the die-cut sheet made me think this old polaroid was my real answer. I love that the die-cut sheet included that 'early years' label, as that's what I call my childhood albums. I really finished most of the page with the die-cuts from that same sheet – the doily, the bicycle, the date stamp, the 1-2-3 typewriter keys and the flower are all from the same sheet so I just punched them out, inked the edges and adhered them either flat or with pop dots. For the piece that overlaps the actual polaroid, there is a pop dot there but it's stuck to a square of cardstock that isn't attached to anything – so nothing is actually glued to the photo. (I know that will help some of you exhale.) Letter stickers from Sassafras and Studio Calico/American Crafts and the scrap of red patterned paper for the photo mat are the only other extras.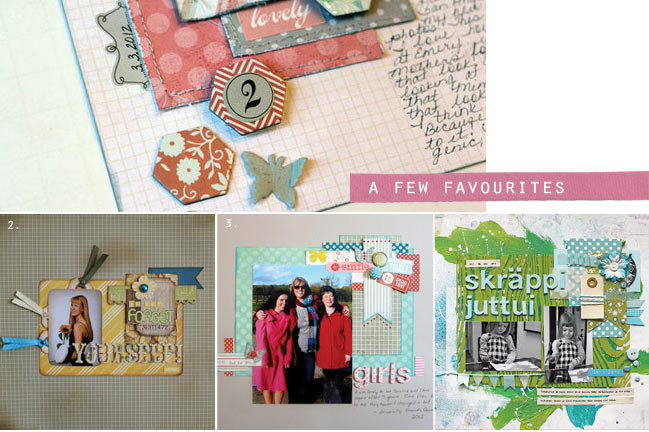 A few favourites from last week's starting point, and I particularly like how they happened to all choose different photo sizes for their pages! Take a closer look: one, two, three and four.
A suggestion came in this past week for an image that could be used in sidebars or message board signatures, so hey presto – two of those for you! You can find a plain image here and an 'I've been featured' image here. You're welcome to use them straight from my server so you don't need to save them elsewhere, and it would be lovely if you link them here to the page that shows all the starting points.
Last week was also a little extra special with that prize from My Mind's Eye! The winner is Tammy Lever. Congrats Tammy! I'm sending you an email so we can get your address over to the lovely folks at MME.
And I think that's all this Monday's business! Time for you to get scrapping!




Read more about: scrapbook-starting-points
09 April 2012

Next post: 10 Things :: April 2012
Previous post: Scrapbooking Giveaway Day