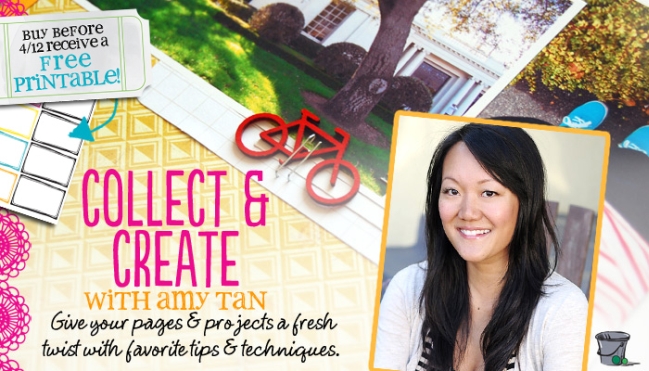 This weekend, we have two giveaway prizes! First up, one commenter will win a place on Amy Tan's new Two Peas workshop Collect & Create, worth $25!
The Collect & Create workshop explores different styles, as well as Amy's favorite go-to techniques like embossing, using up scraps, incorporating real memorabilia, misting, mixing products and colors, and using sketches. With 50 brand new projects to admire and inspire, join Amy and contributors as they show you how they create with what they collect.
Already purchased this workshop? Don't worry – you can still enter, as you will be refunded your class fee, or you can gift your winning place to a friend!
As an added bonus, you'll receive a free printable with labels and borders designed by Amy. These are only available if you sign up by the 12th, so don't wait too long and miss out on that useful little extra!
To enter, just leave a comment on this post, including your Two Peas username.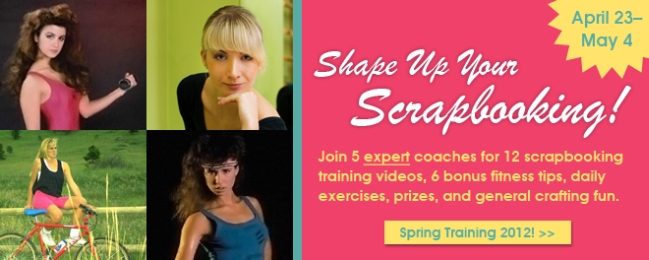 Our next giveaway is a place on Spring training from Ella Publishing.
As Olivia Newton-John famously sang in the '80s, Let's Get Physical! For twelve days, April 23 to May 3, join the Ella team in the exclusive Spring Training craftnasium for a series of targeted daily "exercise" sessions—led by five pro scrapbookers—that are guaranteed to:
Jumpstart your creativity and exercise your scrapbooking muscles.
Inspire you to lead a healthy and balanced crafting lifestyle.
Give you new skills to try AND remind you of important foundational principles.
Get you in tip-top scrapbooking shape just in time for (inter)National Scrapbooking Day!
If you can't wait and want to sign up to the class this week, you can get 15% off using the code DUMBBELL. (If the winner has already purchased the session, she can gift it or get a refund, so no need to wait.)
To enter, leave a comment on this post! Two separate winners will be chosen – one for each workshop.
Entries close at midnight Thursday UK time and the winner will be posted Friday evening, so be sure to check back to see if it's your lucky day!
Good luck!
---


Congratulations to Maxi, who wins a personalised print from Little Musings.
Maxi, please email me (shimelle at gmail dot com) with your address.
There's a new giveaway every Friday night, so check back next week for another chance to win just by leaving a comment.

Read more about:
06 April 2012

Next post: Scrapbooking Starting Point :: Just Girls
Previous post: Online scrapbooking weekend :: coming soon!