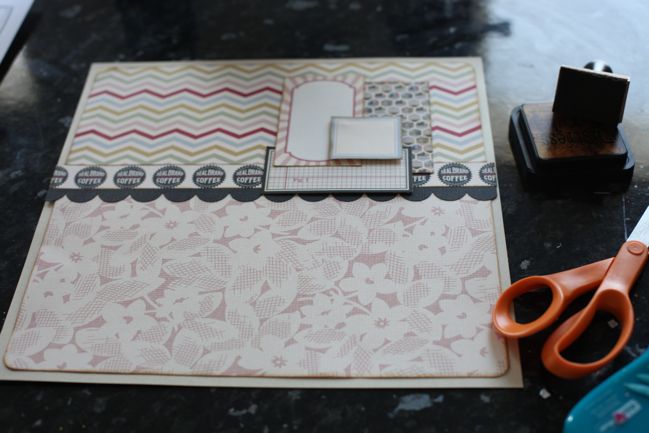 Hello Monday! How about a new starting point for a scrapbook page this week? This week I could wait no longer to cut into my sheet of that multi-coloured chevron paper and some other goodies from the Magpie collection from Jenni Bowlin Studio.
This starting point includes a multi-coloured patterned paper cut to 4.5×11.5 inches, a single-coloured patterned paper cut to 7×11.5 inches, a border strip about 1×12 and a punched border just below that. Then a group of layers made from a 4×4 square of patterned paper, a journaling card and two labels, the smallest on pop dots for a bit of dimension.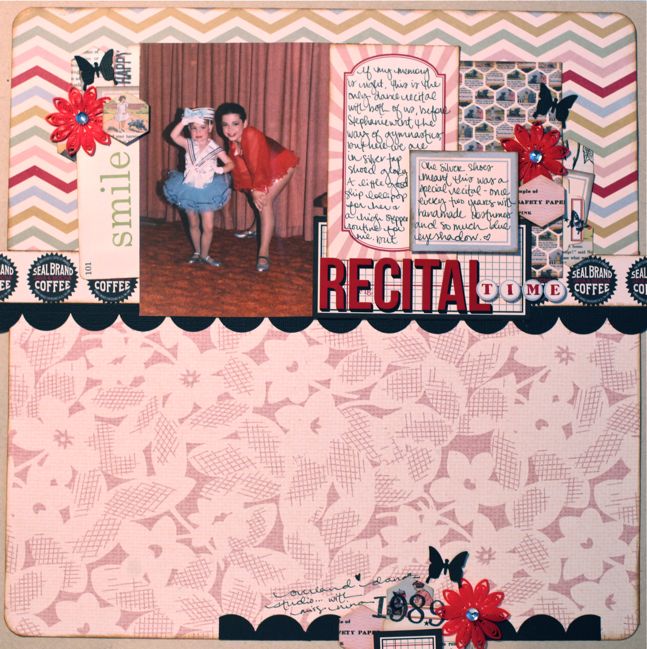 Here's my finished page, with one of those older photos that doesn't have any additional pictures for a multi-photo page. Complete coincidence that the print was the same height as the two cards to its right, as I didn't have this photo in mind when I made the starting point… maybe a sign that I work with the same sizes so often that they just fall together naturally? Who knows.
Most of what I added was more Jenni Bowlin: doily flowers, hodge-podge and quilted stickers, letter stickers and the new butterfly punch. Plus an old favourite Fontwerks stamp set for the numbers and a MME stamp set for a couple tiny additions.
Now it's your turn!
If you want to join in this week, recreate this starting point with any supplies you like, then complete the page in your own style. Upload it to your blog or a gallery and leave a link at the bottom of this post to share your work.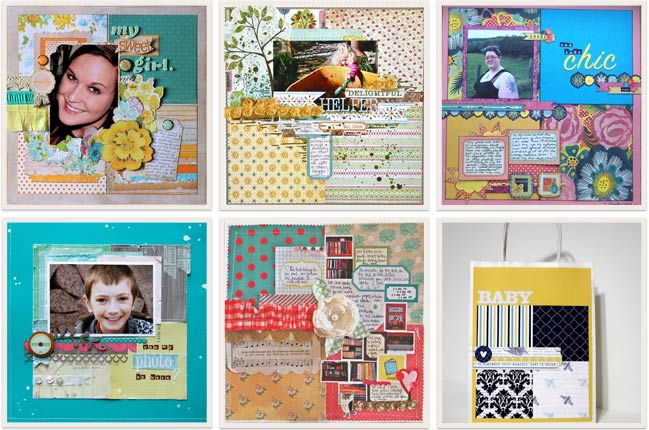 Last week's layouts were particularly gorgeous, I must say! So difficult to pick, but these are six I found noteworthy. Do take a closer look and leave them some comment love or add them to your bookmarks! Clockwise from top left, they are from Kelly, Soaphousemama, Nancy, Kelly (who cleverly made a gift bag!), Helen and Katherine.
Two quick closing notes for today:
1. If you're a big starting points fan, consider joining us for True Scrap. See this post for details of an exclusive starting points video series available with this online event.
2. If you've been thinking of picking up some brand new scrapping goodies, the deal of the day is a particularly good one today for stocking up on papers and embellishments at 60% off, while they last.

Read more about: scrapbook-starting-points jenni-bowlin-studio
12 March 2012

Next post: Glitter Girl and the sewing machine solution (scrapbooking video)
Previous post: 10 Things :: March 2012