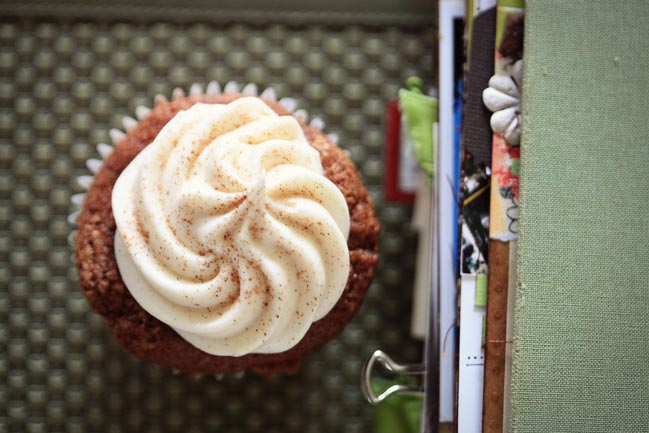 On the tenth of the month, a bunch of us share ten things. Any ten things. All different kinds of ten things. And you're welcome to join us.
For March, I'm discovering just how cold an old building can be, even when it doesn't feel old on the inside. (Our new flat is a modern conversion of a school opened in the early 1800s.) All that cold is making me turn on the oven more and more, so about a ten things devoted to things I like to bake!
1. Pumpkin pie. Preferably from an actual pumpkin. I actually stick pretty close to Martha's Recipe, but using fresh pumpkin always needs more spices, I find.
2. Pumpkin cupcakes. Let's just get my pumpkin obsession out in the open from the start, okay? I could eat pumpkin every day and never get bored. Pumpkin-filled pasta is also one of my favourite things, but I don't really tend to bake that, so it doesn't make this list. Though a pumpkin lasagna could be baked and that sounds amazing. But I'll leave it at just pie and cupcakes for this list.
3. Things that are exceedingly chocolatey. Like these cupcakes. And "this really simple cake": , which I make whenever we stay with strangers (in a hostel or a shared house/chalet, etc) because it takes few ingredients and no equipment but always disappears in moments.
4. Rhubarb crumble. Seriously, rhubarb is fabulous, and I love how it makes the house smell when it's in the oven. I don't use a recipe for crumble because rhubarb really varies in sweetness so I taste as I go (which is half the fun) but this recipe is a good starting point if you need one.
5. Long Winters Cupcakes. Spiced apple cake and named after a favourite band, then baked for the band when they came to town, a story I never tire of telling. But seriously, music fandom aside, spiced apple cake is such a great mid-afternoon food in a cold house. If I'm just making it for home, I bake it in a loaf tin.
6. Alicia's bread. Which she calls 'Ann's bread' and I wonder if Ann attributes it to someone else? Speaking of a loaf tin – this is an actual bread that I bake as a loaf just for us or as gifts, or as rolls (in a cupcake tin) for a meal with company. It's a yeast bread but it's easy and fast and the end result is crazily rich and a bit sweet. If you manage to leave it a day without eating it, it makes a French toast that will blow your mind. You know… if you like fancy French toast, anyway.
7. Things involving Oreos. Like these. Because though I go through long stages of eating exceptionally healthy food, Oreos are the one weakness that bring me back. I cannot resist an Oreo. It's ridiculous really. One day there will be an Oreo intervention. And it will fail.
8. Root Vegetable Pizza. Because it is made of pretty much all of my favourite things. Like sometimes I even add wedges of pumpkin. (Okay, maybe there will be a pumpkin intervention. IT TOO WILL FAIL.)
9. Crazy omelettes-turned-frittatas-or-something. Not quite quiche, but not made in a frying pan. The sort of thing you make from the random things in your fridge that somehow will work together, plus eggs and a pie dish. In our house, this often involves Jarlsberg, not unlike this.
10. Lately, a million things with mushrooms. I fall in and out of love with mushrooms, so I shall not have an impending intervention. But lately, mushrooms are on my good list, and pretty much any dish. Well… not cupcakes. But everything else.
So! What ten things will you share this month?
PS: I haven't figured out the new oven enough to make macarons. Need to get brave soon though! I have promised someone I will.

Read more about: 10-things
10 March 2012

Next post: Scrapbooking Starting Point
Previous post: Scrapbooking Giveaway Day