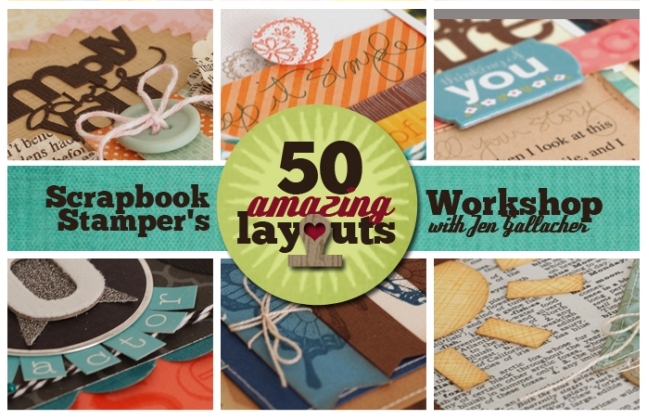 This week one lucky reader will win a place on Jen Gallacher's new scrapbook stamper workshop.
Learn to stamp on your layouts! Join Garden Girl Jen Gallacher for this self-paced, comprehensive course focusing on the following five stamp design styles: open, solid, alphabet, sentiment, and background stamps. Download the helpful 62 page "Scrapbook Stamper's Workbook" which includes five instructional chapters, 50 stamping tutorials, and 50 brand new page samples with complete supply lists and step-by-step instructions. Five helpful chapter videos are also included which walk you through each of the 50 stamping tutorials. The workbook and videos are designed to work hand-in-hand, helping you become more comfortable with stamping on your scrapbook pages. This class is perfect for you, whether you're a cardmaker looking to make the transition to scrapbooking or you're a scrapbooker wanting to learn more about stamping techniques in a scrapbook setting.
The content of this workshop will be available immediately upon purchase. The lessons are available for you to work at your own pace and upon purchase can be accessed in the "Workshops" section at Two Peas in a Bucket. A private message board forum is also available to ask questions for Jen and to connect with other participants. Enjoy!
And…you don't need to wait to see if you're the winner before you sign up! If the winner has already purchased the workshop, you can choose to take a refund or gift the class to a friend, so go ahead and get started with your stamping!
Please leave your Two Peas username in your comment. (If you don't have one, you will need to open a Two Peas account – totally free – to access the workshop.)
Entries close at midnight Thursday UK time and the winner will be posted Friday evening, so be sure to check back to see if it's your lucky day!

Good luck!
---


Congratulations to Jennie, who wins the sampler pack of pretties from My Little Bit Of Whimsy.
Jennie, please email me (shimelle at gmail dot com) with your address.
And – now it's time for..


Randomly selected from all the comments, tweets, pins and shares of the CHA Winter 2012 coverage here on the blog, we have lots of prizes! Ten winners of $10 Gift Certificates to Two Peas in a Bucket and one grand prize winner of a $100 Gift Certificate to Two Peas.
Ten winners of $10
Ann Caldwell
Margie Visnick
Sigrun Campbell
Nelli Chamings
Julie Weis
Latharia
Sannika
Ruth Tacoma
Kathy R.
Torry
Grand prize winner of $100


Winners, please email me (shimelle at gmail dot com) to claim your prize, which will be sent to you by email.
There's a new giveaway every Friday night, so check back next week for another chance to win just by leaving a comment.

Read more about:
09 March 2012

Next post: 10 Things :: March 2012
Previous post: Glitter Girl and the tricky transparency (scrapbooking video)