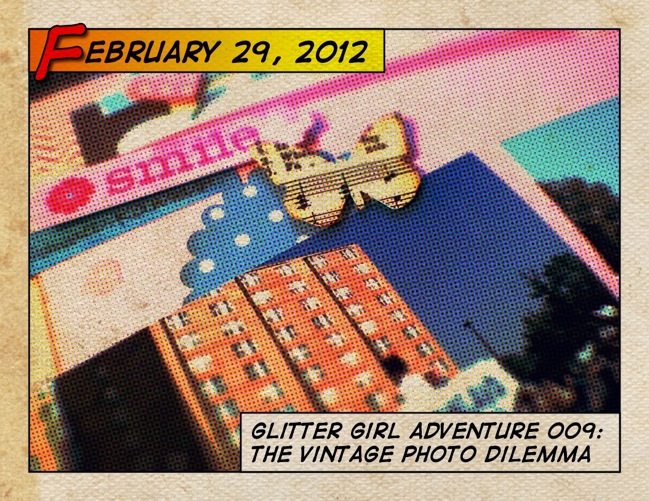 Class content ©twopeasinabucket.com.
Quick reminder: today is the last day to enter to win a free pass to my new workshop, The Hitchhiker's Guide to Scrapbooking! Click here for the post where you can enter. Thanks!
This week Glitter Girl was quite excited to see a discussion about photos from the seventies, eighties and nineties on the message board, and the adventure of the Vintage Photo Dilemma was born. This week's adventure includes a look through some pages including older photos, a breakdown of how to look for papers that complement the warmer film tones of older colour photos and of course, a scrapbook page (complete with photos from 1986) right from beginning to end. The page construction in this week's video might also be useful for you if you have a page on any theme with more writing that you have room for or want to show.
Come along for this scrapbooking adventure, won't you?

Supplies to note this week include the Country Picnic collection from Pebbles (that's what I used for the papers), journaling cards from Elle's Studio, wood veneer pennants from Studio Calico and Glitter Tape from American Crafts. Oh, glitter tape. Or glitter ribbon. I'm not completely sure which name is the official name, but what I do know is that it sparkles like lots of glitter but with absolutely no mess. Which is cool. The first few colours are available now with lots more to come. And the large scallop border punch I love is back in stock too. All the supplies are listed here so you can add them right to your bucket if you see anything you need would like.
Scrapping the Eighties is something I've discussed in a different format before – we recorded an entire episode of the Paperclipping Roundtable about just that, last November. You can find that here if you like. You can also find more photos of the Early Years album featured in the video here, though of course I have added more pages since that post. But quite a lot of it you can see there.
By the way, just to put things into perspective, I have more photos from that parade in 1986 and one of them includes the local full-service petrol station in the background. Gasoline was sixty-six cents per gallon that week – and that was with someone else pumping it for you! Last I checked, the price at our nearest pump equates to something like $8.45 a gallon, which goes a long way to explaining both why petrol is not sold by the gallon in this country and why we do not own a car! Anyway, little things like that in the background of older photos always remind me of how the stories of our lives have so many layers and things hiding in the back of snapshots help all that come to life. I love getting a fabulously framed shot but I love just clicking without too much regard too, because otherwise the background might not be there. Even in these three images there are some posters for businesses in the background that sent me down memory lane, and I ended up searching for one online to see if it was still around, and sure enough Kansas City Costume is still in business – since 1925, except now with a website, Twitter account and a Facebook page.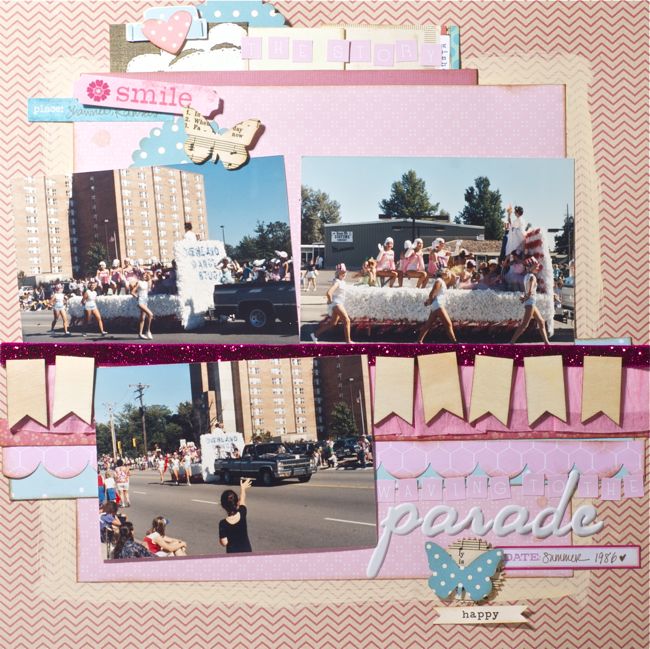 This week, Glitter Girl challenges you to scrap one or more photos from the pre-digital era, especially the seventies, eighties or nineties. Then share the results in the gallery! Don't forget to tick the box for the Glitter Girl challenge in step four of the uploading process. Feel free to share a link here too – you can leave one in the comments if you want to share.
Onward, covered in glitter, my dear scrapbookers!

The Adventures of Glitter Girl is a weekly series on Two Peas in a Bucket, and goes live every Wednesday. I'll share each adventure here shortly after that. I hope you enjoy her quests for crafting happiness, and if you ever have a scrapbooking dilemma yourself, you can always call her to action on the message board. She's currently looking for a topic for next week. What should it be?

Read more about: adventures-of-glitter-girl two-peas-in-a-bucket
01 March 2012

Next post: Scrapbooking Giveaway Day
Previous post: Too Precious to Scrapbook :: Paperclipping Roundtable Scrapbooking Podcast