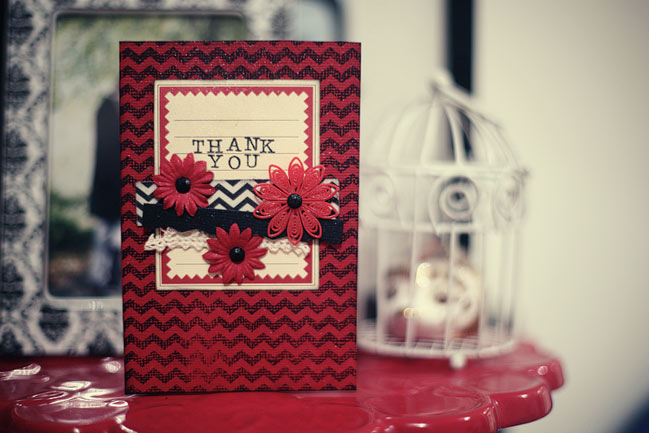 New year, new projects. There are so many projects out there this January! That makes me happy – I love that the scrapping community continues to share so much online. Here's a 2012 filled with craft and creativity! But specifically, let me introduce you to some projects that are near and dear to my heart.
And all of these are free, by the way. Entirely.
Saying Thanks
In this day of tweets and text messages and all those fast ways we communicate, real mail that is handwritten and sent through the post or handed to a friend is extra-special, right? My personal project this month is make a point to say thanks. Thank you cards for Christmas gifts, thank you gifts for hostesses, thank you notes to let friends know how awesome I think they are. That sort of thing.
I also want to say thank you to all of you, who make all my crazy adventures possible. I am thankful every single day that I get to do this – this whole crafting and writing and picture taking and class teaching and blogging thing. I can't say thank you enough to convey it all.
But I'm going to share a whole bunch of thank you cards and thank you card tutorials with you throughout January. I hope you'll pick your favourite and know it is from me to you.
You'll find Saying Thanks right here at shimelle.com, in blog posts throughout the month. You can also subscribe via Youtube if you prefer that way of catching the latest video.


The Adventures of Glitter Girl
Every day of the week, scrapbookers gather on the General Scrapping message board at Two Peas in a Bucket to discuss their latest finds, their favourite projects and also their crafty conundrums. There are plenty of interesting discussions to compare products, stretch supplies to more crafting and otherwise find new and interesting ways to glue a piece of paper to another piece of paper in an aesthetically pleasing manner. The General Scrapping board is my go-to place for scrapping discussion!
I don't know much about the rest of this. See, mild-mannered scrapbooker Shimelle Laine can only do so much. I read the boards, I post when I can add to the discussion. But some crafty conundrums call for something more than I can offer. But in times of crafting crisis, there is someone who can help. Just call out for Glitter Girl!
Every Wednesday, Glitter Girl takes on a new adventure, helping the world one crafting dilemma at a time. Glitter Girl joins Two Peas via video to solve a problem posted on the message boards. That includes project tutorials, product comparisons and technique tips throughout the new year.
So yep, there's that. Whoever she may be.
And there are more new scrapbooking classes at Two Peas from other Garden Girls too. If you like videos featuring scrapbook page tutorials from the supplies to the finished layout, tune in at the beginning of the week for Memory Keeping Monday. Jen Gallacher, Shannon Tidwell, Nancy Damiano and Lisa Truesdell rotate as the weekly hosts, so you'll see each of them about once a month, which means there is a great balance of varied styles. If you prefer cardmaking tutorials, then the end of the week is for you. Laura Craigie, Julie Campbell, Kandis Smith, and Lynn Ghahary host Finally Friday with a new card tutorial each week.
You'll find all these projects on the classes page at Two Peas, and you can also subscribe to the Two Peas Youtube channel. Glitter Girl might just persuade me to share her adventures here on the blog too. We'll see.
All of the Garden Girls are bloggers, by the way. If you want to start 2012 with a great bunch of scrappy blogs, you can find them all together here, and you can even subscribe to all of them in Google Reader with just one click to make it nice and easy. (Not quite all of us tweet, but you can find all who do here, if that suits your style!)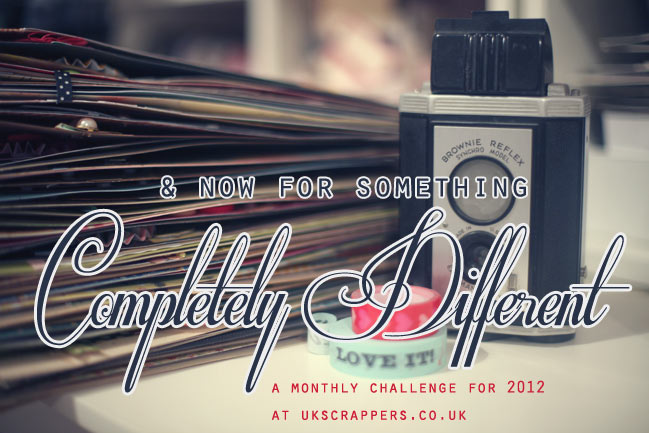 And now for something completely different…
The other message board where you might find me talking scrap? UKScrappers. It's the place to talk to other scrappers and papercrafters in the UK, but everyone is welcome really, so do grab yourself a username if you want to join in the fun. In 2012, I'll be leading a monthly project at UKScrappers. Each month includes a full scrapbook page tutorial, but each month that tutorial covers something completely different.
On the 10th of each month, a supply list will be published at UKScrappers. All of the projects can be completed with your own stash – they don't need specific supplies. But the supply list lets you find the right photos, print them at the right size and gather the supplies of your choice so you're ready to go when the tutorial goes live. That happens on the 20th of each month. Then you have till the end of the month to upload your project to the gallery at UKS… and you just never know what goodness might come your way for that!
If you like the idea of a year-long challenge but also know doing the same thing for an entire year isn't really your idea of fun, then this sort of project can be just right for you.
Other classes offered at UKScrappers this year include Art Journey, an art journaling workshop on Mondays and Wednesdays, Simple Recipes on the first and third Tuesday of each month, a new technique post every Thursday (called Technique Thursdays, of course!) and Snap 2012, a photography project with prompts on Fridays.
You'll find each of those projects has its own location on UKScrappers, but your best bet is to always check the UKS homepage for links to what's new. I'll be sharing my tutorials here too.
So wow that's a lot. My head is spinning a bit! But it's a spin of excitement!
I hope something here grabs your fancy and you find a project or two to enjoy in 2012!
Thanks so much.
xlovesx

Read more about: now-for-something-completely-different saying-thanks
02 January 2012

Next post: Glitter Girl and the scrapbooking mystery of memorabilia
Previous post: Year of Adventure Scrapbook Page