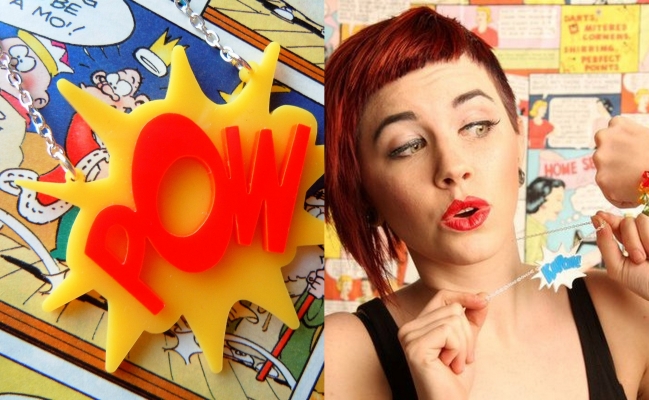 This weekend, one commenter will win either a POW or KAPOW necklace from the amazingly funky Kitschen Sink Jewellery store.
KitschenSink jewellery and accessories is the result of Rowan Grant spending quality crafting time with her Grandma, a fascination of colourful branded toys and a desire to re-purpose mass-produced materials into handmade, wearable fashion treats. Very often, the jewellery features iconic comic images which have been repurposed into jewellery for you to make a statement. The designs, which are reminiscent of Lichtenstein, are perfect for pop-art princesses, Lichtenstein lovers and graphic novel geeks alike.
Kitschen Sink has a fabulous blog where you can keep up to date with the latest news and creations.
To enter, just leave a comment on this post telling us who your favourite super hero is, or what your super hero name would be!
Entries close at midnight Sunday UK time and the winner will be posted Monday evening, so be sure to check back to see if it's your lucky day!
Good luck!
xlovesx

Read more about: giveaways
02 December 2011

Next post: Scrapbooking Giveaway Winner
Previous post: A Christmas Manifesto for 2011