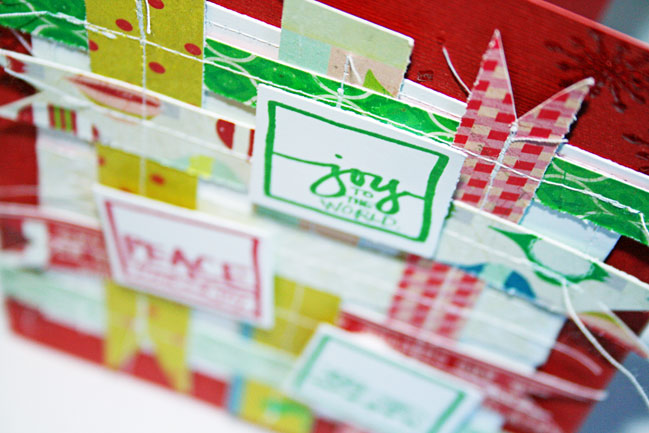 For our first tutorial, I'm happy to welcome Melissa Mann, who has a favourite cardmaking technique to share. Don't miss the challenge at the end of this post!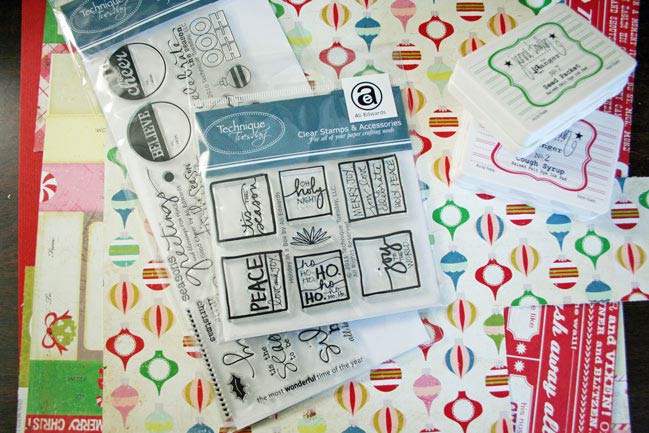 Hey everyone! I absolutely LOVE Christmas! It is by far my favorite holiday and I especially love Christmas cards! I love sending them and receiving them so I have worked up a little Christmas card tutorial that has a paper weave technique to it! This card can be made in a very simple fashion or a very detailed fashion. Let's get crafting!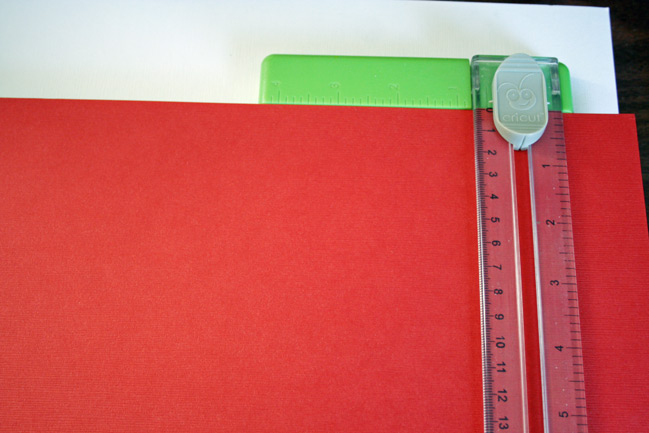 Cut a piece of red card stock to 10" x 7" and fold in half to create a 5" x 7" card.
Cut a piece of white card stock to 4" x 5".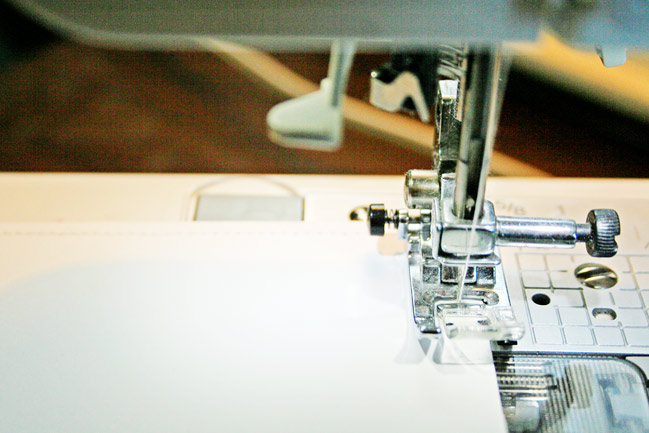 Using your sewing machine, stitch along the outside edge of the white block of paper. Set aside.
QUICK TIP: Draw in faux stitches using a pen – red stitches would be lovely!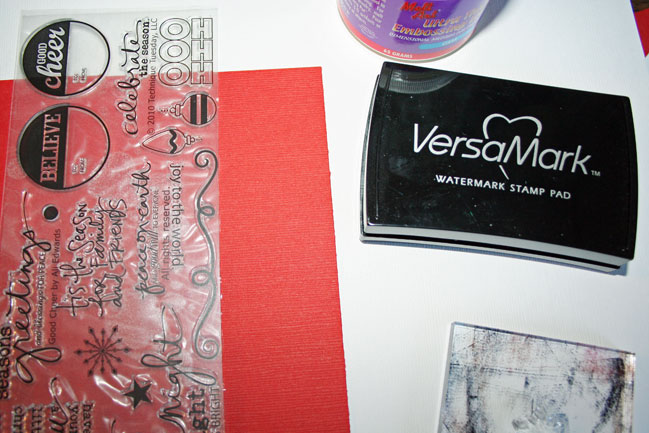 Take the snowflake stamp and using Versamark ink, stamp all over the red card stock.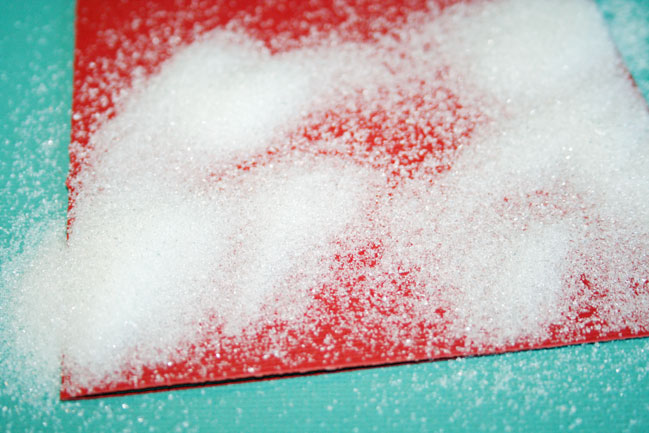 Liberally sprinkle UTEE all over the stamped images and spread around by shaking the card. Then, shake off the excess UTEE onto a scrap piece of card stock.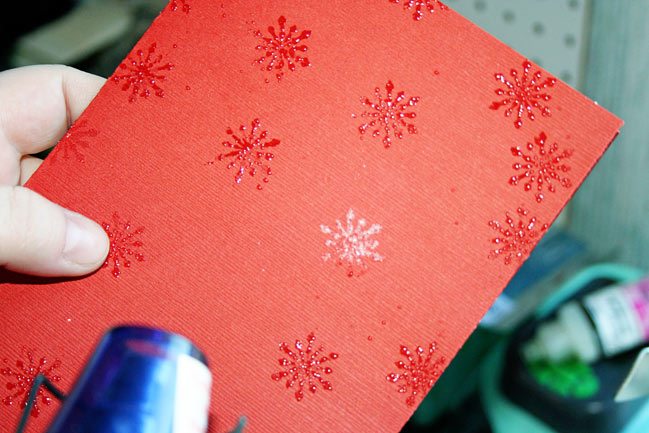 Using your heat gun, set all of the images that were stamped until the UTEE has melted. You will see a nice glossy watermark image of your snowflake on the red card stock.
QUICK TIP: Instead of going through the various steps of embossing your image, you could also simply use a shade of red ink and achieve the same tone on tone look as the embossing has.
Take the stitched white block of card stock and adhere to the center of the red card stock.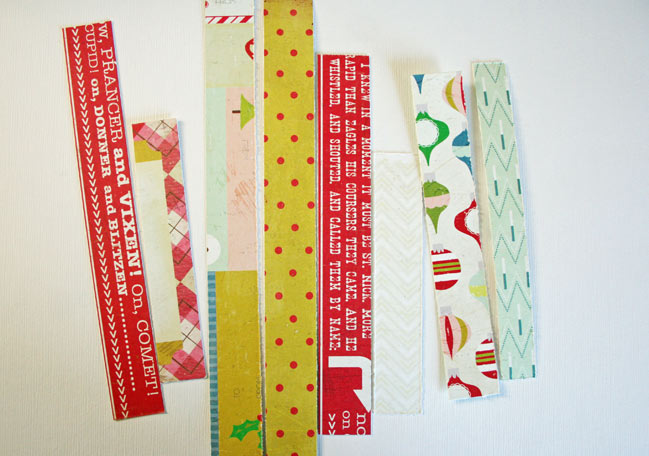 Cut out some strips of pattern paper in different patterns into various sized strips.
Snip some of the ends of the strips in a pennant style.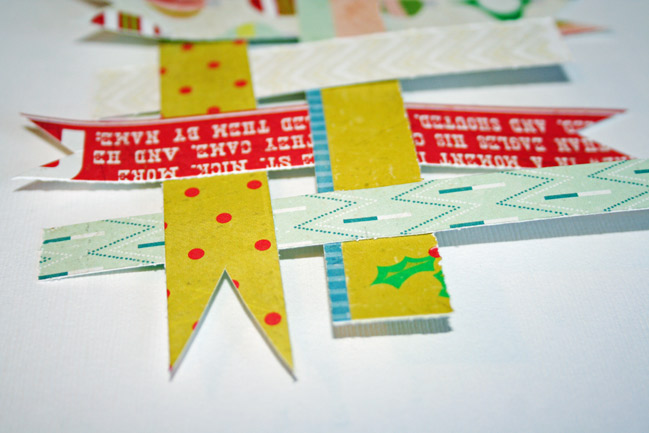 Weave the paper strips together. Lay down the three vertical strips and using some shorter strips of paper weave them horizontally through the vertical strips.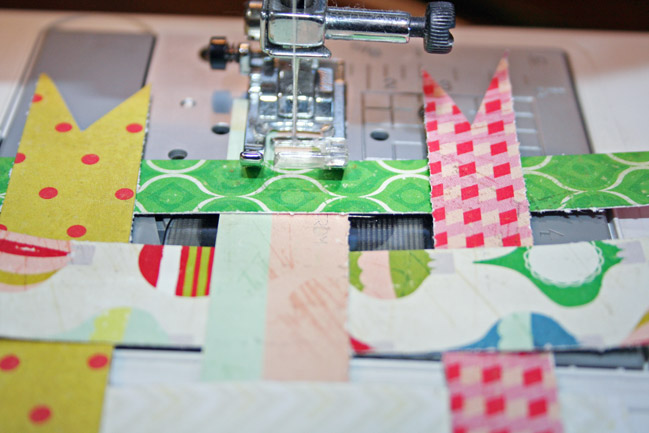 Sew the strips together with your sewing machine. I started with the very middle vertical strip of paper – this anchored all of the horizontal strips and made it easier to run them through the sewing machine. I also left the ends of my threads – it gave it more of a quilted, handmade look.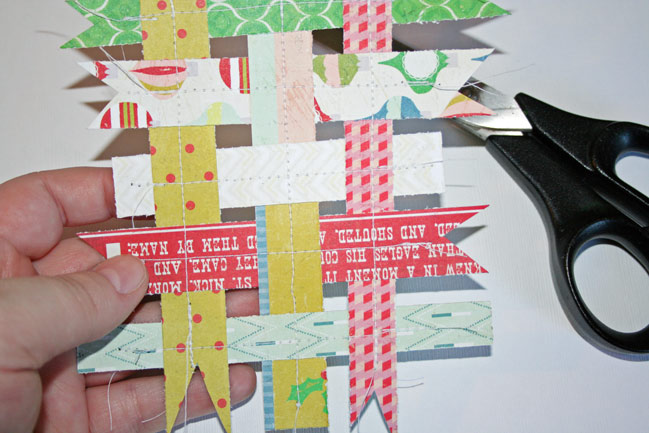 QUICK TIP: Instead of taking time to sew down each strip, you could also glue them together or staple them together.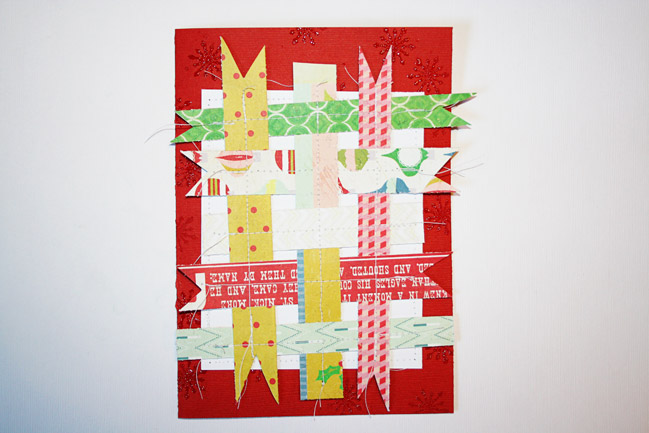 Take the entire weaved paper piece and adhere down on top of the white card stock. Set aside.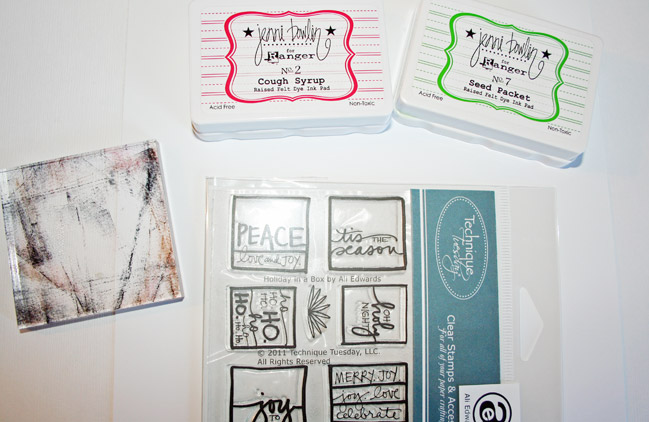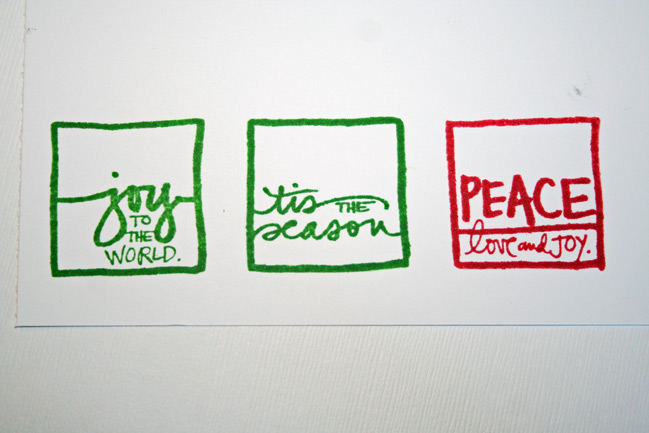 Take the "Holiday in a Box" stamps and stamp out three images onto white card stock using red and green ink.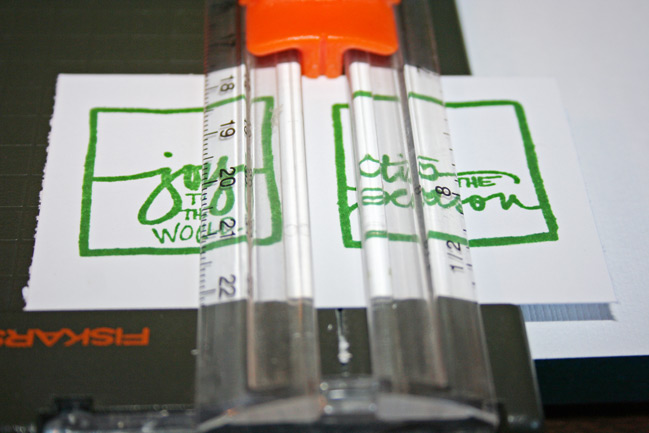 Cut out the images.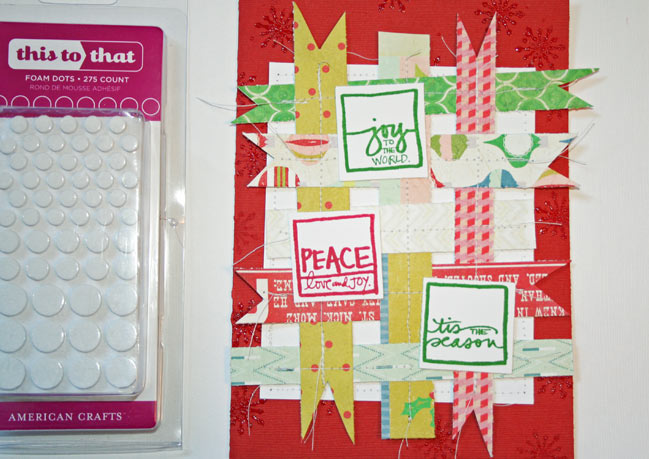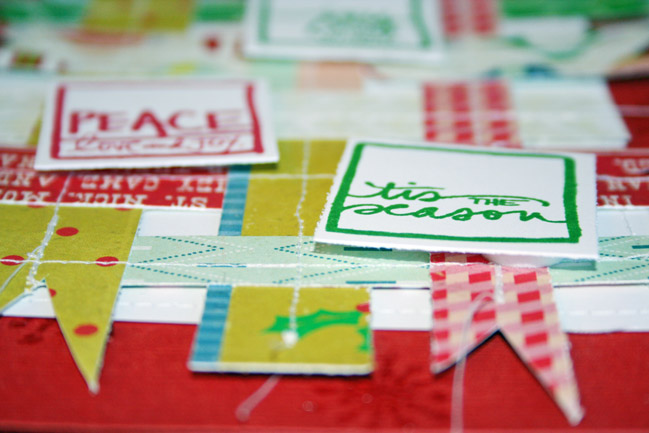 Use dimensional dots on the backs of the stamped boxes and place randomly on the front of the card.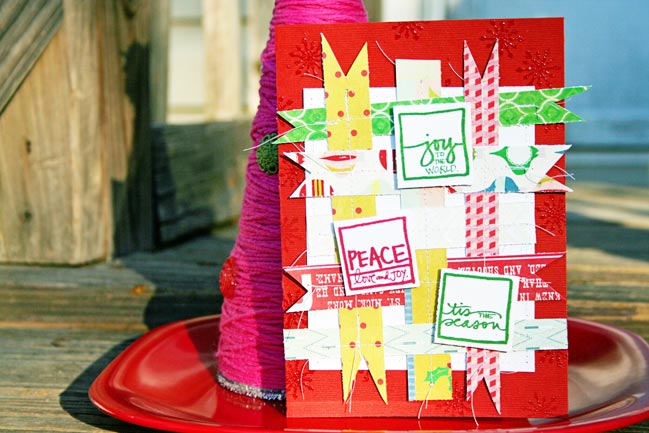 This card is perfect to use up some of those strips of pattern paper that are lying around! And, since you are using stamped images on the front, it is super easy to just stamp out a ton of the little images! I challenge you to create a project whether it be a card or layout that uses the paper weave technique! Super simple but it has a big impact!
Your challenge: use Melissa's woven paper technique on a Christmas project (a card, tag, scrapbook page or something else you create) and post it online. Share a link below to enter. One randomly selected entry will win a $10 gift certificate to Two Peas in a Bucket.
---
About Melissa…
My name is Melissa Mann and I live on the beautiful Gulf coast of Florida! I live with my wonderful husband of almost 8 years and my two dogs and one cat. My day job consists of being a team lead for the reservations staff at a condo. started scrapbooking in 2005 and have been honored to be on several design teams and be published in Scrapbook Trends and Cards Magazines. I currently design for American Crafts, Blue Moon Scrapbooking, The Girl's Loft, and
SEI
. You can check out
my blog
. I am also on
Twitter
,
Pinterest
, and Facebook.

Read more about: online-scrapbooking-weekend
11 November 2011

Next post: Choosing a size for a Christmas Journal
Previous post: Christmas Crafting Weekend - let's start with a giveaway!