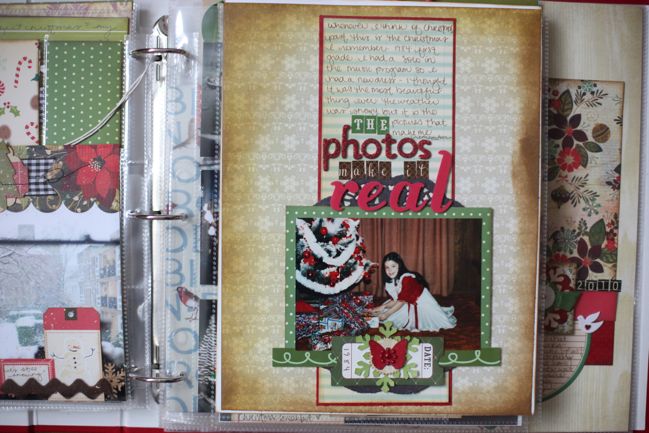 It's the tenth of the month – and that means a bunch of us share ten things. Any things, as long as there are ten of them! (You're welcome to join in!) This month, I've picked ten of my favourite Christmas journal entries from all my books over the years. I hope you enjoy!
First up: a reflective entry from Christmas 2010, with a photo from a very 1980s Christmas. (By the way, if you have eighties photos to scrapbook, have a listen to the most recent Paperclipping Roundtable, wherein Noell, Nancy and I talk about those photos and Noell and I are banned from singing the Jem theme tune for copyright reasons. But you know, we really are truly, truly, truly outrageous, even if we're not allowed to sing on the air.)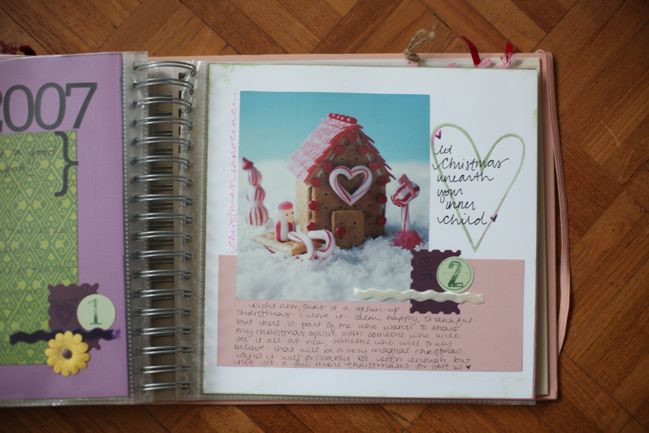 My 2006 album doesn't include many photographs at all, mostly because I didn't have a very useful printer at the time! This photo was cut from the Christmas issue of Martha Stewart magazine that year, and somehow it inspired the rest of the design (really simple, yet I still really like it) and the thoughts about how Christmas is best enjoyed when embracing the same ideas that made it magical as a child.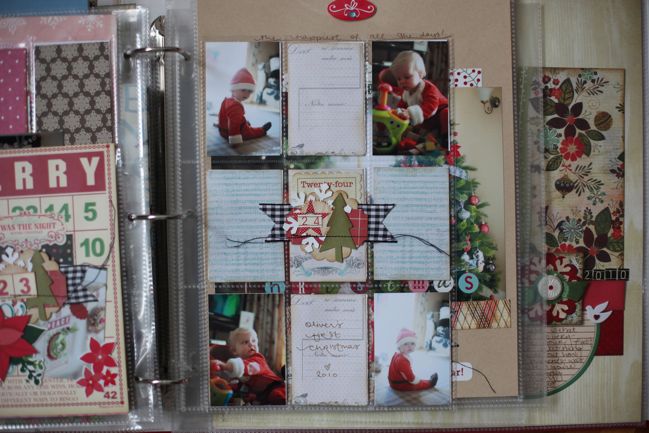 From 2010, the chance to include a 'first Christmas' page with photos of our now-toddler nephew. Babies in Santa suits can melt even the hardest of hearts, surely? I love these page protectors (from the Pink Paislee portfolio album released last year) for not having to pick just one or two favourite images.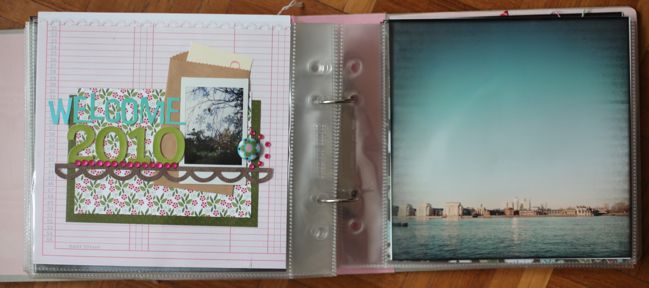 For my 2009-2010 album, I followed the same format throughout the book: one full size 8×8 photo and an 8×8 page with journaling and embellishment on each double-page spread. There is a bit of a delayed finish with this process, as once I had settled on the idea and printed a few example photos to make sure it would work, I decided I would wait until the journal was finished and order all the 8×8 prints at once so I could have the quality and the affordability of actual photos rather than home-printed images. So the book looked quite bare with every other page missing, until the very end of the project when I opened this amazing parcel of forty 8×8 prints from the Christmas just gone, and in the end this is my absolute favourite format for all the journals I have done. (ETA: The 8×8 prints came from Photobox – they have that in their list of sizes so they didn't need trimming.)
I continue my Christmas journal through to the sixth of January, so it includes the new year. On the first day of 2010, we took an early morning walk to the river and this photo became quite important to my clarity through all that would come of a rather more-dramatic-than-usual year on the calendar.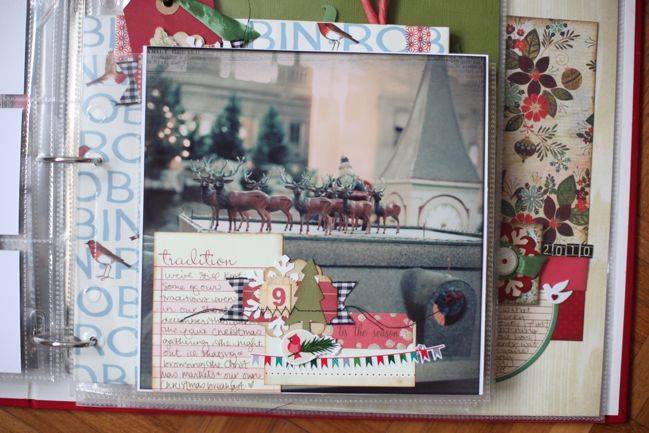 I loved the full page 8×8 photos from 2009 so much that I tried to find ways to include them in 2010 too without using the exact same treatment. So instead of the plain photo on a facing page, I added the embellishment and journaling right on top of the 8×8 photo of a Christmas train display. The trains came from all different enthusiasts in my hometown, and they staged them together in this giant Christmas-themed train world and you could go see it at the big train station. Even to someone who doesn't really imagine ever having a train set in her home, the finished product was very cool. Documenting community efforts like that – even if it's just with a photo – is something that really makes me happy to have these albums.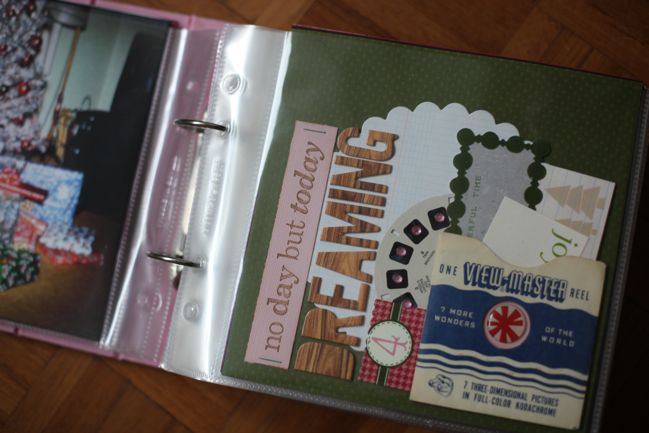 From 2009, one of my favourite entries in terms of embellishments. Viewmaster still says Christmas or sight-seeing to me, as I would look forward to new reels as a Christmas present and my favourites were tourist reels from different cities of the world. I had quite a few reels of amazing natural places like the Grand Canyon and Yellowstone, but London and Paris were my most cherished and I would click through them hundreds of times, by the light of a bedside lamp and huddled under a pink electric blanket. When I found someone selling off an old Viewmaster collection a few years ago, I used the duplicates as fair game to scrapbook, and turning to this page brings me back to such a specific memory.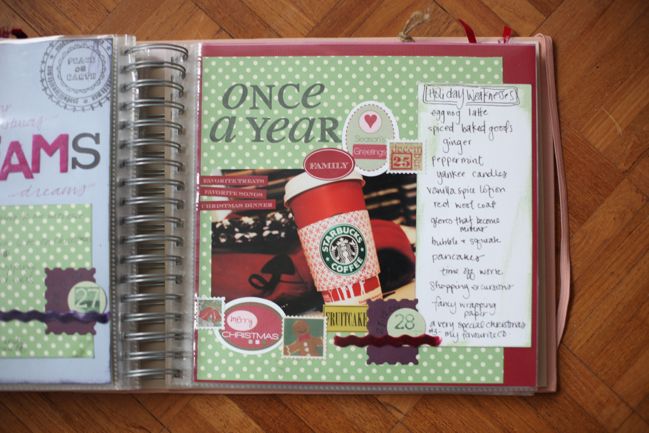 This page from 2006 makes me giggle to see how my perspective has changed in just a few years. Not that I don't still extol the virtues of the occasional eggnog latte and indulge in any excuse to bake gingerbread latte cupcakes, but that I make a page with this same thought most every year, and its tone has changed from tangible luxuries to things that are far more grand and important in the world. Together, they would read a little like comparing red cups to world peace, and that makes these journals a true documentation of my own changes over the years.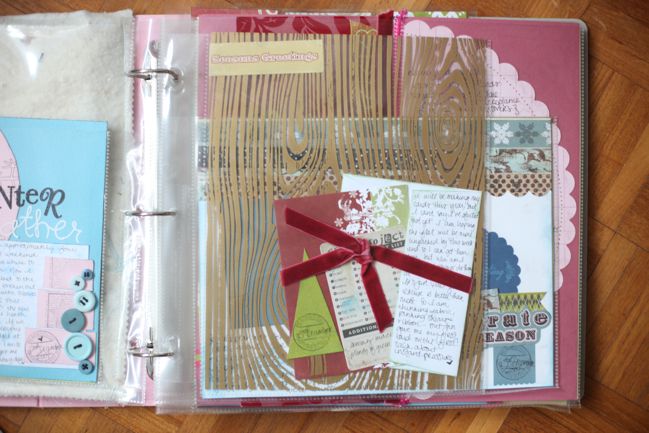 From 2007, a page I love purely because it felt luxurious to use my favourite transparency as a full page. I love that the repetitive nature of this project has made me brave enough to try things that may or may not work. This particular album is not my most polished (and I have Christmas journals that I don't feel work visually at all and have not a single page represented here), but I learned a great deal from making it (and the writing in those less-than-great visual journals is still valuable to me).

I love pages that are more than what they seem. This looks like just embellishment, and while it does use a combination I adore (woodgrain letters on Christmas green paper), its real meaning is completely hidden, as the back of each of those flashcards is folded with an accordion of paper, filled with handwritten memories of Christmases past. But you wouldn't know that unless I told you or you were being a little more nosy inquisitive than the average bear. This is from my 2009 album.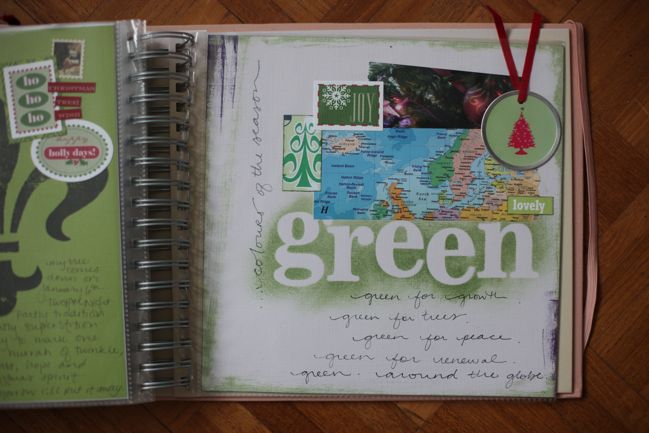 An extra page I created for my 2006 album when I realised we had participants from thirty different countries. There are even more now and every new country makes me so excited! The simplistic journaling came from a conversation in one my English classes earlier that day, when we were discussing how poets use colour and how sometimes the symbolic meaning of a colour is more obvious than others, and there had been a lovely bit of student debate wondering if green or blue was more appropriate for poetic imagery of the planet, and someone had made a beautiful point that while percentage-wise, there may be more blue sea than green land, our viewpoint is that of the land, and unless the poet wanted to make a specific point about the sea, then green would be more relevant to both reader and writer. It was a beautifully organic moment that I can't really recreate, but this reminds me of the wholeness of that very good day.
Journal your Christmas starts again on the first of December and you can join us at any time. Or see other Ten Things posts from throughout 2011.
xlovesx

Read more about: 10-things
10 November 2011

Next post: Christmas Crafting Weekend - let's start with a giveaway!
Previous post: Garden Girl Scrapbooking Blog Hop - Winner!