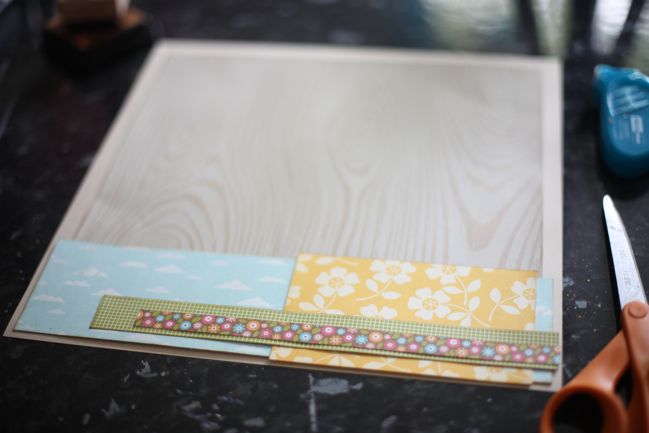 Here's a little something different for this week's Scrapbook Starting Point: something with most of the page wide open. I'm curious as to whether you would fill that big space with a large photo, several smaller photos, or leave quite a bit of the patterned paper on display? I also love that it creates plenty of room for potential writing space, should you not fill that space with photos. This is the before, and you can create whatever after works for your supplies and your style!
Fancy following the measurements? You'll need a 12×12 background sheet plus these five sizes for your papers:
11×11 (though you could cheat one side of this a bit as the bottom is covered)
3×11.5
3.5×5.5
1×10
.5×9 (this was actually a branding strip design – that part that we tear off a 12×12 sheet)
All measurements are in inches. Of course you can just estimate if you prefer, and certainly use whatever you have handy in your own basket of scraps!
Find more Scrapbook Starting Points here or follow the board on Pinterest here. I'll be back on Sunday with my own after page and some favourites from last week's starting point!

Read more about: scrapbook-starting-points
24 September 2011

Next post: Scrapbook starting points :: Hello from Hobart
Previous post: Scrapbooking giveaway day!