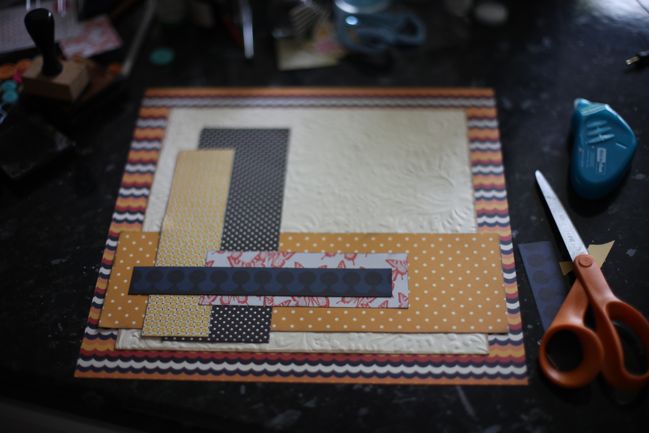 Oooh, hello there Saturday. You're looking rather lovely indeed! And just because, I have a little twist for this week's starting point.
Recently I noticed I love striped papers when I'm shopping and I often use them in small pieces but I still have a sizeable stack of full sheets and I wondered if maybe I should use them as backgrounds more often. Trouble is, a full sheet of 12×2 stripes is quite a statement – either you can go with that or find something to give it a bit of balance – and lately I'm loving the idea of layering a 10×10 box of something more subtle over a boldly striped 12×12 background. So much so that I've actually made two layouts from the same starting point this week.
This first example includes papers from the Jenni Bowlin Studio Halloween collection, but the finished layout isn't actually Halloween-themed. I'll show you that finished version tomorrow with my favourites from last week's starting point. (There is still time to add your link to that if you're scrapping today!)
For those of you who prefer measurements, the only piece I really measured was the 10×10 box, but the others are roughly 4×11.5, 3.5×8, 2×7, 2×6 and 1×8 (all in inches). Is that helpful? (Let me know if you think I should always include the measurements with the starting point.)
The second example is something a bit brighter in colour… and it's part of a bit of Saturday fun from the American Crafts design team. That will kick off in mid-afternoon UK time, so I hope you'll pop by to see what those girls have up all their sleeves!
I hope Saturday is looking lovely for you too – and maybe lovely for crafting!

Read more about: scrapbook-starting-points
17 September 2011

Next post: American Crafts Scrapbooking Blog Hop
Previous post: Scrapbooking Challenge :: Not All Astronauts are Boys