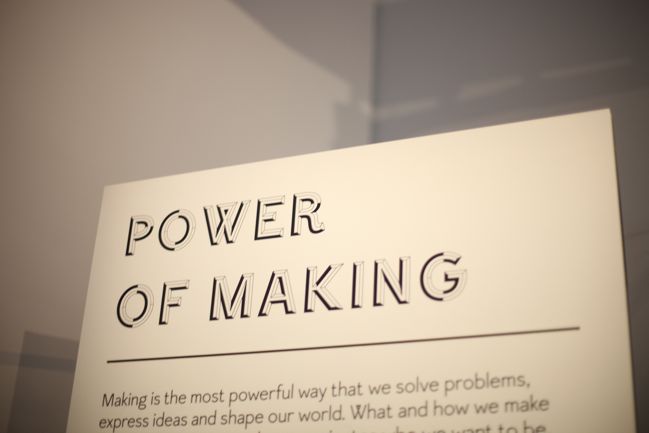 The Victoria & Albert Museum is one of my favourite spots in all of London, so I have to admit I was a little giddy when they invited me to take a sneak peek at their newest exhibition: Power of Making. It has just opened to the public and it's free to view, so you can stop by to see this curated collection in celebration of all kinds of making. When I say 'all kinds' of making, I do mean a wide variety. Like…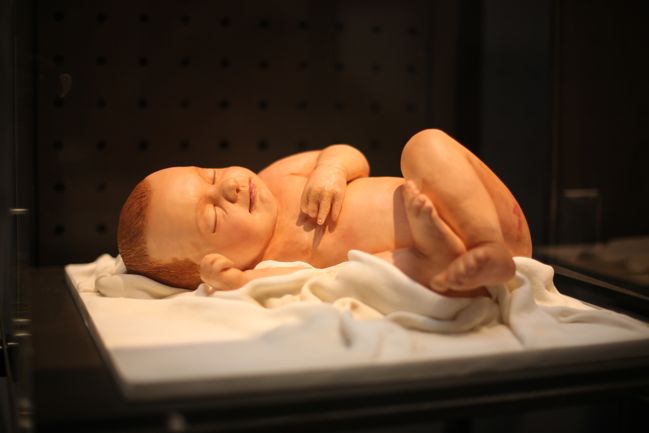 …a lifelike baby sculpted from cake and marzipan. Truly. Michelle Wibowo's work is certainly a whole other level to making a dozen cupcakes.
But there was one item on the list that made all the difference to me. One of the smallest items in the entire exhibition, just nondescript in a little glass case. Teeny-tiny in real life…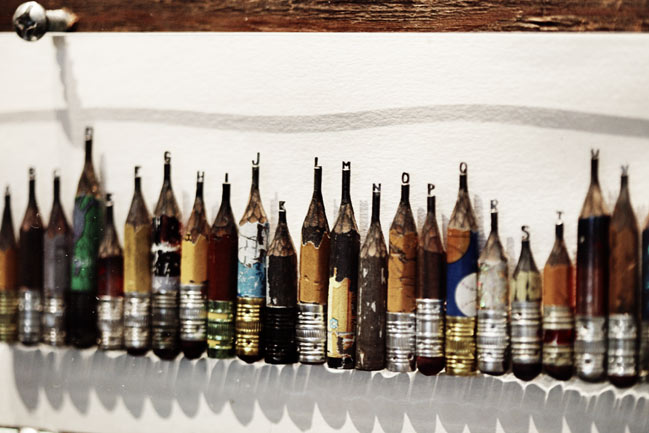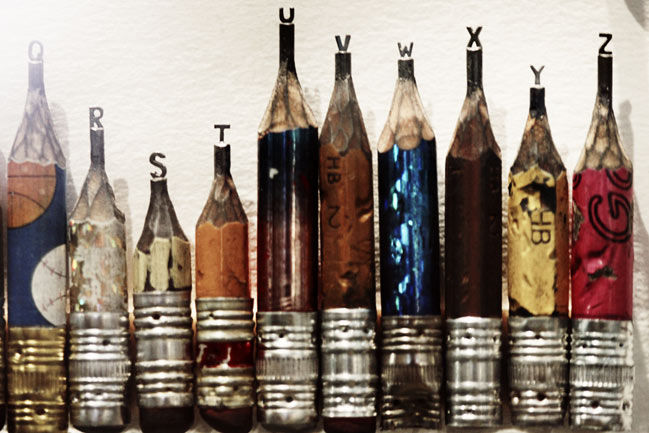 This is 'Alphabet' by Dalton Ghetti. Tiny and perfectly formed letters carved from the graphite of well-worn pencils. This is every bit as amazing in real life as I had hoped. I have so much respect for both the idea and the skill in crafting this collection. It took nearly three years to complete – such patience and focus.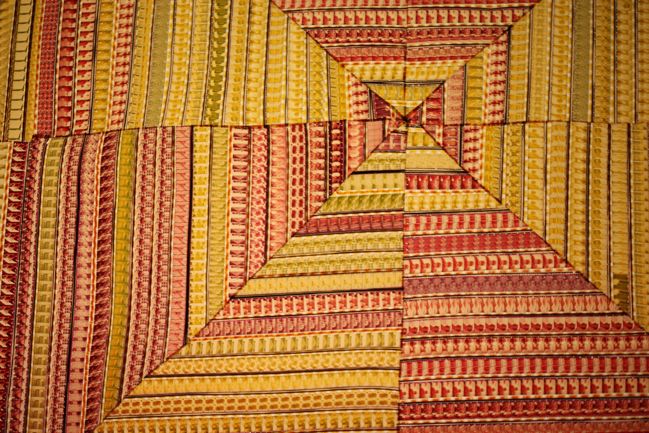 From a distance, this piece looks like a brightly-coloured quilt, but up close you can see the twist in Sabrina Gschwandtner's work. The quilt is made from film footage from early feminist documentaries and stitched into traditional quilt block patterns, illuminated by a light-box.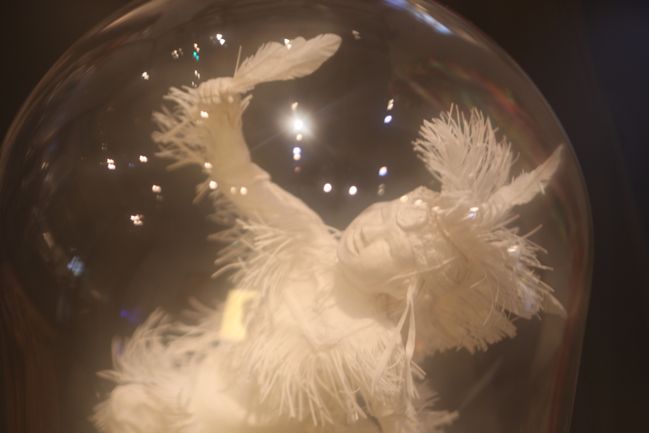 This one is under so many layers of glass that it looks far more lovely in real life than on a photography, but I assume if you read my blog you have at least some sort of appreciate of things made from paper. So how about such a detailed sculpture entirely made from paper? It's so delicate! See more of Alan and Patty Eckman's paper work here.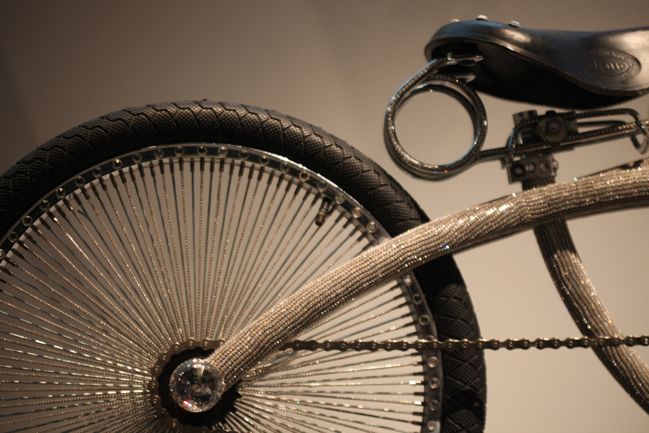 There are many bicycles in the collection – wooden, handcarved, nylon, pedal bikes and superduper motorcycles. But this one! It's entirely sparkly!
I suppose that doesn't sound like appropriate commentary like an actual art critic but come on: SPARKLY BICYCLE! What's not to love?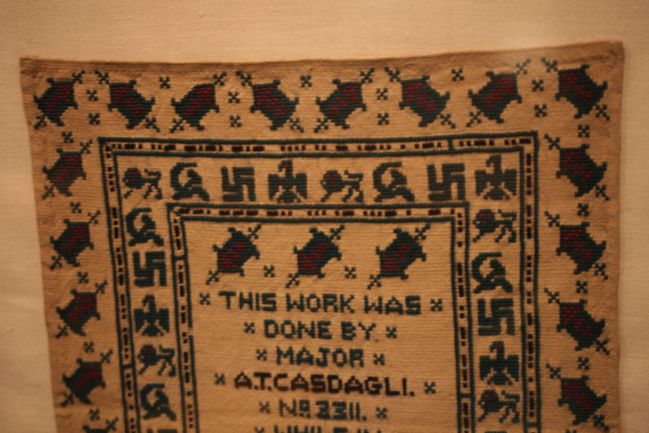 This piece has such a fab story, stitched by Major A. T. Casdagli while being held as a prisoner of war by the Nazis. He sat and stitched for weeks while in captivity, including various emblems that would then lead his captors to display the completed sampler on the wall. Except they didn't bother to read the morse code border in the frame, which spelled out a rather defiant message to Hitler himself. Rebel stitchery!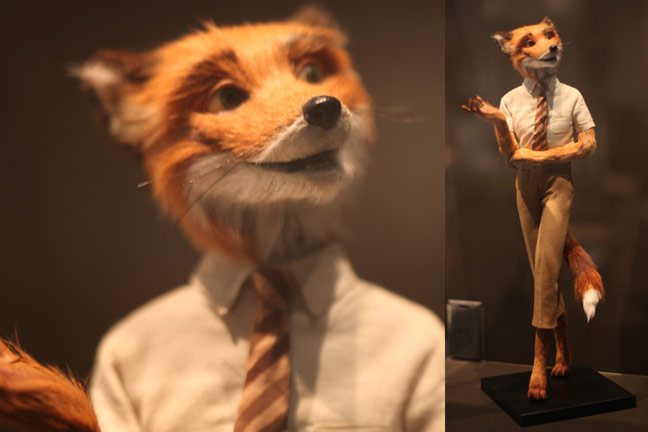 Does this fellow look familiar? He's one of the handmade puppets from Wes Anderson's Fantastic Mr Fox, created by Ian MacKinnon and Peter Saunders. He's so lush in real life and really seems to have a personality. It's almost difficult to realise he's not going to move or say anything!
Power of Making is one of those exhibitions that is best appreciated if you read all the cards as you go through the room. There's so much insight into not just how people make but also why they make things by hand and how they teach and share the love of making things by hand. There's a mix of older making techniques like building stone walls to the most modern of making technology like iPad apps and 3D printers. Throughout the exhibit's run, there are assorted events that bring things even more to life, from a handbag-making workshop to free demonstrations on Fridays and Saturdays. Ben Wilson who made the sparkly bicycle will teach young people how to bling up their own wheels; during half-term there's a special showing of Fantastic Mr Fox. The overall programme has a great mix of events for kids, hobbyist adults and professional creatives. Power of Making is open at the V&A until the 2nd of January 2012.
And now, a giveaway! I have a bonus copy of the Power of Making book that accompanies the exhibit, filled with essays on different concepts of making and photos of works on this theme. To enter, just leave a comment on this post. If you're a Twitter user, you can put your name in the hat another time by tweeting this: check out #powerofmaking – the new exhibit @V_and_A (and enter to win a copy of the powerofmaking book!) http://ow.ly/6pFLW
Entries close next Friday (16th September 2011) at midnight UK time.
Good luck!

Read more about:
09 September 2011

Next post: Scrapbooking Giveaway Day
Previous post: Show me the map :: travel scrapbook page