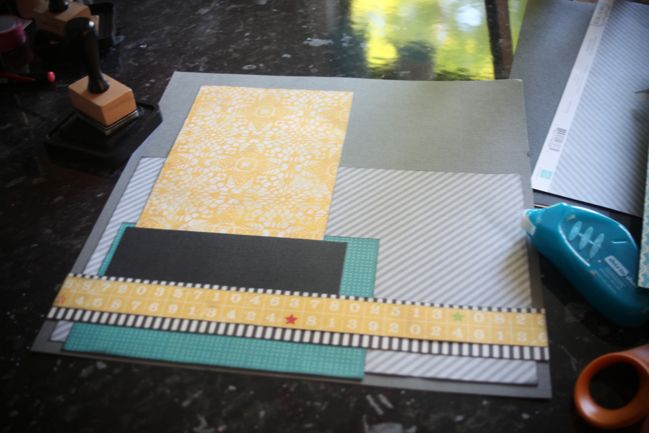 When I posted the Starting Point challenge last weekend, I had no idea just how popular it would be! I mean seriously, as I write this there are more than 130 layouts entered! Which is fabulous.
And it also means we should have a starting point challenge every week, right? On Saturdays. Saturday Starting Points. It has a ring to it.
So here's a new Starting Point challenge for you. Above is where I started with the design for this layout:

©twopeasinabucket.com. Click here for supplies and details.
If you use this starting point to create a layout of your own, share it with us by linking at the end of this post. Next week I'll post some of my favourites with the new Starting Point page.
Now… I don't have a prize lined up for this regular Starting Point challenge just yet – but if you click here, this layout is the weekly challenge at Two Peas. It's a take your pick challenge – you can enter by creating a page with either paint, hidden writing or trying this grey/turquoise/yellow/black colour scheme. And there you can win a prize. So consider the starting point a little kickstart toward that challenge perhaps!
And don't forget, there ARE still plenty of challenges with prizes open for entries! Most of them close tomorrow night (Sunday) at midnight. You can find the full list here and pick whatever you fancy!
Have a beautiful and creative weekend!

Read more about:
20 August 2011

Next post: Congratulations Leanne & Kevin!
Previous post: Scrapbooking Giveaway Day