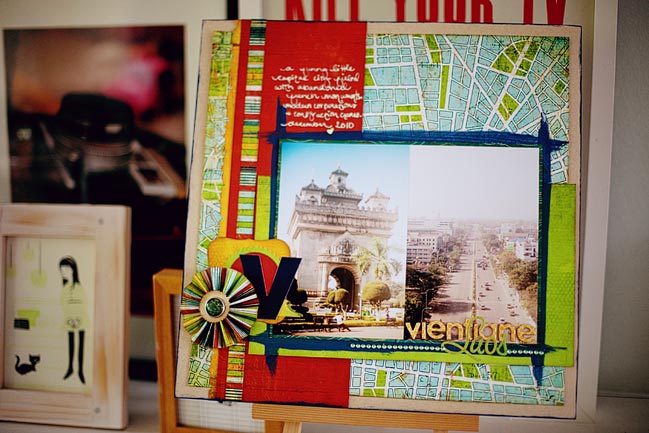 In case you're new around here (and welcome if you are!!), I'm currently working on about eleventy billion scrapbook pages, all on kraft cardstock. Okay, maybe fewer than eleventy billion, but it's very high number. We went on a big trip, took 9000 photos and my crazy head decided about 1000 of them needed to be scrapbooked. I've just passed the 100 mark! Trouble is, the photos are from all different places and I don't want to use the same patterned papers and embellishments for 1000 photos worth of layouts… but I do want something to make them somewhat unified. So in that album, I'm only using kraft cardstock as the background. And that means sometimes the pages can get a bit neutral heavy and leave me craving colour.
Enter BasicGrey.
This layout still fits the kraft cardstock requirement but doesn't skimp on the colour and I loved the change of pace from crafting with these papers. They are from the travel-themed Wander collection, but most BasicGrey lines are full of colour, so even if you're scrapping another theme you can find something lovely. For this page I added blue paint (Jenni Bowlin for Ranger in Spice Tin) and three different BasicGrey alphabets – one in chipboard, one small sticker and one large. I love their big, bold alphabets and think they look great as monograms in embellishments (like this), which helps to use more of the letters on the sheet once you have spelled out a word or two.
In general, I'm excited that I can have a big punch of colour but also follow my kraft cardstock rule. But for this challenge, you can use any colours you would like!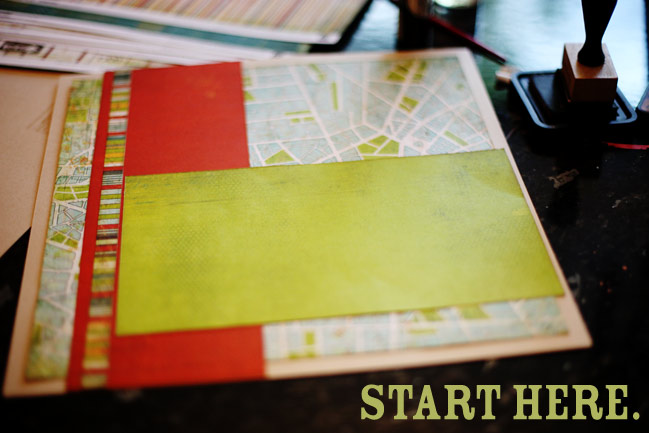 Now the challenge: create a layout that starts from this design. You can use any papers or colours you like, but before you add any pictures, start with that large box of paper in the background, a wide vertical strip plus a narrow stripe and a horizontal block. Then complete a layout! You can use the page above as inspiration, but it's not required. See where this starting point sends you!
One entry will win a prize pack of scrapbook supplies from BasicGrey. Entries close at midnight next Sunday (21st August 2011).
Feel free to use the comment section to chat about this challenge, as the entries should go in the linky widget!
Thank you to BasicGrey for sponsoring this challenge. You can find them on Facebook and Twitter.



Read more about: online-scrapbooking-weekend
13 August 2011

Next post: Scrapbooking challenge :: Chop up your paper
Previous post: Scrapbooking wake-up call :: Giveaway