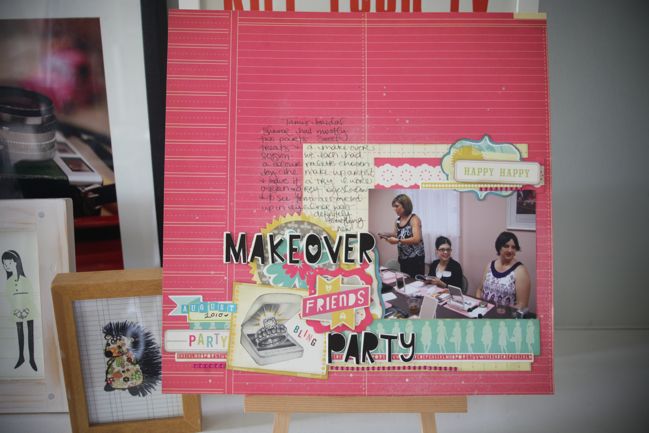 Oooh, I do love a little hot pink. It can brighten up the greyest of days, and once someone said something that really stuck with me: 'I think the reason I always think you look younger is because you wear hot pink'. Ladies, someone only has to say that to you once to make you a believer, right? Hot pink it is. Also, I just really like the word 'hoopla' because it is fun to say and I will find any reason to throw it into a conversation. Sometimes that's the only reason you need.
Today's bit of hoopla in hot pink includes the chance to win a prize pack of Cosmo Cricket scrapbooking supplies! And I tried to meet a challenge from SJ, who suggested I try to scrap in a 7×7 square on the 12×12 page. Find out how well I stuck to that rule! Watch the video to see this page come together.
To enter the challenge, you need to create a project somehow inspired by this scrapbook page. It can be very similar or quite different, as you could use the entire layout as inspiration or you could pick just one thing – a hot pink background, using the Upcycle collection, starting with a 7×7 square, misting the background, scrapping that one photo that doesn't go with anything else… or anything else that caught your attention!
Create your page and upload it to your blog or a scrapbook page gallery like Two Peas or UKScrappers. Then leave a link to that page (not your main blog address) in the box below. One entry will be chosen to win a prize pack of Cosmo Cricket scrapbooking supplies! (Please follow Cosmo on Facebook or Twitter to help say thanks!) Entries close this Sunday (21st August 2011) at midnight UK time.

Read more about: tutorials
17 August 2011

Next post: Scrapbooking Sketch of the Week
Previous post: Online scrapbooking weekend :: Giveaway Winners