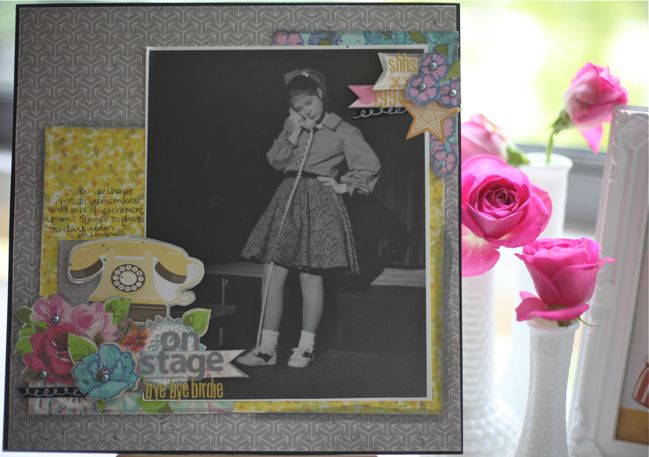 Supplies include the Sweetly Smitten and Mix & Mend collections by Sassafras, grey patterned paper by Kesi-Art, pearls by Pebbles, stickers by American Crafts and yellow letters by Lily Bee.
So much about school relies on a calendar. When to start, when to break, when to take an exam. Everything is decided years in advance and so much falls to tradition. In this case – the musical every autumn. Auditions in the second week of school. Performance in November. Same routine all four years.
The autumn of 1994 brought my junior year and the all-school production of Bye-Bye Birdie, filled with poodle skirts, telephone choreography and Ursula Merkle. Amazing character name, right? Best friend to the lead female, Kim, who happens to fall in love with a superstar, Conrad Birdie, only for him to be called up in the draft. Cue much melodrama and many refrains of 'We love you Conrad, oh yes we do…'.
And so for eight weeks, my evenings subsisted of rehearsals and petticoats and saddle shoes, all leading up to this moment. Grandpa took this picture on opening night. It's actually in colour and shows the full dedication I gave to the director's request that I wear a purple costume. But that same autumn I had dark room time for journalism and I printed this shot for one of my exams. I got an A even though there is dust on the negative. I've kept it ever since… perhaps imagining I really wore petticoats to class in high school. Or perhaps just to remember that mix of excitement, from stage to photo to dark room to memory.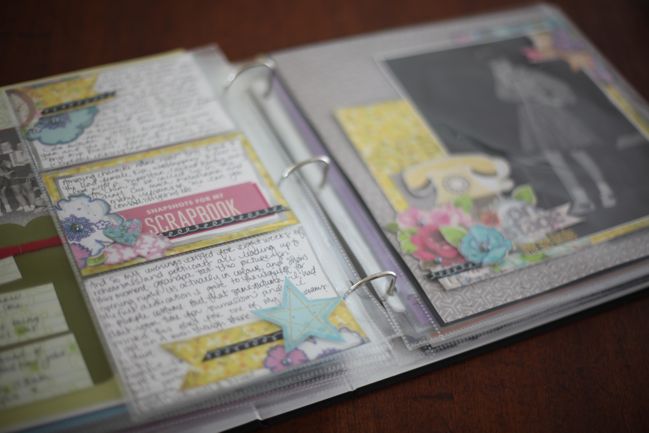 One of the questions that came up from Sunday's discussion on album organisation came from noticing that I said I keep albums on display from 2004 to the present. Where do I keep things that predate 2004? And this layout certainly qualifies as that – ten years before 2004 indeed!
Photos like this certainly live in albums too, and this particular one is there in the same place with all the other binders. It's a bit of a unique mix inside, so I'm going to share that in more detail later this week. If there is anything else you wanted to see or hear more about, just ask and I'll try to make sure I answer everything so it all makes sense! But from this picture you can start to see what's included here – varied page sizes, full pages and divided page protectors, and you might be able to tell that the layout to the far left is significantly older than this one. More on that Thursday.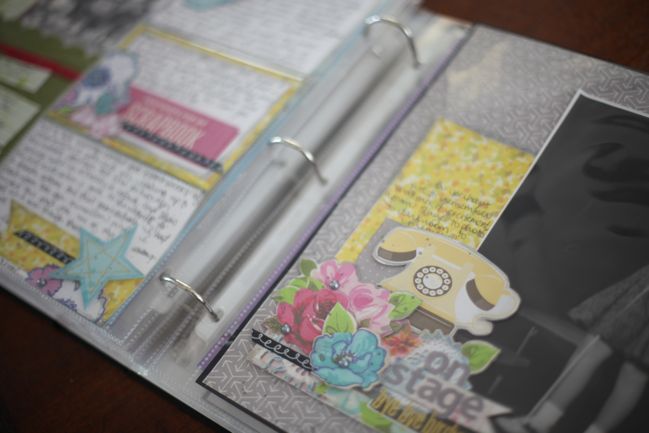 Yes, that is the original photo I printed in the dark room in high school – not a copy. But I have made a digital copy just in case and the negatives should still be in my negative file too. Just in case you've been worried with this crazy gluing of actual old polaroids and high school yearbook photos!
I also just wanted to say how much I love these 6×12 photo protectors (by American Crafts) for adding more journaling. If you ever have a layout where you're having to choose between embellishment and craftiness that you're enjoying and a story you want to tell because there just isn't room, these are the perfect answer. You can include even more journaling if you prefer to type on the 4×6 cards, of course, but it's quite a bit of room even with a pen.
Now, not too much making fun of me being known as Ursula for an entire term at school!
xlovesx
PS: If you've ever been interested in guest blogging, the lovely Julie wrote about that today, and I promise guesting is not as scary as you might think!

Read more about: album-organisation
07 June 2011

Next post: Scrapbooking sketch of the week
Previous post: Scrapbooking giveaway winner