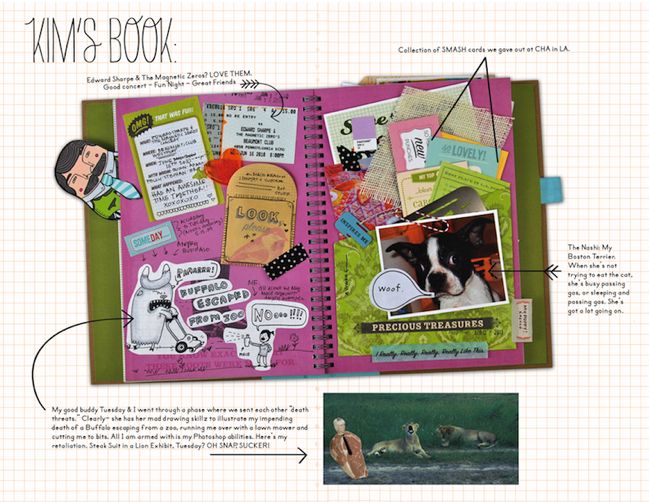 image from Smash Stories blog.
Oh, Smash Books. For the past fortnight, you seem to have taken over the discussions of the scrapbooking world. First discussions about when they would arrive in stores. Then they arrived and the discussions jumped to a) what everyone bought and b) when would more be in stock since it seemed to sell out pretty much everywhere pretty quickly. And then came a new wave of discussions with scrapbookers proclaiming Smash: I just do not understand! And the more I read, the more one very firm belief formed in my mind that I just had to put into words and share with you.
Know up front: I do not have a Smash Book. I have not ordered any Smash products. Partly because they are already sold out at Two Peas, but I'm mentioning it here because I want you to know I'm not saying this as some sort of hype to try to market Smash. It's just that I feel like every message I've read along the lines of What's the deal with Smash? is missing a really, really important point.
And effectively, my opinion is we should go buy Smash not really for ourselves, but to give to a friend. A friend who is not a scrapbooker.
If Smash is new to you, here's the concept – and yes, it is essentially a pretty notebook in which to paste things and write notes. Like this:

Ad watching that, I fully understand both sides of the argument right now. I understand scrapbookers who look at it and think it's the perfect complement to what they are already doing, and it would give them a place to keep notes without the need to be organised. There are cute accessories that could just as easily be used on a scrapbook page as in a Smash Book. But also, I understand scrapbookers looking at this product and thinking really? Really I need to pay for a special notebook to paste in my ticket stubs when I already have an entire stash of paper and glue? Exactly. You don't really need it. You'll be fine – you can make one yourself or you can be completely happy without a notebook and glue for ticket stubs. But if you're a scrapbooker already, I don't think you are really the key audience for this product. Scrapbookers are a happy sideline audience who happen to love pretty paper.
Look at the other products on the market in scrapbooking. If you weren't a scrapbooker would you be excited by a new paper line? If you didn't craft, would you care what designs are available in the new border punch collection? If you didn't scrapbook, would you notice any difference between the best journaling pen and a borrowed ballpoint from the bank counter? Most of the products that hit the scrapbooking market are aimed at scrapbookers. Of course they are! For quite a while, that's been a smart tactic, because scrapbookers are a market of people who buy those new things and that keeps the industry going. But you may have noticed… there are fewer scrapbookers. Buying fewer things. And all of those products that only make sense to people who already scrapbook? They aren't going to expand the circle of papercrafters.
But Smash actually alienates some scrapbookers. The whole idea is simple: it's a notebook that you glue stuff into to keep. In fact, it's so much like the notebooks my friends and I bought during our final year of high school, and we may have been asked by more than one teacher to put away our notebooks and glue sticks because perhaps the middle of class was not the time to create a school scrapbook. But that was the point: we weren't scrapbookers. Some company that marketed things like class rings and graduation invitations sold a notebook to paste in school mementos and we bought it. And we pasted away. That was a scrapbook, right? (Actually, I really wish I knew where that book was but I haven't the slightest idea.) But some scrapbookers don't understand why people are excited about Smash because they are quite capable of buying or creating their own notebook and pasting things into it. Of course! We cut and paste all the time – that's what scrapbookers do! So whether you want to buy that particular book for yourself or make your own or keep your mementos another way, that part is completely beside the point.
Instead, think of someone you know who you actually think could be a scrapbooker, but isn't. Maybe she's a little crafty or maybe she takes pictures or maybe she has a new baby or is getting married or decorating her house. Or maybe none of those things but you just have a hunch that really this friend would enjoy scrapbooking if she just discovered it. Now… what if someone gave her a Smash Book? It's a gateway. Maybe she pastes things in and then that's that, nothing big. But maybe she pastes things in and suddenly loves it and pastes more and more. Then she goes on the search for more cute tape or pretty notebooks or nice pens and soon enough: she is totally a scrapbooker.
I wish I could have sound effects in this post, because if this were a movie, there would have just been jubilant sounds as she purchased her first bag of scrapping supplies at the craft store.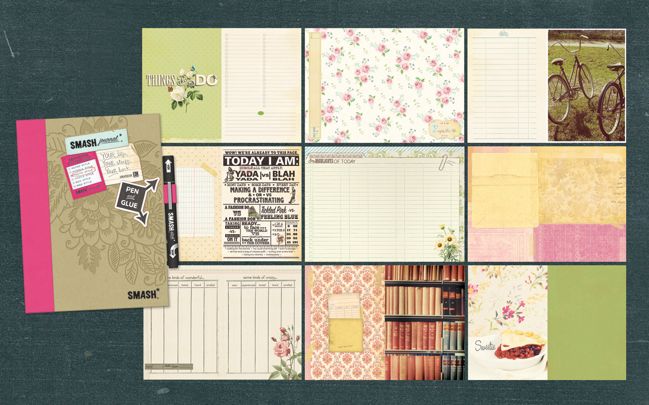 image from Smash Stories blog.
So admittedly, I'm being overly dramatic. And I totally understand all those people who have posted on message boards saying things along the lines of I just don't understand why a spiral notebook is so special and really, I don't think Smash is rocket science. What I do think is there are very few ways that scrapbooking makes it way outside its comfortable little world and out there into the greater population, a world of consumers who don't already own 12×12 paper trimmers, precision pens and die-cut machines. Yes, it's simple. But have you tried explaining scrapbooking to someone who isn't a scrapbooker? That isn't simple. Maybe simple is just what we need.
Maybe I'm completely off my rocker. But I'm going to give a friend a Smash Book for her birthday. Someone specific. Unfortunately her birthday isn't for a while, so I can't report back in two weeks with empirical evidence or anything. But I just think if a cute notebook can show someone the world of scrapbooking, that's a pretty cool idea. How about you? Love it? Hate it? Hadn't heard of it or really don't mind? Most of us like a pretty notebook in general, right? Regardless of the brand. I always thought most scrapbookers were stationery lovers… all that pretty paper!
And now, if there were sound effects, there would be suitable ending music that would make it very clear that I could be very wrong, but I just wanted to share that idea. Suddenly I understand how difficult it could be to write scores for Hollywood films.
xlovesx
On a completely different note, Beyond Blogging students – watch your email this evening. Thanks.

Read more about:
06 June 2011

Next post: Scrapbooking giveaway winner
Previous post: Afternoon Craft Project :: Sorting Scrapbook Pages into Albums