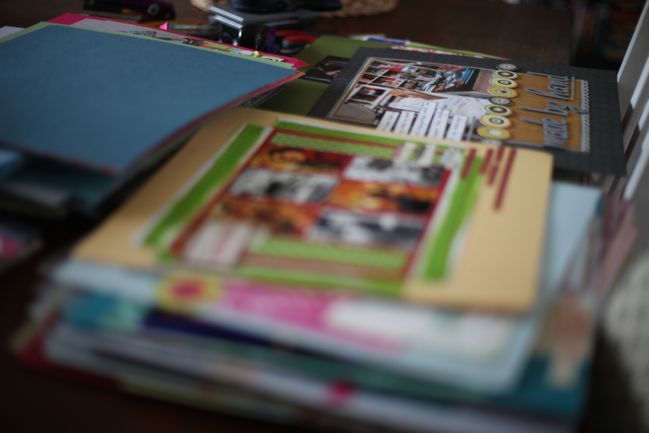 You know those projects you save for a rainy day? Well, it's raining.
And for some reason, I decided this was a window of opportunity play a game of Tetris involving scrapbook pages, page protectors and albums. I'm down to just twenty-three layouts left, which may sound a little ridiculous, but they shall each have a home this evening and for at least a day I shall feel like a scrapbooking Tetris champion. Hurrah!
I know we all have our own systems that work for us, and I would love to hear how you organise your pages. I have to admit, I think I have it easy for organising pages since it's just the two of us – no trying to figure out what goes into a family album versus albums for individual members of the family. But I do have a system for what goes where. Most of my albums are 12×12 three ring binders with black fabric covers. (Specifically, I use these by American Crafts.) Each year gets a general album. It's called 'Our Lives', which is completely hokey but simple enough that I just stuck with it. All the day to day stuff and events from the year goes in that album, in chronological order – though I don't make the pages in chronological order at all. When an album gets too full, I just start another album for that year, call it volume two and keep the story going in date order. That's part of why I love three ring binders: because it's so easy to move the page protectors from one book to another.
Some times there are events that were just too photogenic and I end up with an inordinate number of pictures, so if I scrap quite a few of them, they will make the everyday Our Lives album for that year look totally silly. Case in point: SJ's tea party last summer: I've probably made twenty different pages about that day, and three other layouts for the rest of that entire month. So if I included all those pages in chronological order, you'd pretty much think we did nothing else last summer except dress as Alice and the Mad Hatter. So events like that actually get their own album. I don't plan it from the outset or anything – I never set out making all those pages thinking I wanted an entire album of Wonderland. I just enjoyed scrapping those pictures to the point that I ended up with a big stack of layouts that would fill an album on their own. It's like promoting an event from the everyday to the something special. Those events also give me an excuse to use something prettier than a black fabric album. I love the different patterned albums from the same range, so I pick a different pattern for each of those special events. I have two from 2010, one from 2009 and one from 2008 – though admittedly 2008's is our wedding album, so I always assumed that would have enough pages to make its own album (or two or three).
Then there are red albums – and those are for trips. If we go somewhere and I only do a few pages, then it stays in the black album at the right point in the calendar. If it's a big trip and has enough pages to be promoted, then it gets its own red album. The earliest trip I did this for was 2006, when we went to Iceland. Since then we have travel albums for the Pacific Northwest in 2007, our honeymoon in 2008, a family trip to Cornwall and our holiday to Hawaii in 2009, and then the start of the big 2010-2011 journey, which will need several volumes. Within each album, everything is pretty much in chronological order, from the beginning of the trip to coming home again. Sometimes I add extra perspective pages at the end of an album, like if I've been thinking of a place a year later or something in the news has made me think of a certain memory and sometimes I'll close the album with a sort of top-ten list about what we loved about a particular trip, which tends to summarise everything that is there in chronological order.
Then I have a few other albums thrown in the mix that were purposely made as a complete album, like Christmas Journals and some other albums I've made in classes. (Two of my Christmas albums are 12×12 – the rest are 9×9 and live in separate spot that is better for that size.)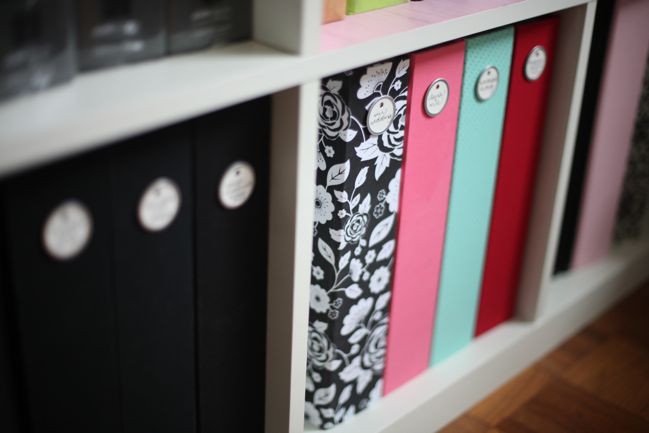 The album system itself isn't really new – this is pretty much what I've been doing since we moved to this flat and I dedicated a certain spot to albums. But I hadn't made my system as easy as it could be, so over the last month I've been trying to get that right. So far, I have…
…moved the albums from on top of the bookcase to the bottom of the bookcase. I am short and couldn't get to them without a chair! As a result, I would just let the layouts stack up instead of putting them away.
…added labels. I love that all our albums are very uniform, but I didn't have them marked. And because I scrap out of order, I would pull four or five different books until I found the right one. Clearly that was daft. So I went for a very popular option – circle tags stuck on the spines. I had plenty of those and they aren't going to disappear from the world like a collection that gets discontinued after a year. The labels make it so much easier to see exactly the right album, so I'm hoping that means I will put pages away rather than waiting until the job because a big chore.
…made it easy to get to page protectors of all sizes. I keep pages of all sizes together in 12×12 albums. And I had a storage spot for page protectors. Except it was a spot that was a pain in the neck to get to, so again, I would put it off. Seriously, how difficult was I trying to make this? So I've moved them all to somewhere easy and I added a few extra page protectors to all the albums I'm actively adding things to at the moment, so I should just be able to open the album and add the page.
…got rid of the box where I stacked all my layouts waiting for a home. I had this from the days of the magazine when everything came back months later, but most of my pages are just photographed here now rather than sending them away, so I have no excuse to let pages wait months before they have a home. The box has a new purpose in another room – hurrah.
…culled a handful of layouts that I didn't like in any way and weren't helping to tell the story. Most of those were things I did for assignments with really specific requirements and they just didn't feel like me, and usually I had scrapped those photos again in a way I liked.
…dedicated an afternoon to getting all homeless pages into the right place, in page protectors and in an order that makes me happy. There were a few things that I also patched up along the way – mostly old chipboard letters that didn't keep their adhesive qualities or layouts I had done on either glittered or flocked cardstock and other elements just didn't want to stick to that paper. Everything else was pretty much fine, barring the odd bent corner here and there. If all the letters were there for the chipboard, I reattached with stronger adhesive; if the letters had gone missing I replace the whole word with a different set of stickers. And things on difficult papers I just stitched with the sewing machine so they aren't going anywhere in the future.
Now I'm left with a couple things I still want to do. I would like to make a sort of summary layout for each album. Something that goes inside the album that gives an overview of what was happening. I did that when I first started scrapbooking but somehow stopped several years ago. I noticed it most in our 2004 album. That's the oldest album I display, and it's the year I met The Boy. The album includes the months at the beginning of the year before we met and then suddenly there's just this new face on my pages, and there's no real explanation. I think that would be so much more clear if I added a page at the beginning that explained 2004 was the year we met, he finished his MSC, I relearned how to drive… and maybe even mention things that are obvious to us but not to anyone else (our ages, where we lived) and some things that give perspective to the bigger life story (like our jobs). I think those pages would be quite easy to add and would help make things make sense if someone sat down with the album. So it's a thought.
The other job on my to-do list is adding a few photo pages to each album. Two photo protectors in each album would include up to twenty-four more 4×6 photos without lots of bulk. And if for some reason those photos really inspire me in the future, I could always swap them out of those protectors and give them their own page, and just fill the gap with another photo, some patterned paper or more journaling.
But now comes the big question: will I actually conform to my new system and get pages straight into the albums once they are finished? Give me a week and I'll report back!
So… how do you organise your pages? I would love to hear! And now I just have to wait for a guest at our house to actually ask to look at a scrapbook – because it would be safe to grab any album off the shelf!
Even if it is rainy where you are, I hope you are having a lovely Sunday!
xlovesx
PS: Don't miss this weekend's giveaway from Rob Ryan!

Read more about: album-organisation
05 June 2011

Next post: True thoughts on Smash Books and Scrapbooking
Previous post: Scrapbooking Giveaway Day