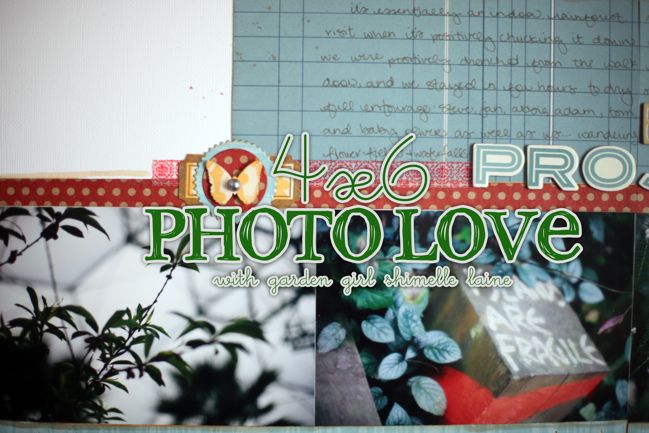 All class content ©twopeasinabucket.com. Click here for supplies and here for this month's message board thread.
It's the 30th of the month, which means a new edition of 4×6 Photo Love, a free online scrapbooking class I'm teaching all year at Two Peas in a Bucket. As it's the fifth month of the year, we're scrapping five 4×6 photos. This month's design is… gasp… a double page! So something a little different than the four prompts so far. It's not all doubles from here on out though – some of the pages later in the year pile on a surprising number of 4×6 prints on a single 12×12! But this month, I'm hoping you'll give the double page layout a try.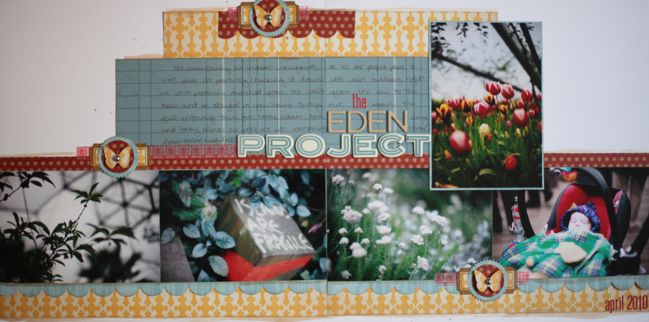 The design concept this month includes four of the photos as landscape, so they can create a straight line all across the double page. Then borders go above and below the photos, and a fifth photo is added above the line. That picture can be either portrait or landscape, and it's a great way to give a bit of special treatment to a single photo.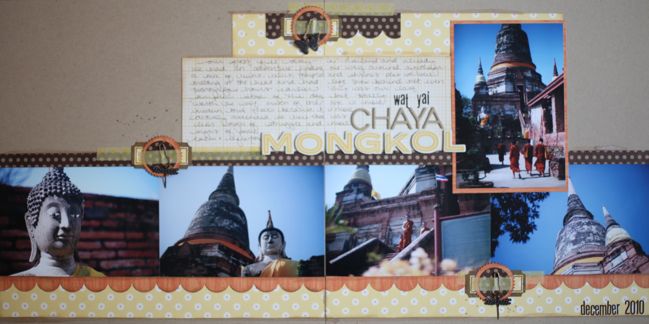 These two layouts follow the same principles, and it's this second layout that I create step by step in this month's video. Grab the beverage of your choice and have a watch! And don't laugh too much when I start dropping things on the floor. (Live television presenters: how do you not fall to pieces on an hourly basis, I ask?!)

Click here for a printable PDF, full list of supplies and more details on the class page at Two Peas!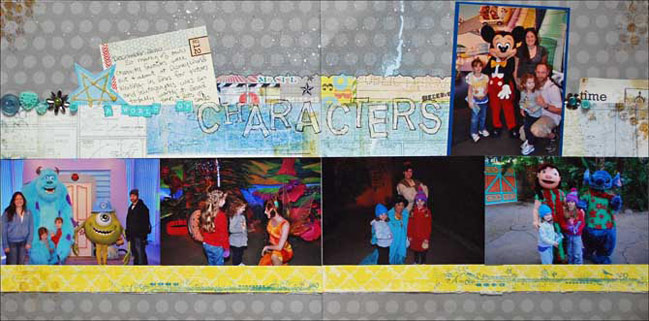 This month I have two special guests playing along with the class. This first page comes from May Flaum, who you might remember from her five ideas post not too long ago! May opted for embellishing the middle border, all the way across the page. Perfect for lots of little bits and bringing in plenty of colour and texture! Check out May's page and supply list here at Two Peas and if you like her style, be sure to check out her blog and Etsy shop too.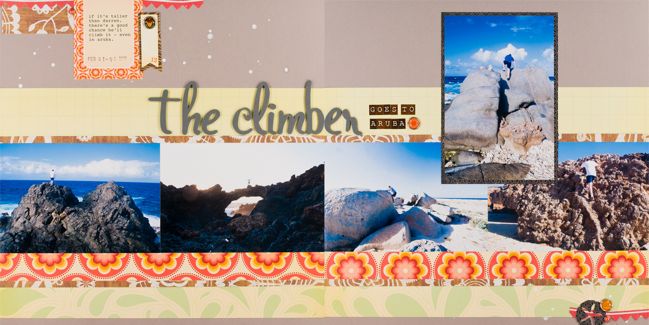 My second guest is Melissa Stinson, often better known as the Scrappy Jedi. I love how she added her embellishment to the top left corner of the layout, so that's a third option while still using the same basic outline for your two page layout. Click here to see Melissa's supplies and to add her page to your Two Peas bookmarks.
Every month, there are two ways to win a prize for participating in 4×6 Photo Love! The first is at Two Peas: create your page and upload it to the gallery. Be sure to tick the box for this challenge in step four of the upload process. One participant will win a gift certificate to Two Peas to go shopping for whatever you like. But there's a second chance to win right here: on this post, leave a comment with a link to your page (in the gallery at Two Peas or on your blog, whatever you prefer) and one of those links will win Two Peas shopping money too! The deadline for both is the 29th of June.
And it's time to catch up with some winners while I'm on that subject! I'm happy to announce Jen, Charity and Lisa all have 4×6 Photo Love prizes coming their way!
Will you be next? Just choose five 4×6 photos to scrap and follow along with this month's class prompt. I hope you enjoy a bit of double-page fun!
xlovesx
PS: Feel free to grab the button there on the left for your blog or to share this class with a friend – since it's free, the more the merrier! And you're welcome to use any supplies and any photos, so there's no boundaries to your scrapping with this year-long project.

Read more about: 4x6-photo-love two-peas-in-a-bucket
30 May 2011

Next post: Scrapbooking giveaway winner
Previous post: Afternoon Craft Project :: Skirt from a T-Shirt