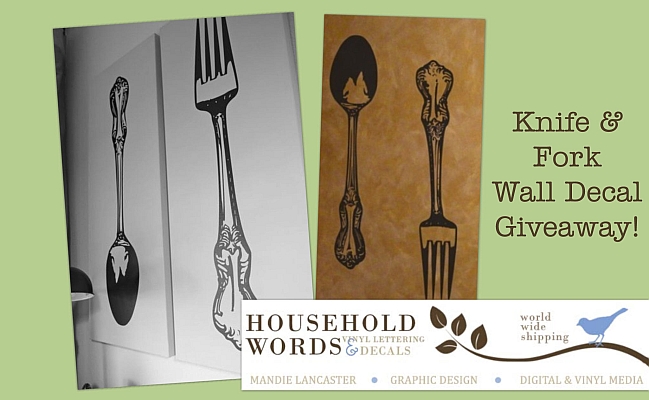 This weekend, one commenter will win an awesome fork and spoon wall decal set from Household Words which would look fabulous adorning your kitchen or dining room walls. It's sixty-three inches tall (!) and retails for $53.
Household Words have a stunning range of decals, including Removable Wall Decals, Chalkboard & Dry Erase Calendars , Wall Lettering, Nursery Trees and Monogram Vinyl Decals. All of which are high quality matte finish removable vinyl decals to decorate your home and office spaces.
Mandie has this to say about her fabulous store: "My passion for graphic design, typography and decorating makes for a bountiful variety of vinyl decals. I have been blessed to be able to help beautify homes and offices around the world for the past 3 years. All of the decals are made right here in my home studio nestled in the Ohio valley. Cut, packaged & shipped directly to you."
Visit her Etsy shop here.
To enter, just leave a comment on this post letting us know what you would love to see turned into a decal for your house!
Entries close at midnight Sunday UK time and the winner will be posted Monday evening, so be sure to check back to see if it's your lucky day!
Good luck!
xlovesx

Read more about: giveaways
10 June 2011

Next post: Photo editing :: adding drama to an overcast scene
Previous post: 10 Things (June 2011)