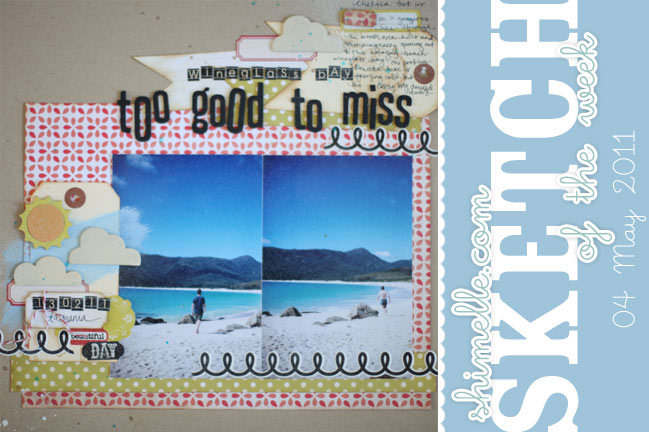 After my single-photo soap box, I promise I have something slightly more versatile to share with you today. Two photos and plenty of opportunities for patterned papers and stickers and ink, if you like. Just don't do what I did: think 'oh but it's such a lovely day, I'll just step outside to spray this ink across the top of the layout'. Because there is a big difference between outdoor spraying and indoor spraying, and that difference is… wind. If you look closely, you'll see it's somewhat snowy on that lovely beach, since the spray went in entirely a different direction to what I was expecting.
I think we are all very clear now on why I am a scrapbooker rather than say a meteorologist.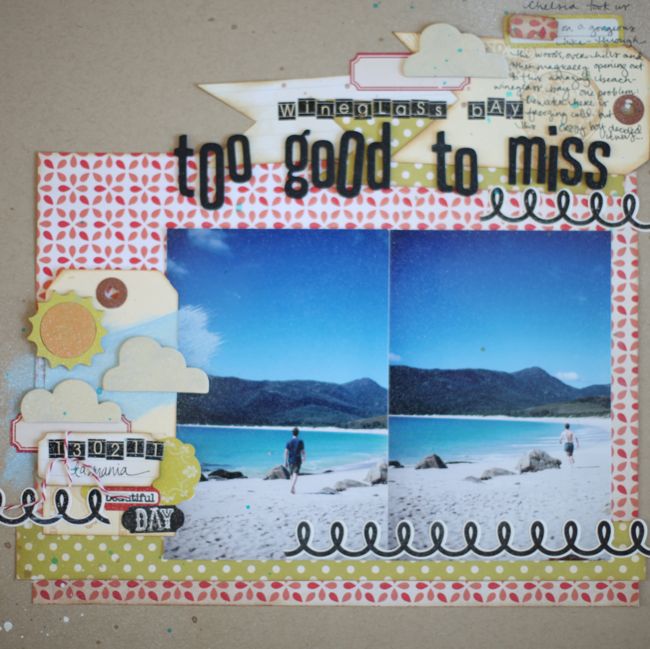 This page captures a moment of impulsive seaside behaviour: it looks like a gorgeous beach because it truly is! (This is Wineglass Bay in Tasmania.) But as gorgeous as it looks, that water was incredibly cold. But yes, a certain individual who shall remain nameless thought it was too good to miss, regardless of the temperature, and swam a few laps across the bay. He lasted significantly longer than the next group of tourists who stepped into the water and promptly ran back to dry land with a scream.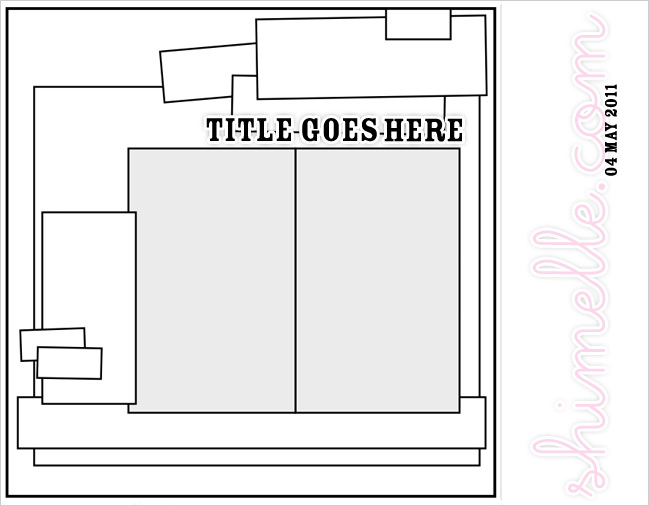 Truly, this is a very basic sketch that I use time and time again by just customising the embellishment. This time I used a similar technique to this layout by changing the rectangles at the top right to that flag shape with the inverted V. Chipboard is a little something different for me too – I don't tend to use plain chipboard shapes like these, but I quite liked them here! Maybe this sketch can help you use a few embellishments you might otherwise ignore.
As always, the weekly sketch is no-stress and just for fun! If you use it, I'd love to see, so please leave a link in the comments.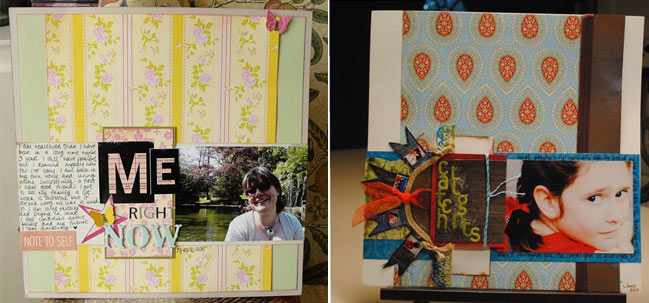 From last week's sketch, I really want to highlight two layouts. The page on the left, by Kate made me smile a huge smile, because Kate hadn't really been scrapbooking for a while. And then she decided to get back in the swing of it and I just love that she started with a lovely layout about herself. Kate, I hope this is your gateway to much crafty happiness! And the layout on the right is by Amy who decided to combine the sketch with the bunting ideas, and I love her unique bunting treatment for the additional photos! So very clever.
Please also check out beautiful pages from Julie (who can turn t-shirt shopping into a brilliant scrapbook page), Jeannie (who made friends with Charlie Chaplin just for the excellent scrapbooking potential of black and white papers), Amy (who discovered her perfect kraft paper in digital format and made this sketch look lush at a unique 8×10 size), Linda (who braved additional photos and used fab lacy paper with panache), Claire (who wins for most adorable this week with her little ones and their royal wedding celebration), Alyssa (who took on the multiple photo challenge and did some very cool stuff with pink and black) and Heather (who made me swoon with her use of fabric and paper flowers). Oh, and Rachel gets bonus points for actually making her page in front of me, while we were scrapping in a lovely cottage last weekend! Scroll to the bottom of her post to find her layouts. Thanks to everyone who played last week!
xlovesx

Read more about: sketch-of-the-week
04 May 2011

Next post: Scrapbooking giveaway day
Previous post: A wedding scrapbook page