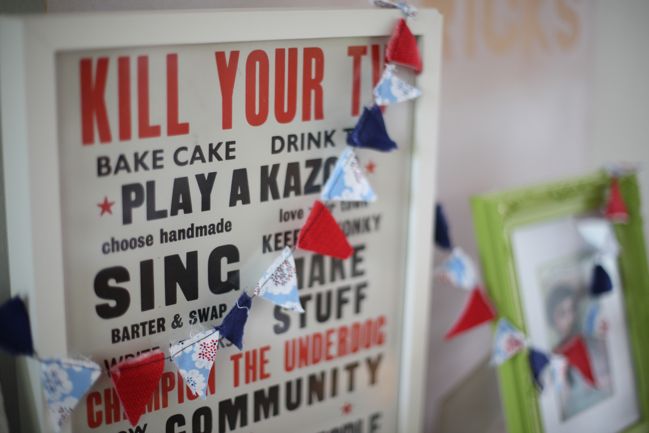 You may have noticed I am rather a fan of bunting. I know it's become more and more on trend, but this hasn't made me love it any less. There are over a dozen posts on this blog about bunting. And today, there's one more. It seemed just the right thing to do this Friday as part of the virtual street party hosted by The Making Spot (a relatively new general crafting blog that is pretty darn cool). So don your royal wedding attire and join me for five ideas with bunting!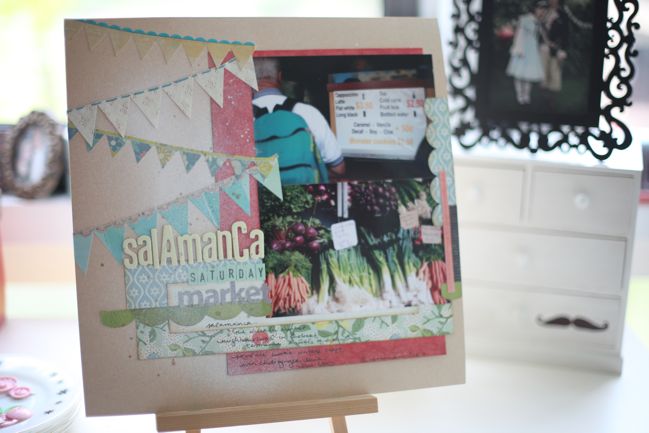 Scrapbook with bunting stickers
Have you checked out these bunting stickers that come in all different colours and patterns? One, they are totally cute and two, there are so many stickers on the sheet it's kinda crazy. They all fit together so almost every part of the sheet is a sticker rather than waste. Very cool. So for this page, I chose different pieces of those stickers to hang bunting across the top left corner of my scrapbook page. (For the record: that is a title you shouldn't try to spell with letter stickers. One word and now the sheet is completely devoid of the letter A. Oh well.)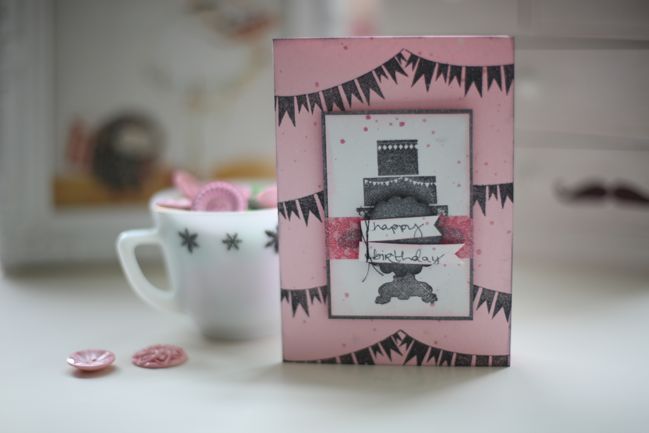 Stamp a bunting background
Of course there are plenty of bunting stamps to choose from, and I've been using this set recently. It includes cakes, cake stands and three different kinds of bunting! Definitely a winner.
To make this card, I stamped one of the bunting designs repeatedly on the background, with black ink. Then I stamped the cake and cake stand on white cardstock, inked the edges in pink and matted it in grey. The greeting is machine-stitched to a punched circle backed with pink washi tape, then splashed with ink in pink and white. I love how the bunting adds another layer of dimension in the background that works well with the simplicity of the central design. Plus, this card took less than fifteen minutes to complete!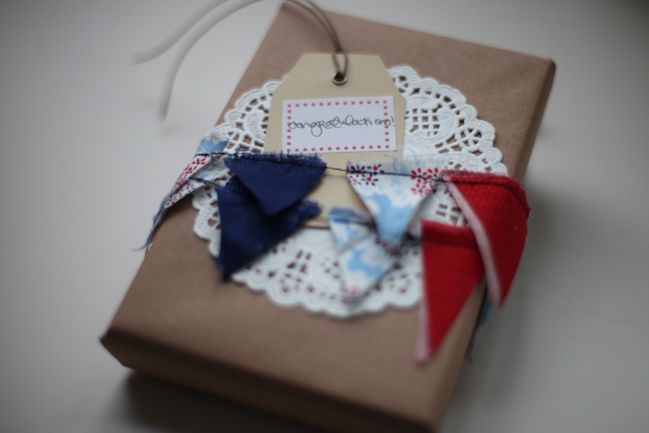 Dress up a gift with fabric bunting
Fabric bunting is so easy to make and perfect for even tiny scraps of fabric. I've made it in black, white and blue for our wedding. I've made it in red and black for my birthday and red and green at Christmas. I dream of finding fabric that looks like a very old map and making bunting that will make my world happier than I ever knew it could be. And I also spend so much time thinking about bunting that I almost always forget to think about wrapping paper. As a result, I wrap gifts in plain brown paper and then try to make it look pretty… and mini fabric bunting wrapped round and round would make me squeal in delight. Giving it to someone crafty makes me hope their bunting ends up hanging somewhere in their home, at least for a little while!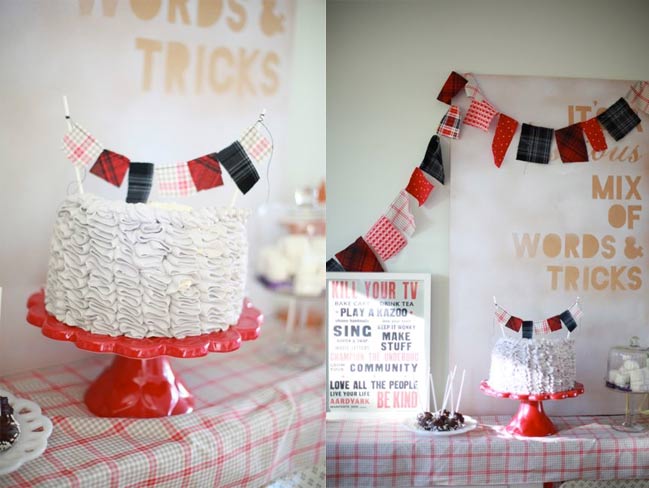 Make the cutest of cakes
Parties are far more fun with a random theme, and last autumn I went fully oddball with a lumberjack-themed birthday party. Lots of manly, American foods for dinner that wouldn't have been out of place on a lumberyard. But even as a lumberjack, I needed something girlie – and that was the ruffle cake. But wait – it's a black forest ruffle cake. Trust me, I was the only one laughing at my own joke then too. Tinting the Swiss meringue to a shade of grey was an interesting adventure, but my favourite thing was this little bit of bunting across the top. It was made with the same fabrics as party decorations, just in a teeny-tiny size, then tied to two chopsticks or lolly sticks.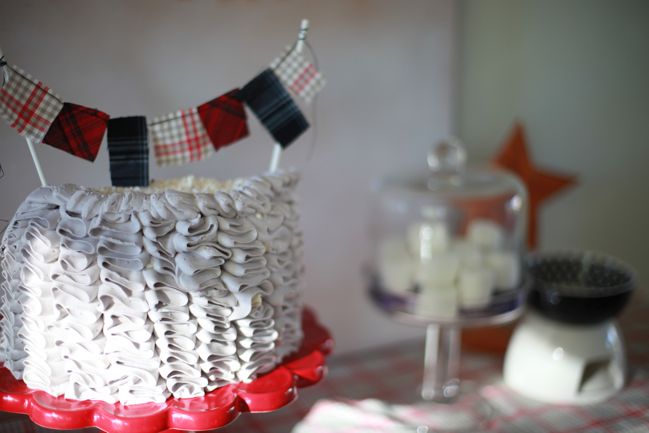 Secret info: I chopped up a pair of old pajamas and a skirt that was a million sizes too big to make all the party bunting.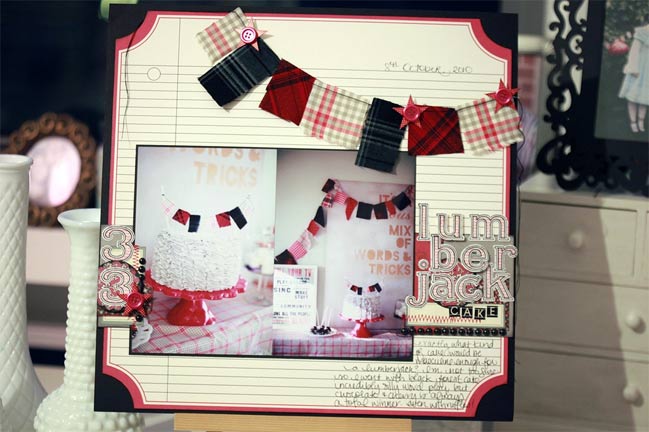 Bonus idea alert! Of course I kept the bunting from the cake and popped it on a scrapbook page. Of course!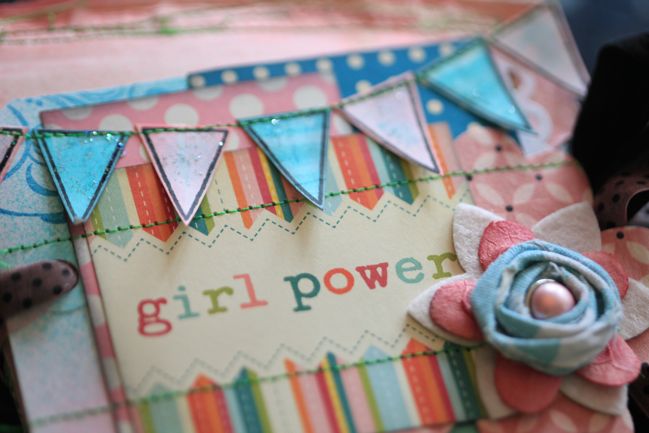 Go for the sparkle
I love bunting enough that several years ago I designed Paper Chains, a set of stamps that lets you make your bunting just the right length and even has a teeny little alphabet to sit inside. It works great with patterned paper, but if there's one thing I like more than patterned paper, it just might be glitter. By the way, if you like that idea but want to stamp much bigger bunting, try these stamps perhaps!
I've written about this minibook before, but here's a little video that shows you exactly how these stamps work with the layers of sparkle.

Now… if you can keep yourself away from the kitchen or the sewing machine just a bit longer, Lara is up next. Go see what she's up to a A Month of Sundays. And if you happen to collecting letters in search of the big prize, consider this post brought to you by the letter E.
Speaking of prizes, it's Friday so that means there's a weekend giveway that starts here tonight. Pop back to leave a comment and enter.
And with that, I'm off for a weekend of craftiness in a cottage with friends. So excited to catch up with everyone – most of them I haven't seen since we took off in December! Have a beautiful weekend!
xlovesx

Read more about:
29 April 2011

Next post: Scrapbooking giveaway day
Previous post: Scrapbooking Sketch of the week