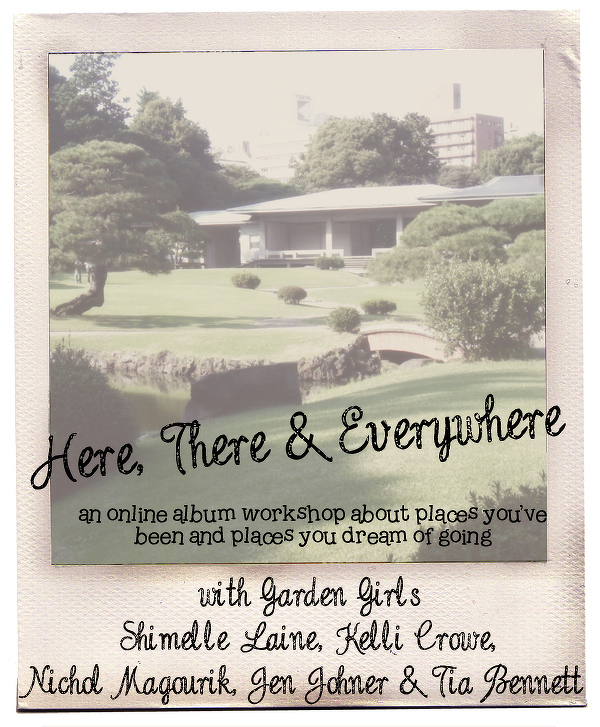 As promised, the 15th of February begins a new class…this time it's a six week online album workshop called Here, There and Everywhere.
One of the first albums I ever taught in an online class was a tiny little minibook called Roam. The idea was to use those tiny little pages to track all the places you had been, and count them up, whether you were counting towns, states, countries or continents. Even though I made it quite some time ago, I still like it and it's one of a select few albums that I am often asked about. Was it you that did the Roam album? Which always makes me smile. And so over the last six months I've been thinking about that little book, what made it special and more importantly, what it was lacking.
I love that it captured travel from one set perspective in time. Places I had been as of that very date.
I love that I couldn't go wrong with the photos—I could use my favourites or I could use the oddball snaps that didn't fit easily into other scrapbook pages about a certain trip.
I love that everyone's books came out lovely whether someone had racked up a gazillion frequent flyer miles or focused on the towns where they visited their grandparents and cousins.
I didn't love that the tiny format made it hard to add anything to the project, so I couldn't return to it after my next trip.
I didn't love that made it feel out of date within a month or so of finishing it.
I didn't love that it didn't let me look forward and plan where I wanted to go next.
I didn't love that it made little to no allusion to the place I considered home.
Add all that with many years of scrapbook style evolution, and we arrive at Here, There and Everywhere: an album documenting the places you've been and the places you dream of going.
Here, There and Everywhere is the name of the workshop but it's also the name of the album's three sections. Here documents the kind of travel you do near home: tiny little everyday journeys and important sights on your hometown landscape. There records the places you have been. Whether they are close or far away, we'll illustrate your travels so far. Everywhere is something entirely new: we'll be scrapbooking about the places we dream of going and looking into making the travel of our dreams one step closer to reality.
If you've participated in one of my classes before, you'll know that the album prompts…
...come to your inbox and are backed up online permanenetly so you can download them later if you like.
...are illustrated by breaking things into steps that include photography, writing and design.
...give you examples you can recreate, use as inspiration or completely ignore if you have a better idea.
All of that will still be true.
I'm positively giddy to show you four completed albums throughout this course. One from me, plus an album each from the lovely and talented Kelli Crowe, Nichol Magouirk and Jennifer Johner.
There's also yummy digital and printable goodness as part of this course. Tia Bennett has designed both a custom digital kit that is included with the course if you would like to create digital pages AND a printable kit with custom book plates, section dividers, journaling notes and all sorts of goodness.
Plus there are five Photoshop actions included to give you a range of easy photo-editing options. If you don't use Photoshop, don't worry—we've also included step by step instructions for creating similar effects in other photo-editing programs, including Picasa.
And you can breathe a little easier with this project: the prompts come three times a week, on Mondays, Wednesdays and Fridays, so you can stay caught up even if you only scrap once or twice a week and even if you would like to order prints online as we go.
As always, there will be a private message board to chat, ask questions and share your work during the class. You can chat it up or work quietly—whatever suits you best!
This is the first workshop I'm teaching through Two Peas in a Bucket, and you can sign up here. You can also say hello here until class starts next weekend. If you've been taking classes at shimelle.com, we've made sure that things will work in a very similar way for my classes at Two Peas (and shimelle.com isn't going anywhere!) plus the introduction notes will take you through everything just in case.
I'll have more about this project to share throughout the week, but you can go ahead and book your place now. The six week workshop is $25 (US dollars), which includes everything I've talked about above and a few extra surprises along the way. And seeing as class starts on February 15th, you could always email the sign up page to your significant other and suggest if you're not getting whisked away to a romantic location for Valentine's Day, you could at least be allowed to scrapbook about it!
Any questions I can answer about the class, just leave in the comments!
xlovesx
PS: UK girls who would prefer to pay in sterling: I am working on an option to have this available for you tomorrow, as I know some of you would prefer not to use your credit/debit card overseas. If that's not an issue, by all means, go ahead and sign up in dollars. You can check the current exchange rate here. But if it is an issue, check back here tomorrow and hopefully I will have an answer for you!

Read more about:
09 February 2009

Next post: Here, There & Everywhere :: Sneak Peeks, Q&A and Prizes!
Previous post: This Year :: Finishing Notes