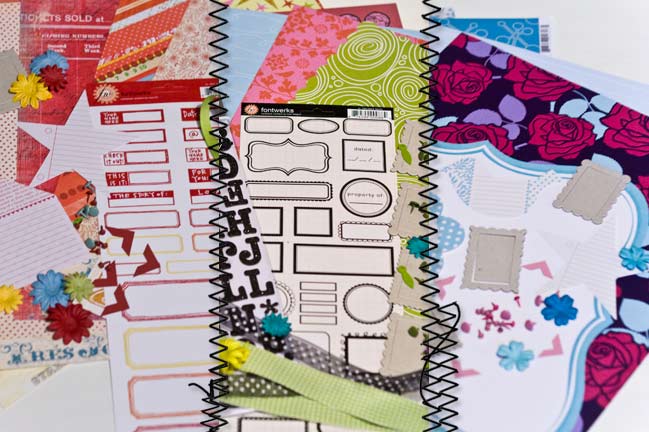 I promised a bit more info about My Freedom, and it comes in two parts. A little about style and a little about content.
Let's start with style.
The class notes mention that you'll see four albums come together over the completion of the prompts – each in a specific style: stream-lined, contemporary, arty and digital. That's just the four versions that are done before we start—of course, you'll also get to see the albums from fellow students come together as you share the creative journey.
Identifying four styles for this class certainly doesn't mean there are only four styles possible—they are merely a sampling and a springboard. Take direction from the one most like your own style or try something in an entirely different style to what comes naturally. Or if style and scrapbooking in the same sentence ties you up in knots, use this album as an exercise in finding out what works for your scrapbooking. Each album points out design tips along the way, so trying something new is easy, while you're also free to ignore the design ideas entirely and strike out with something that is undeniably you.
Your completed album will be at least twenty pages and you can actually finish this project within the five weeks, as there's never one day with an uneven balance of stuff to do. Plus you have the weekends to give you a little break and keep a spring in your storytelling step. There is the option to add extra pages, especially if you would like to incorporate stacks of photos, or if your style would like to embrace a little more space here and there.
You can create the entire album using your own stash, and you can even get ready early if you want—registered students can access a from-your-stash shopping list this Friday. Or you can have almost everything you'll need shipped right to your door: the kits used to create the projects in the prompts go on sale tomorrow at noon. There's a little peek above, but you'll be able to see more from each kit (including a sample page) in the shop tomorrow.

So tomorrow: shopping, a look inside each book and we'll talk about what story we're going to tell this summer.
Join this class here
xlovesx

Read more about:
02 July 2008

Next post: Class giveaway day!
Previous post: A new class for summer