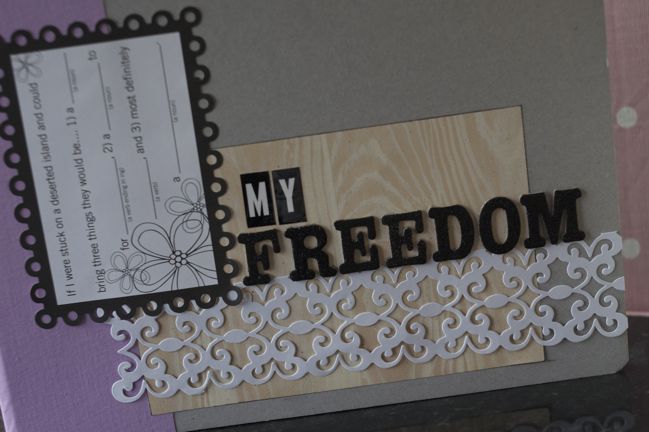 My Freedom is an online class for the summer. Over five weeks, we'll put together a complete album designed to help you tell your story in a new way. Through daily prompts that focus on photography, storytelling and design, we'll capture the spontaneity of life and put it in perspective with thoughts about the past, present and future.
Starting Monday, the 7th of July, you'll receive five prompts each week. We'll start the week with our cameras clicking, as the photography prompts get you snapping photos that will inspire the stories we'll be telling that week. The photography prompts are not technical and you don't need a fancy camera to get these shots. There's also the chance to search in your existing photo library for earlier shots that add perspective to the topic.
As the prompts continue in the week, we'll focus on telling our own stories with certain topics in mind. Whether you love to journal or find it intimidating, you're safe here. The journalling resources included in these prompts take you step by step and offer a variety of ways to add style to your writing without just recording the who, what, when, where and why. We'll write stories in a way that will make them be read again and again.
In the design prompts, you'll see how the same starting point can create several different styles of project, and you can choose the right style as your creative springboard. As the weeks go by, you'll see four completed albums come together: a stream-lined scrapbook, a contemporary-styled album, an art journal and a digital album, with tips for creating in each style. As a bonus, you'll also be able to download digital elements to add to your designs—they are suitable for printing out and including in paper pages or as elements in a digital scrapbook project.
Our classroom is a private message board where you can access a permanent archive of the class materials and also discuss the project and share your work with others. You'll receive the daily prompts by e-mail, so it's up to you whether you want to stay and chat on the board or get straight to work or save the project for a rainy day.
My Freedom, in summary:
...class starts Monday 7th July
...there are twenty-five prompts delivered Monday to Friday for five weeks
...all prompts are permanently archived so you can come back to the project at any time in the future
...all participants are invited to a private message board to discuss the project and share their work
...the completed album will be at least twenty pages, and works best in a format of 8×8 or larger.
...the album focuses on the world from your perspective
Between now and the 7th of July, I'll post a few snippets from inside the albums to shed a little more light on the project.
You will need a forum name to join us. If this is your first class, just go here to choose a name and you'll be all set.
Ready to join us? You can pay in Pounds Sterling or in US Dollars—simply click on the cupcake of your choice.
Things to remember:
Keep the email you receive from Paypal after you pay. This is your receipt.
The first prompt will be emailed to you on Monday 7th July.
Any questions, just let me know. Otherwise, stay tuned if you want to see a little more.
xlovesx

Read more about:
28 June 2008

Next post: Notes on style
Previous post: Special offers for Beyond Blogging participants