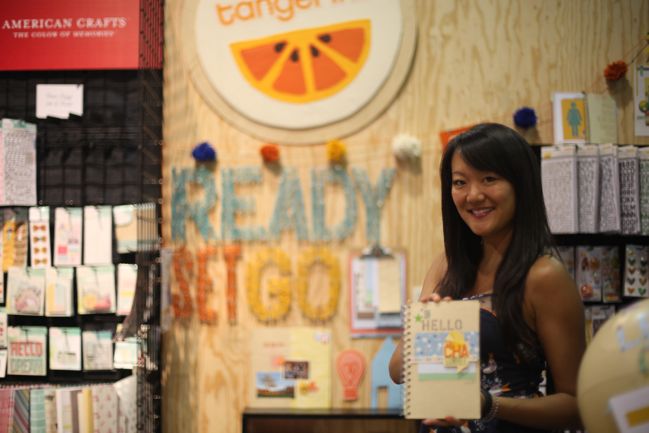 It's hard to believe Amy Tan launched her first scrapbooking collection with American Crafts just a year ago, but that's exactly true as her original collection debuted here in Chicago last year. Then she added brighter colours and whiter whites in her sophomore Sketchbook collection last winter and now Amy introduces an autumn colour palette for collection number three: Ready Set Go.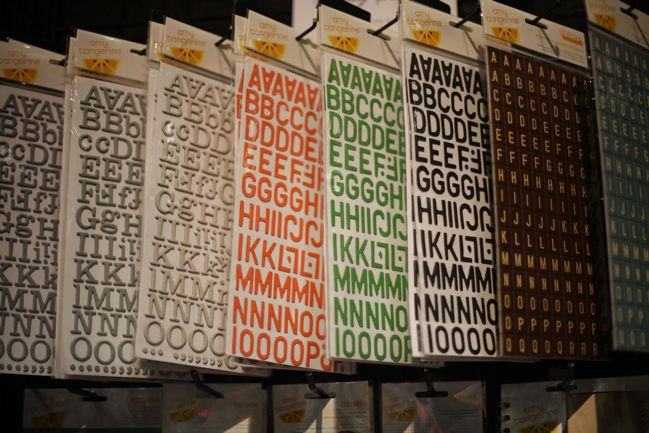 This collection includes bright (but not too bright!) greens, glassy blues and warm yellows all grounded by rich brown tones. Some of the Thickers styles are easy to customise with ink and two come in a new shape – square tiles.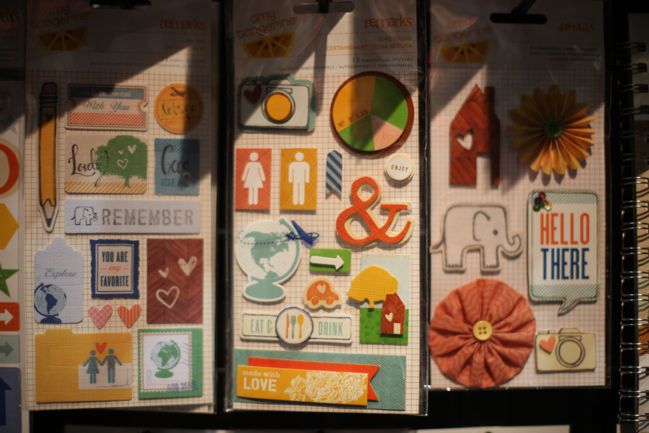 Motifs in this collection include cameras, globes and arrows plus the occasional cheeky elephant. Why not?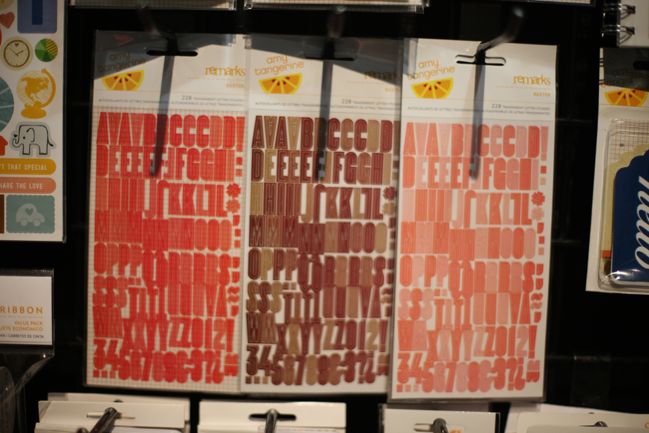 These letter stickers are more than meets the eye: they are sheer! Each card has two colours and they look gorgeous layered over a subtle patterned paper (which shows through) or overlapped to create a darker shade wherever there are two layers of sticker.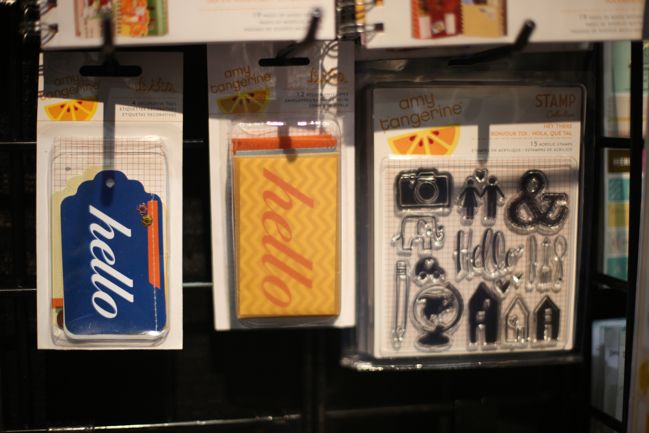 Hello is a big theme throughout!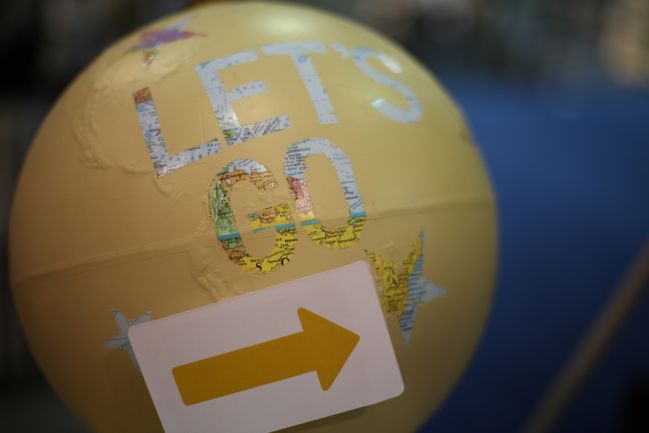 Such perfect DIY elements, with lots of paint and yarn to customise Amy's displays. Spray-painted globe: check!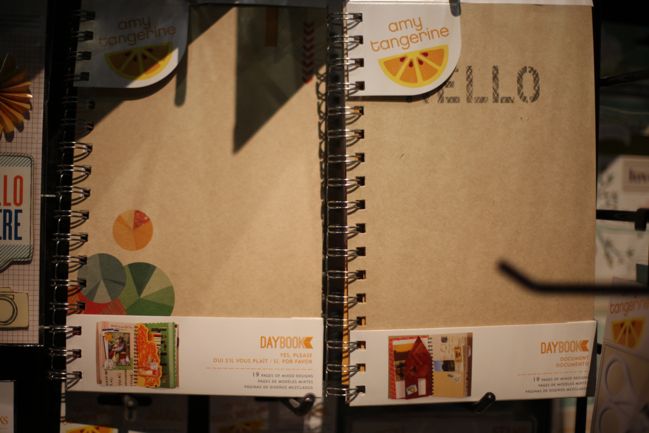 Two new spiral daybooks in the large size, with mixed pages…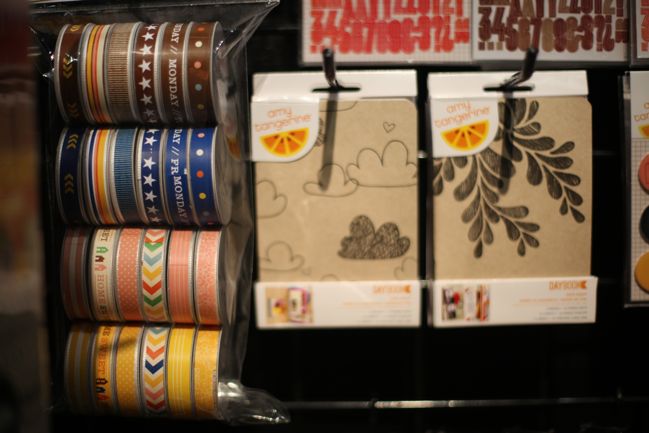 …and stitched daybooks in a new mini size, with matching pages. (Plus a big ribbon value pack at the left.)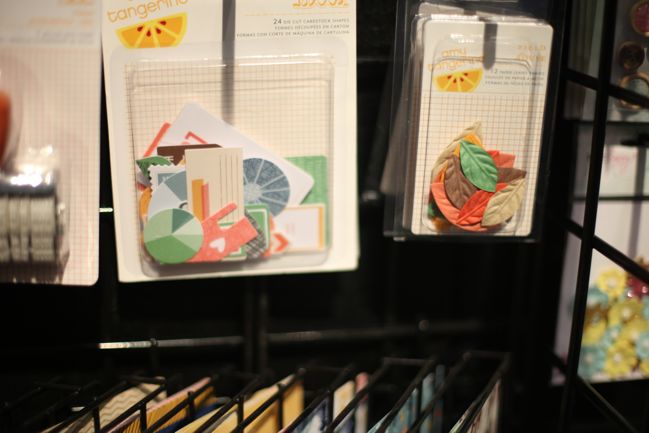 The die-cut pack has so many versatile shapes, and the leaves from the first collection are back in the new colours, and possibly just slightly smaller. Could be my imagination. Not my imagination that I really liked using these when they came out in the first collection. I used two whole packs!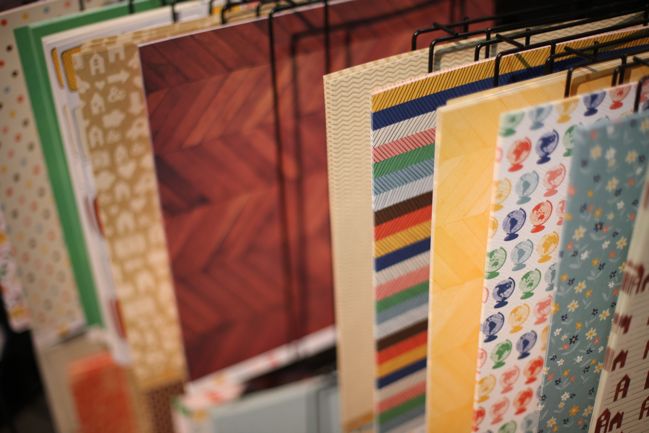 Onto the papers, my favourites include the parquet flooring, the spinning globes…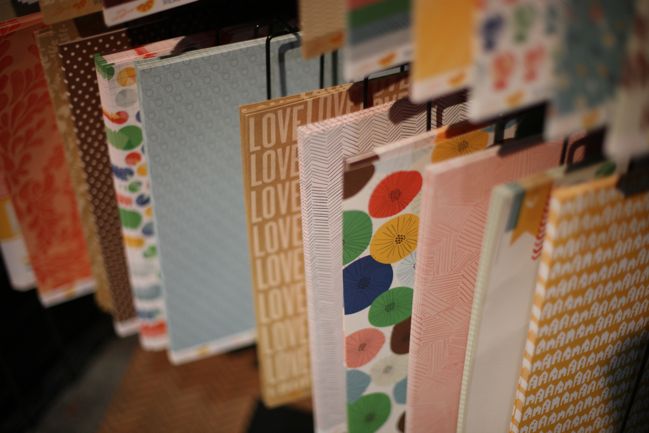 and the LOVE LOVE LOVE print of white ink on kraft. It makes me sing Beatles' songs and recite lines about Blue Meanies. I'm not sure if that's intentional or just a coincidental side effect.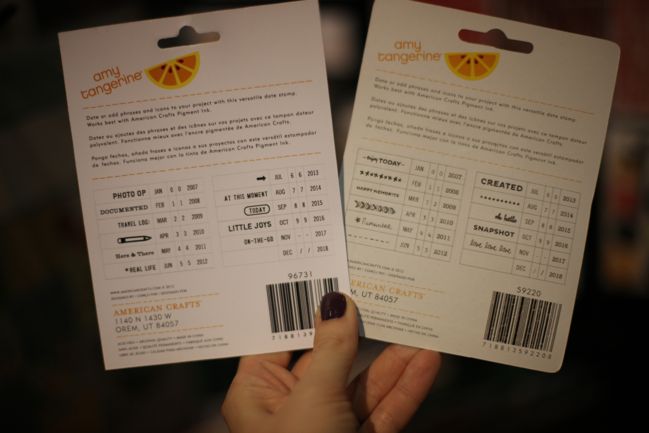 Not one but TWO date stamps in this collection, and the years go back to 2007! Huzzah. I am forever putting my Dear Lizzy date stamps away when I remember the photos predate the rolling date stamp. (There are a bunch of new date stamps from the American Crafts family of brands. Like half a dozen new date stamps. Everyone needs six more, right? If a little is good, a lot must be better!)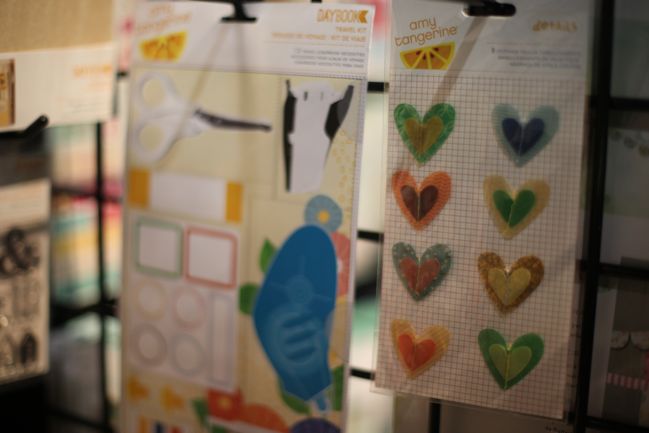 On the left, a product very near and dear to Amy's heart: a travel scrapping kit that includes all the basic tools and necessities in a perfectly sized zip pouch. On the right, beautiful layered heart embellishments with vellum and stitching.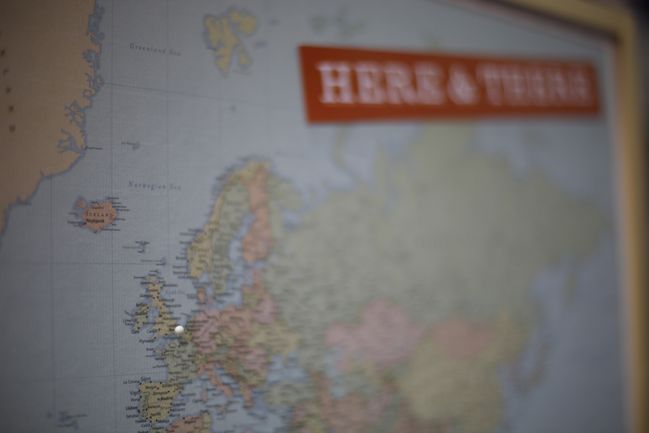 As you left Amy's booth, you could pin the map with your location. I got to pin a new space on the board, which was very exciting! (I share this because it might be a good idea for scrapping your own travels – add mini brads or other markings to a map patterned paper as a background design element, perhaps!)
Really looking forward to working with this range, and planning an update soon of how these products mix and match with the two existing collections – always one of my favourite things to try with signature style collections like this.
Click here to shop for Amy Tangerine products.

Read more about: american-crafts
20 July 2012

Next post: CHA Winter 2013 :: Jenni Bowlin Studio
Previous post: CHA Summer 2012 :: Echo Park