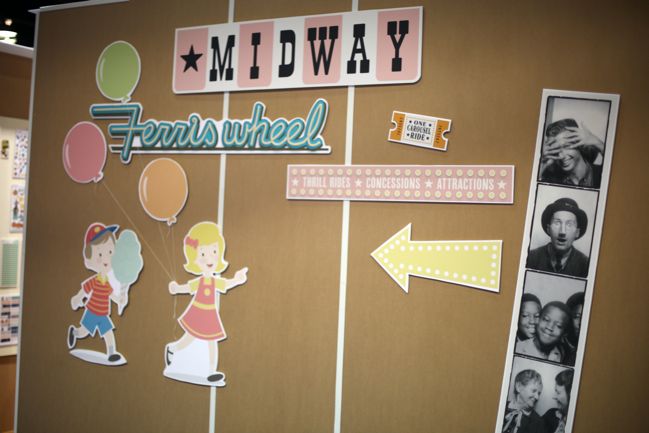 I wonder what scrapbooking goodness could be around this corner? Could it be October Afternoon?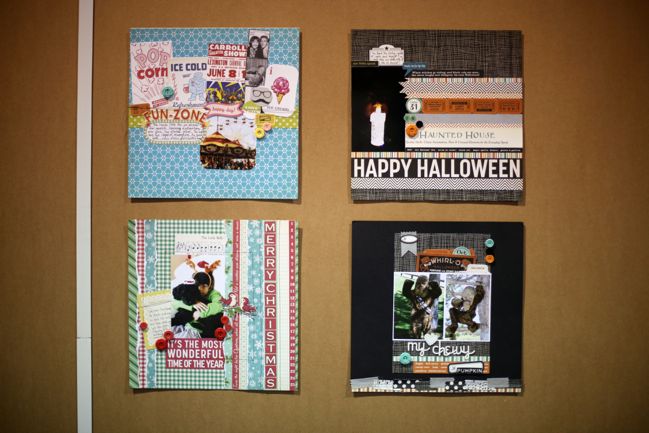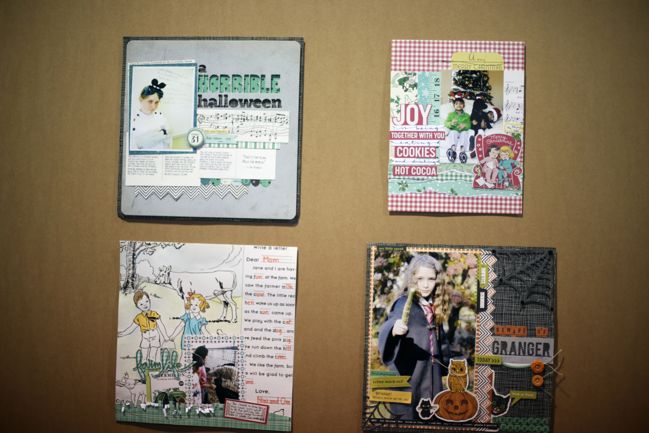 Greeted by some of these gorgeous layouts, I venture that's a yes!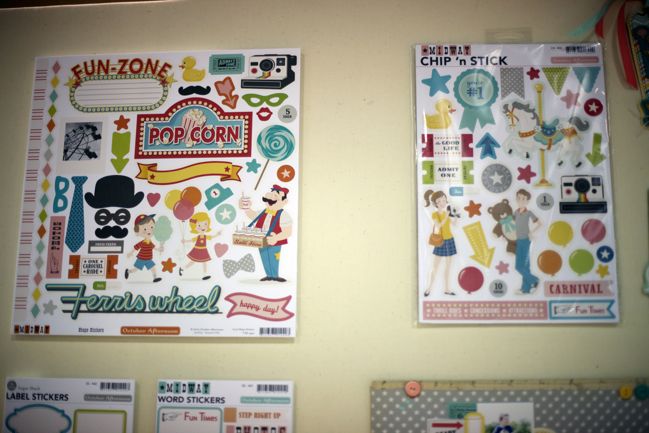 October Afternoon debuted four new releases: Midway and Witch Hazel scheduled to ship in late summer; Make it Merry and Farm Girl scheduled for the end of September.
And yes: Midway includes stickers and chipboard versions of a rainbow-trimmed Polaroid camera. Indeed.

Bright shades but true to the October Afternoon look of bright meets vintage. They have stayed with tried and true products that work for so many scrappers, like the label and word stickers.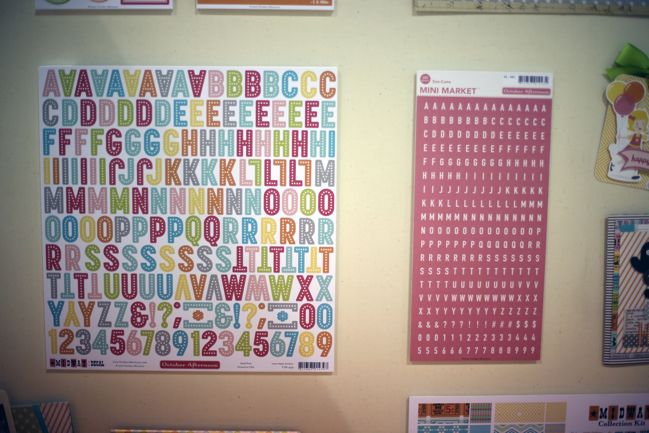 I am joyous at the addition of a great hot pink shade in the Mini Market letter stickers.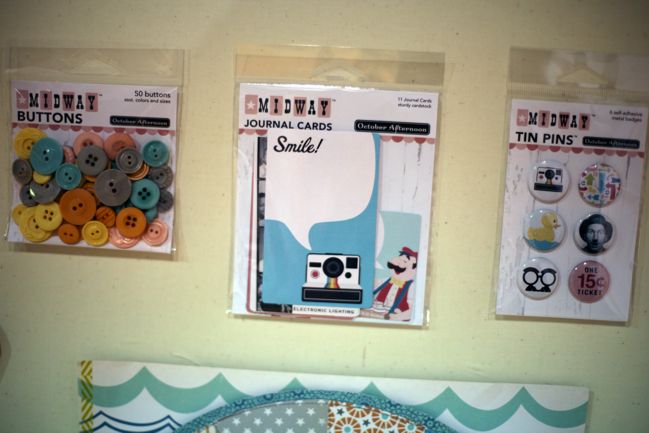 All the Midway designs are cute, but hands up: who is seriously considering buying the journaling cards and the tin pins purely based on the camera? Surely I am not alone? Maybe I will have to challenge myself to find the perfect page for all the others, but that design is certainly my favourite.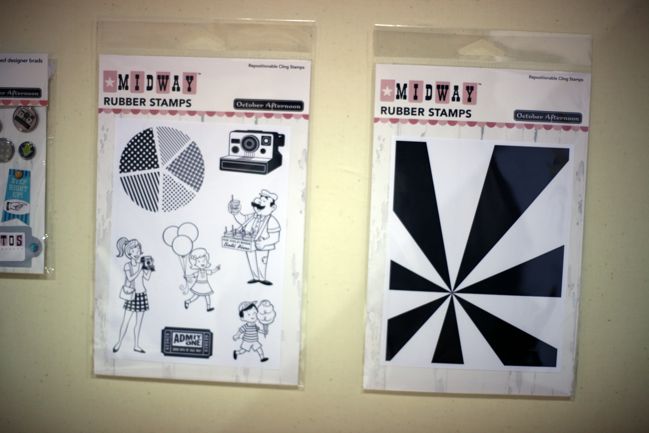 Two stamp sets – one with multiple designs and one large background image. Pie-charts and starburst shapes are definitely popular at this show.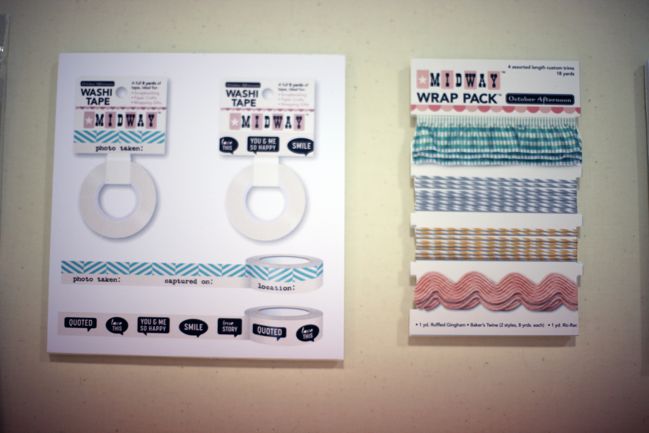 Love this washi! The top option is like the green date tape from 9 to 5 but with a variety in the wording and a brighter tone to the colour. The bottom option is just crazily cute. I can't stand word bubble stickers on their own and yet I am remarkably drawn to them on washi tape. Who knew?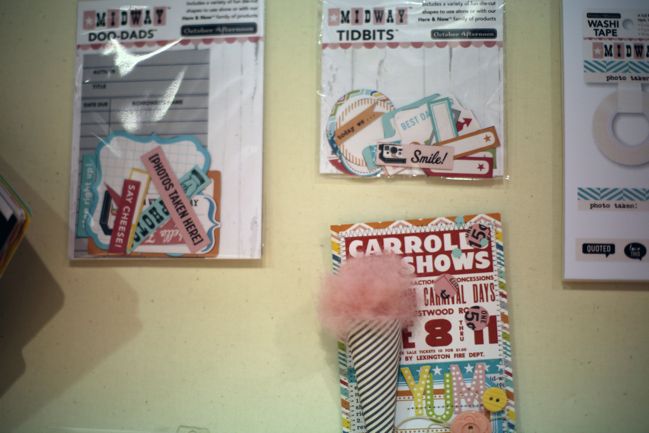 Lots of happy die-cuts. I really like that [photos taken here!] caption.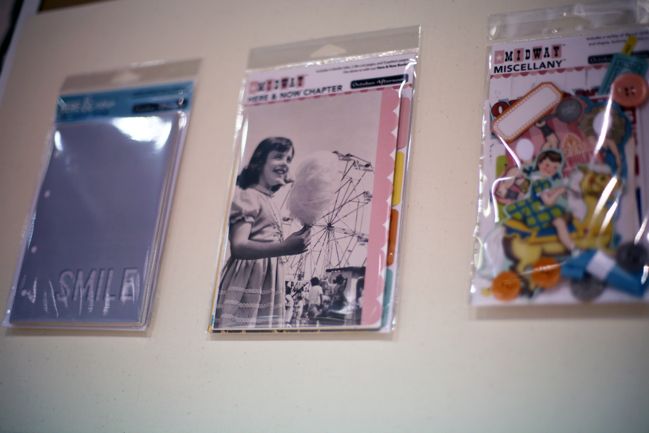 The minibook pieces for this range are photo-inspired with pretty vintage scenes (there are some non-photo patterns in the mix too).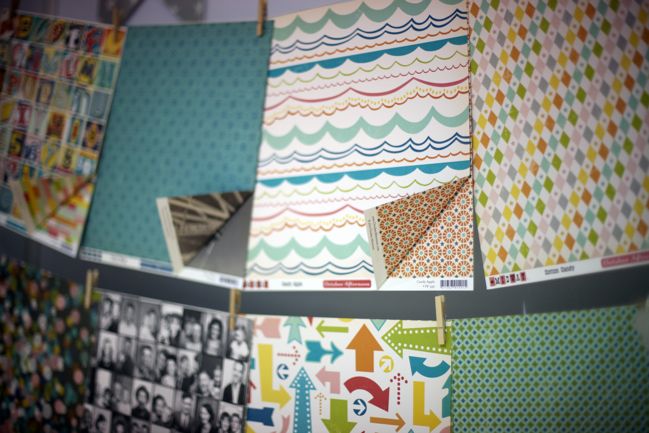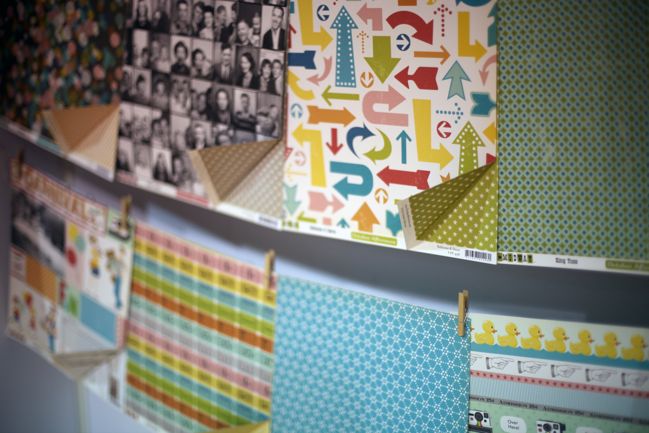 The papers are a great mix of bold, bright patterns that will challenge you to come up with something creative and small, repeating prints that are amongst the most versatile around. (There's a ferris wheel paper that might work with the same tactic that Glitter Girl is up to in her adventure later today, by the way.)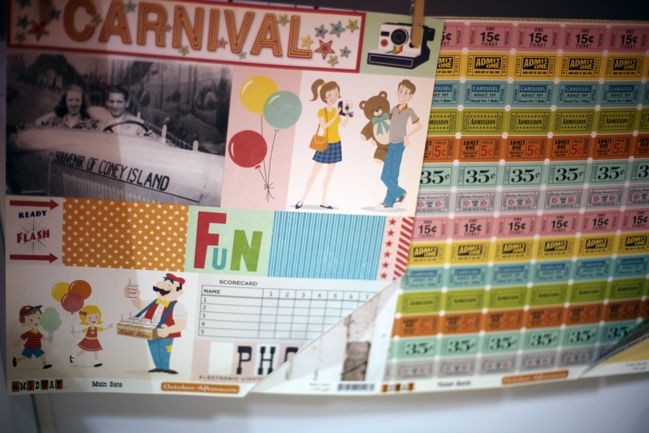 Cut-apart sheets are always a favourite for me – great for layering and embellishments without the added cost of dimensional stickers and such. So that's Midway!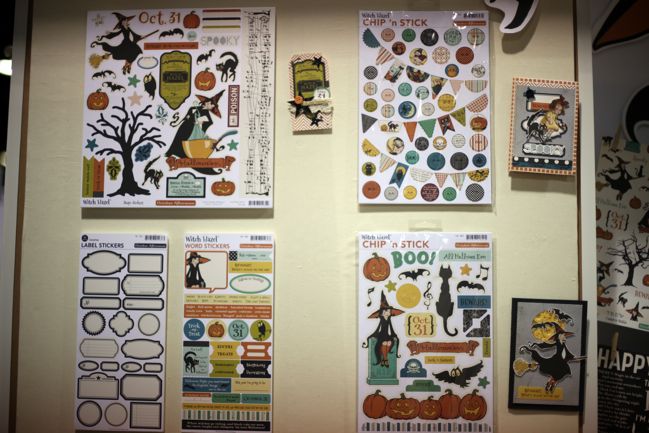 Witch Hazel is up next, for Halloween. The wonky sheet music pattern comes up a few times and it's an interesting Halloween twist I haven't seen elsewhere. The banners and buttons chipboard stickers would make a good choice for scrapping Halloween without young kids, while the other designs are more youthful. And check out what they did with the label sticker sheet: all in black! Definitely something for everyone, even if you have no plans to ever scrapbook Halloween.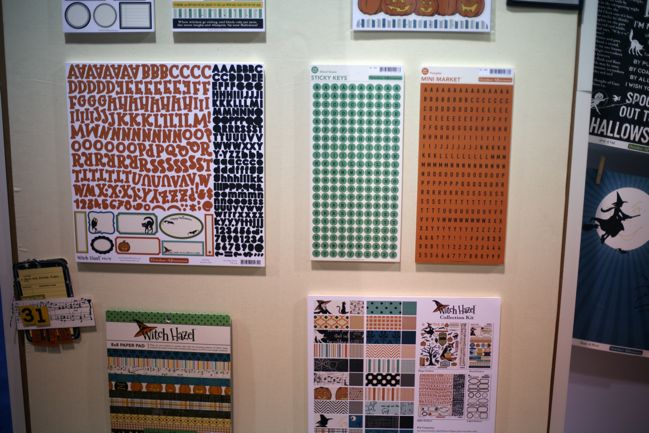 Halloween always brings out the twisty, Gothic-inspired fonts, and this one is new to the OA line-up. Plus the stand-by Sticky Keys and Mini Market letters in new Halloween-inspired colours.

Die-cut captions, with the cassette tape shape reading 'spooky mix', which made me giggle for reasons I really couldn't fathom, other than it doesn't take much to make me laugh.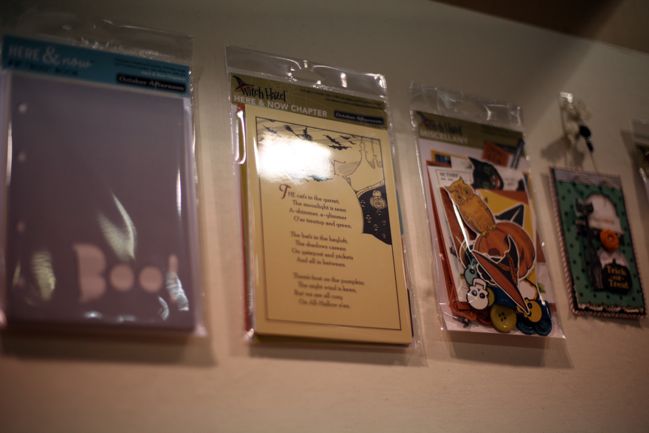 A storybook look to the minibook sheets and plenty of vintage Halloween art evidence in the miscellany.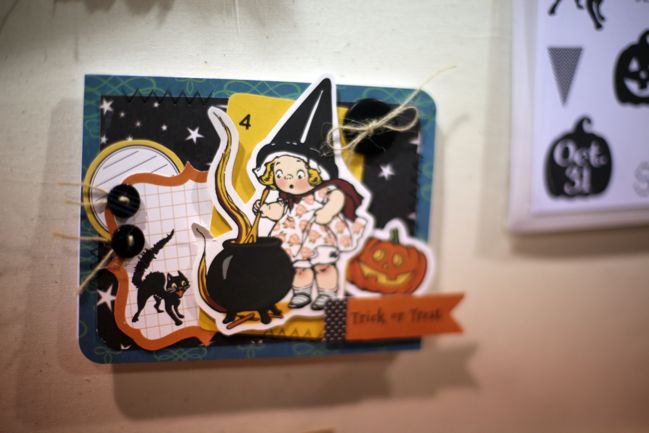 This makes me want to send Halloween cards this year! Have you ever sent Halloween cards? (Who am I kidding? I never finish the Christmas cards really.)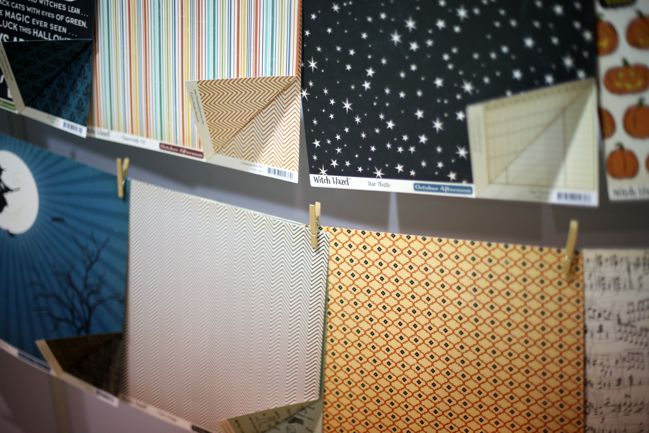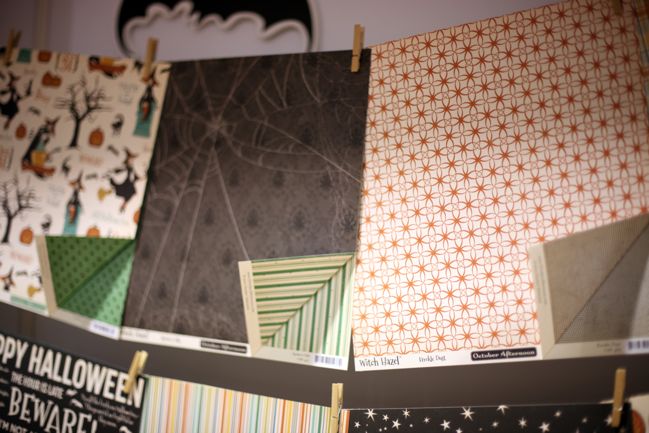 The papers are a mix of Halloween-specific and more versatile – plenty of stripes and chevrons and repeating patterns in there to balance the spider webs and scary trees. Don't overlook Witch Hazel if you're not all ghosts and goblins in October!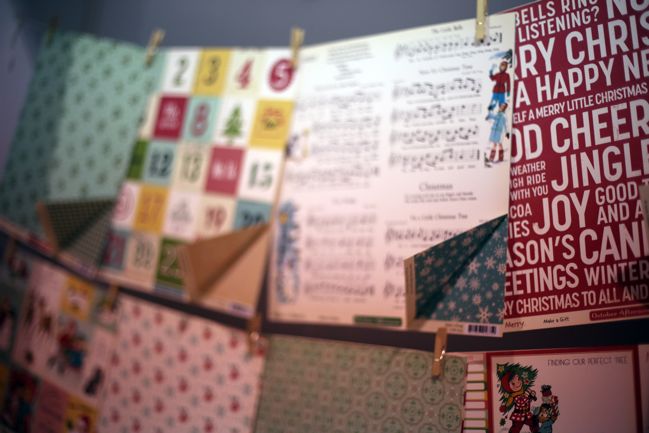 Then we move on to Christmas with Make it Merry. That large text print at the right? Remember that when we look through some more booths. Big letterpress-inspired text prints are big this Christmas.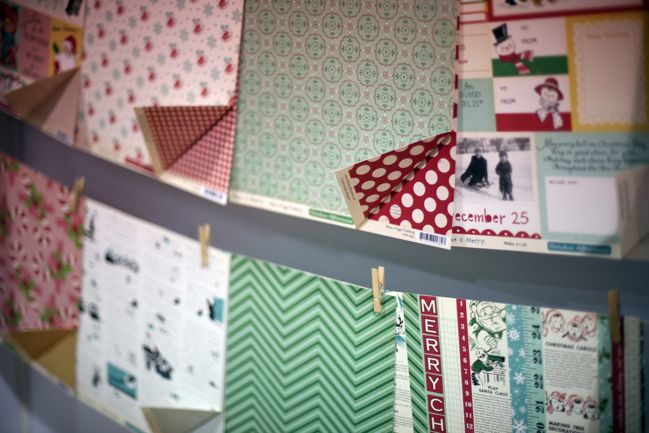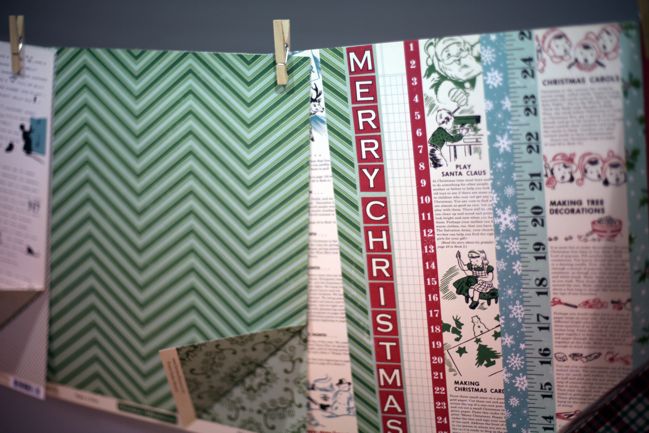 There's something about the border strip page that reminds me of Monopoly. And I love it.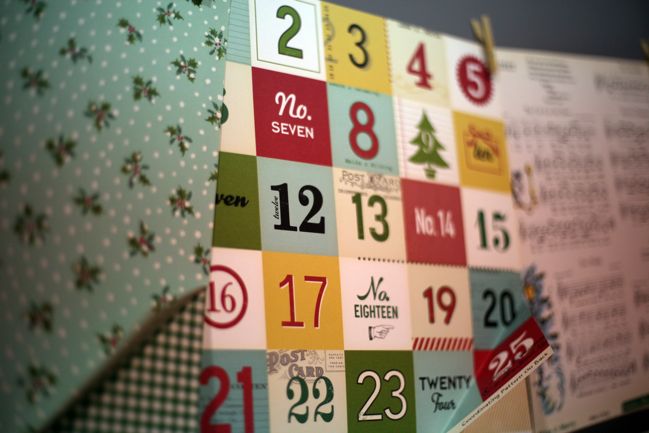 Everyone has Advent countdown numbers this year! These are lovely – variety in colour and pattern but continuity in size and shape.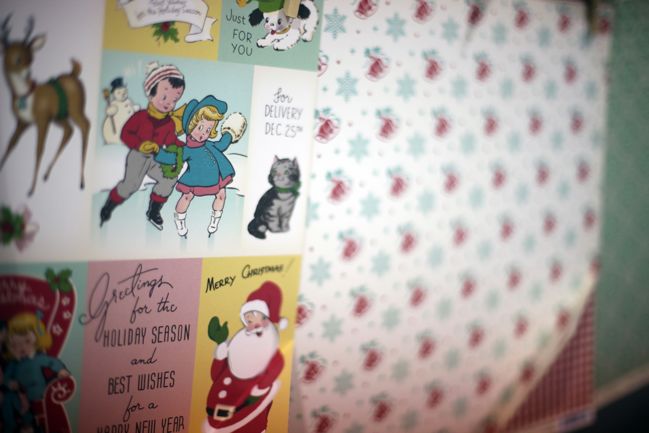 I love the vintage lettering style on the cut-apart sheet.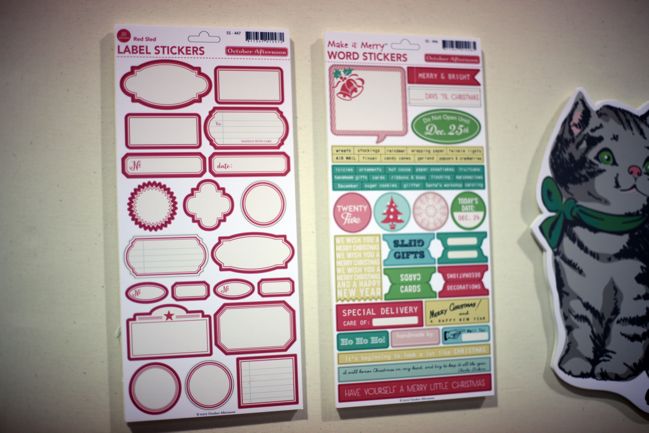 Again being clever with classic label stickers: all in red! I'll take six. At least.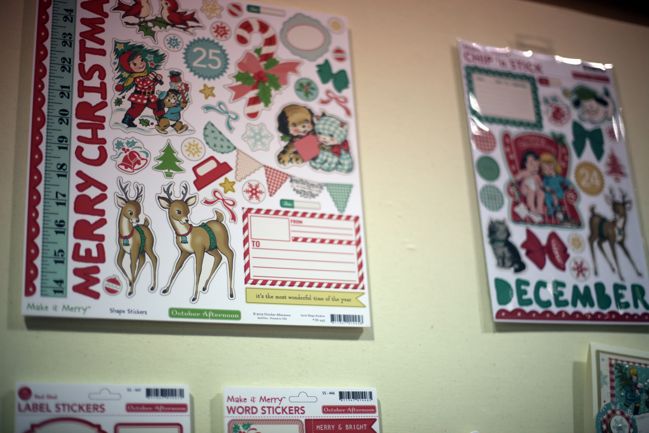 Like Witch Hazel, some of the pieces have grouped the more youthful designs together, which is handy for deciding whether each piece in the collection is right for you.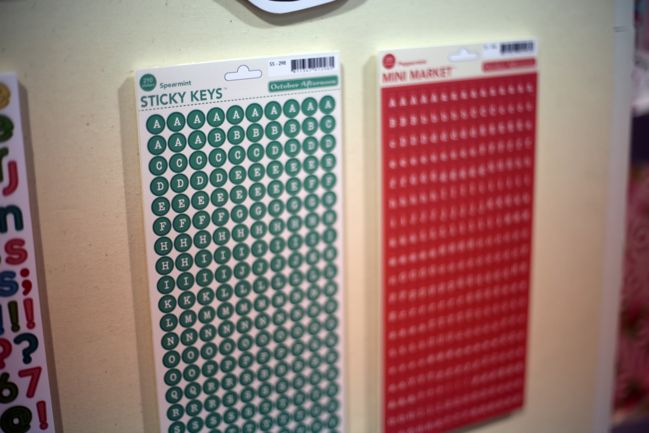 Classic small letter stickers in red and green. Perfect for small format albums at Christmastime, as well as full size scrapbook pages.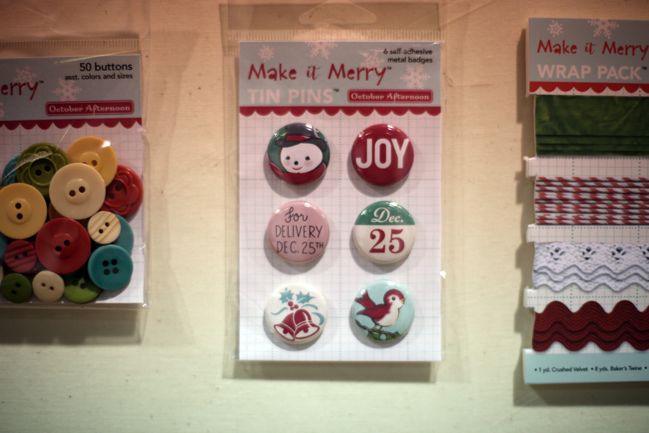 A mix of vintage and modern with the Tin Pins badge designs.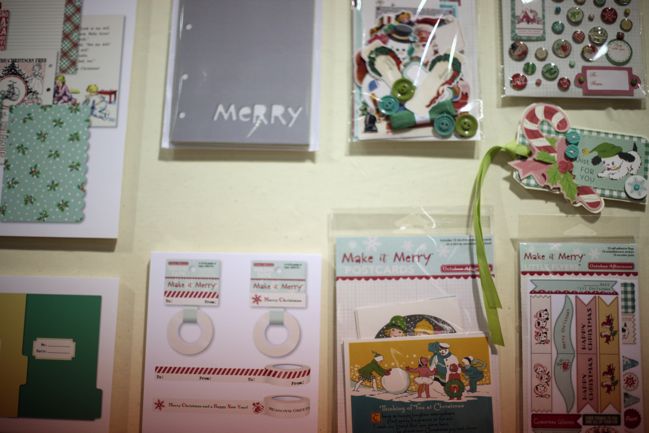 Plenty of happy embellishments, of course.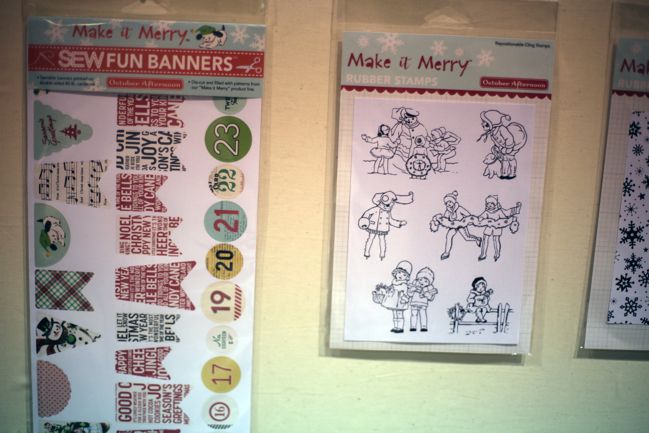 Stitched or stitchable banners are something popping up in a few places. First at American Crafts last year, now in the current collections at BasicGrey and here at October Afternoon (and a few others too). These are described as 'sewable' so I'm pretty sure they come as a punch apart sheet then you stitch them yourself. The Christmas version includes another countdown option, should you opt for Advent bunting.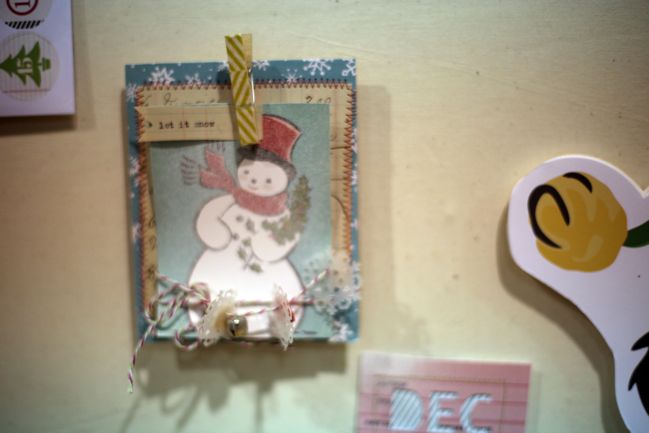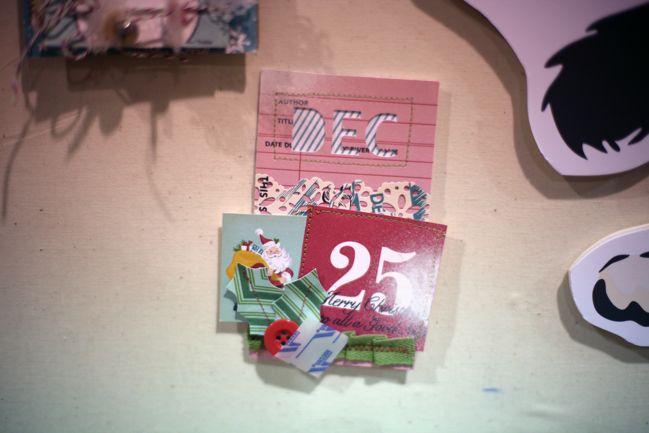 Tough to get great pictures of these two examples as the booth started to get crowded, but I just wanted to include them as two things really inspired me – the dimension from using the snowflake pieces in the banner on the first card and the snowy effect on both cards from an off-centred application of white mist. Great ideas to file away.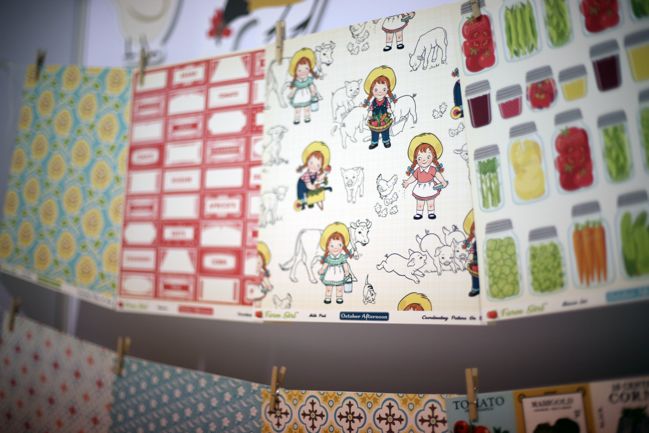 And finally, Farm Girl. The OA Farm Girl herself reminds me a bit of the Campbell Soup Kids from my youth. Of course, if my youth had been today, there would be a photo of the crazy stacking Campbell's soup bowls with faces… but alas I'm sure that image is just in my memory and not on film. I'm ashamed to say I just spent ten minutes trying to search for an example online because I'm sure it's one of those things that shows up in every antique mall in the midwest, but I've come up empty-handed. Shall we talk less of soup and more of scrapbooking? Oh yes.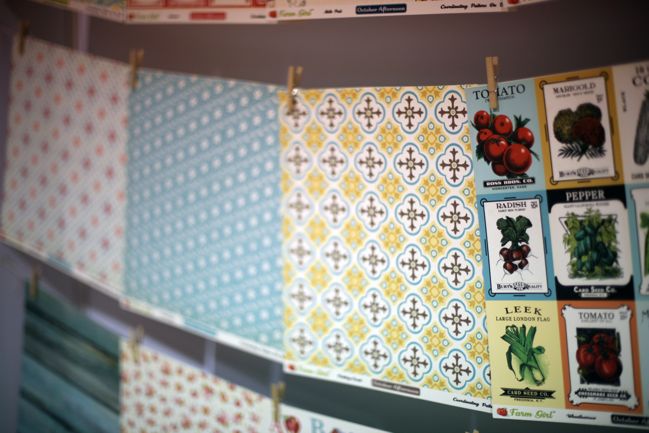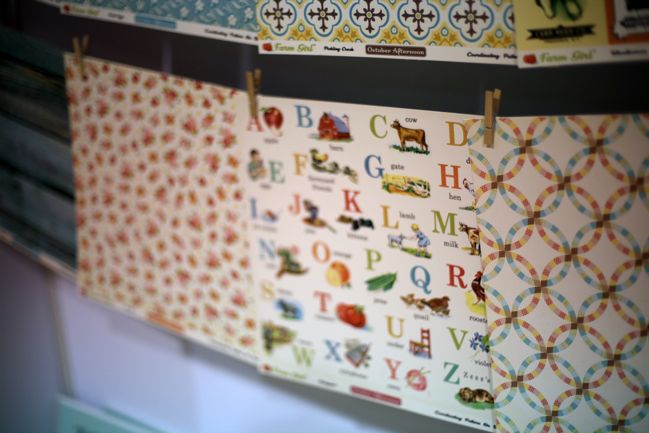 The papers bring out two things even this city girl likes: the yellow and blue combination and the potential in that wedding ring quilt pattern at the bottom right.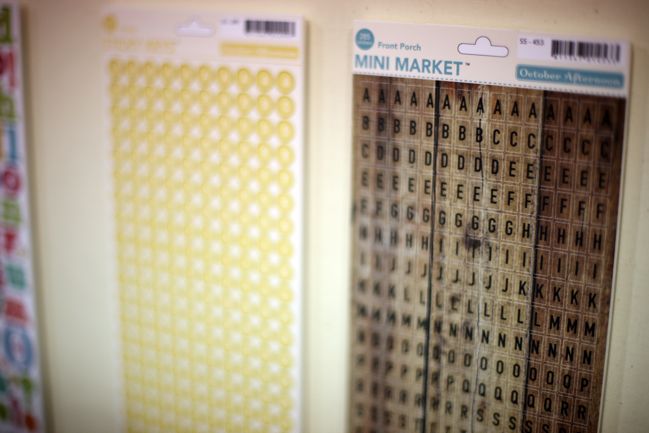 BUT WAIT! I mean I was excited about hot pink Mini Market letters. I have LEAPT WITH JOY over woodgrain Mini Market letters. Do you hear me, October Afternoon? LEAPT. WITH. JOY.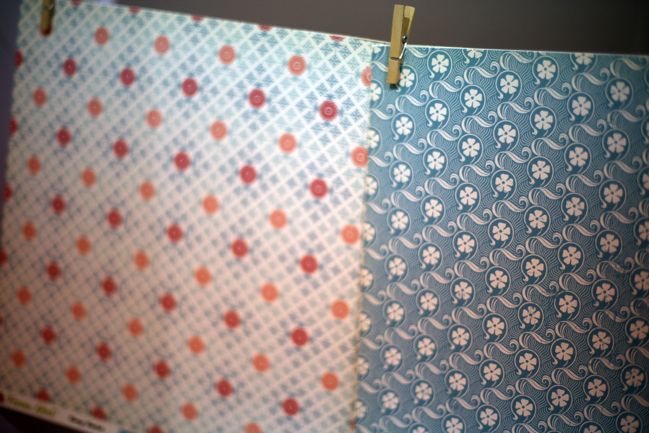 But speaking of those hot pink letters from Midway, I'd love to use them with these two blue patterns from Farm Girl. Note to self there.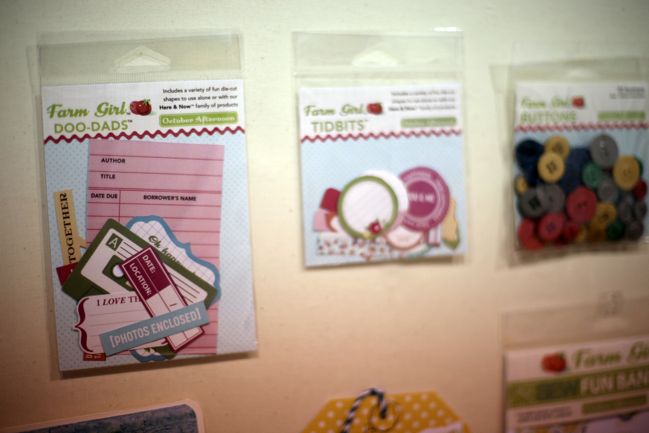 On to embellishments. The cassette tape does not say 'tractor mix' or 'combine harvester remix' but I'm thinking it might need to. Because living in London gives me many opportunities to scrapbook combine harvesters… but still. (Okay – it's blank and in a good colour: what I'm really saying is you can use it for anything and not just farm pictures. But seriously, someone scrapbook a combine harvester. Thanks.)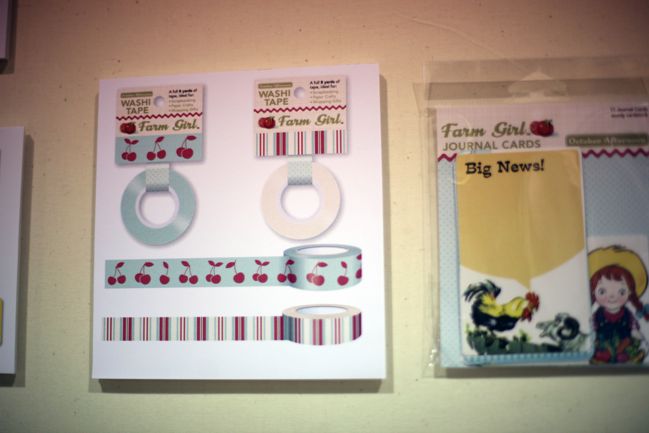 Stripes and cherries on the washi tape. Roosters with the power of speech on the journaling cards. All good things.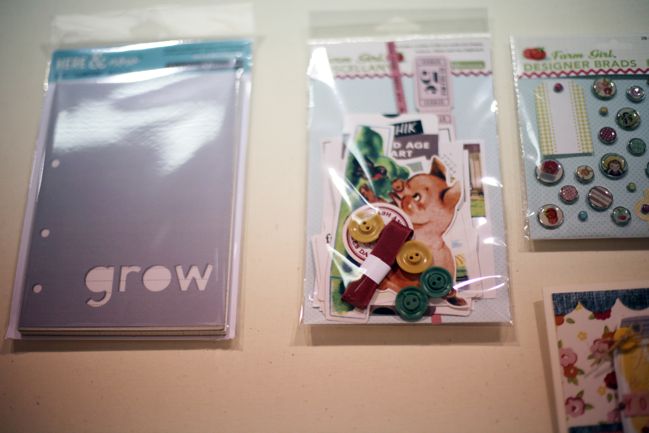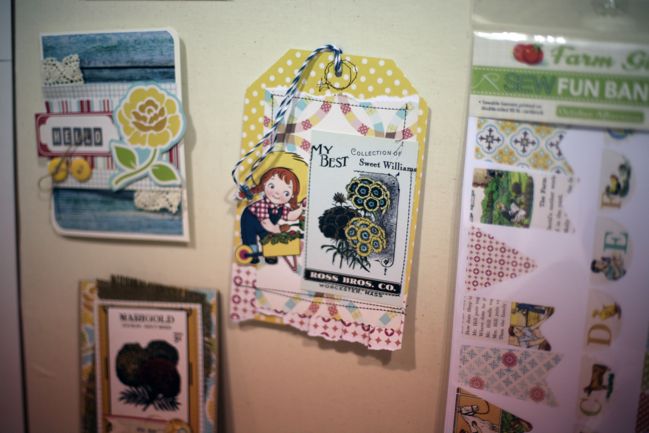 SewFun Banners in this collection too.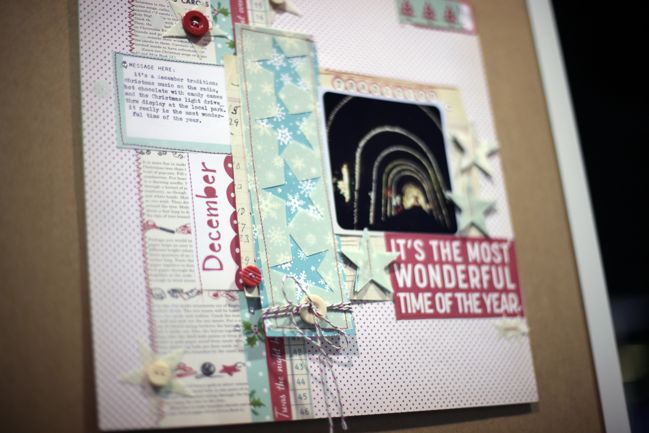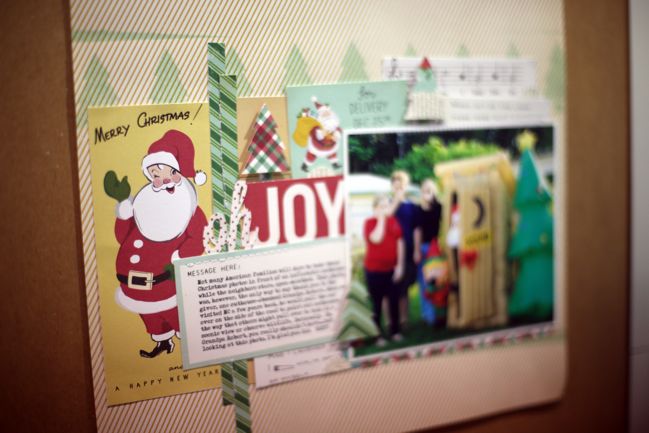 And two more gorgeous layouts as I exit. So pretty – absolutely loving that vellum star layering!
Does anything float your boat at October Afternoon? What made you LEAP WITH JOY, I ask?
Click here to shop for October Afternoon products.
xlovesx
PS: Looking for something? This might be it:



(Don't worry if that makes zero sense to you at all. It's a game and will make sense to those playing!)

Read more about:
18 July 2012

Next post: CHA Summer 2012 :: Echo Park
Previous post: CHA Summer 2012 :: Jenni Bowlin Studio