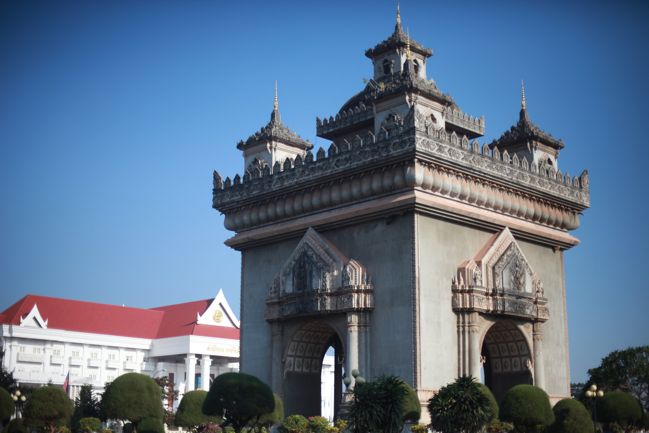 Just like that, we woke up one morning on the northeast border of Thailand and made our way to the Friendship Bridge. It looks like nothing more than the standard way to make a motorway cross a river, but the idea of a bridge of friendship, you have to be pretty cynical to not see some bit of sweetness in such a name. Cross the bridge, fill in some paperwork, present your passport and presto: welcome to Laos.
Everyone says you're crossing from Nong Khai to Vientiane, which is roughly true. True in the sense that those are the nearest towns, but you'll need a tuk-tuk to get you from the town of Nong Khai to the border, a bus to cross the bridge and your choice of tuk, taxi or another bus to take you from the border to Vientiane itself. After an hour or so comprised of tuk-tuk transportation, a bus piled with people and their chickens and a bit of an adventure in the back of a pick-up truck (something I have relatively little experience with, considering I grew up in Kansas), we are finally in Vientiane. And we have been taken to the road of our hotel, and our driver roughly points ahead and says it must be somewhere down there. 'This is the road but I no know that hotel.' Looking down a street that doesn't seem like it will end until it falls into the sea, we start walking, trying to figure out the numbering system in this particular locale.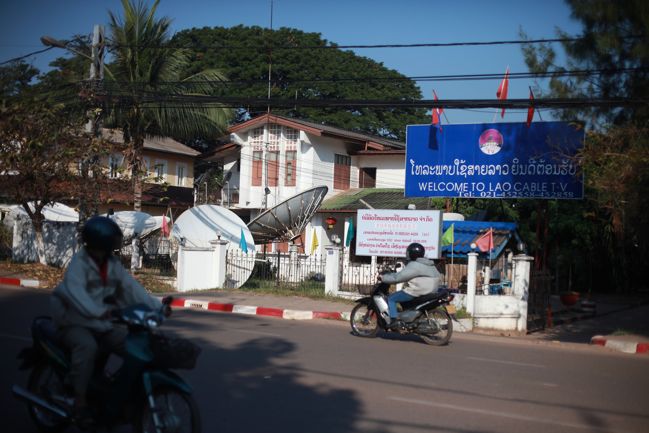 Laos Cable: A house with a bunch of satellite dishes in the front garden. Of course.
Oh, street numbering. Some towns are pure bliss, with odd numbers on one side and evens on the other, and everything ascending by one or five, so very simple to decipher. Alas, somewhere along the line, that system required forward planning. Not all towns have embraced such a radical idea. Other towns have numbered the buildings on a given street in the order they were built, regardless of their location on the road, meaning number 17 is quite possibly next to number 342 then followed by 57. Still other towns have more mystical numerical systems, with the owner of each property consulting a priest to find which number his house is destined to be, meaning that number 17 is quite possibly next to another number 17, since it's quite unlikely that the priest was keeping any sort of list of which numbers he had already allocated on any given road. And to think I once had a lengthy conversation trying to explain how if the street where I grew up only had about ten houses on each side, our house number could be in the 17000s. That system pales in comparison to auspicious apartment numbers, I tell you.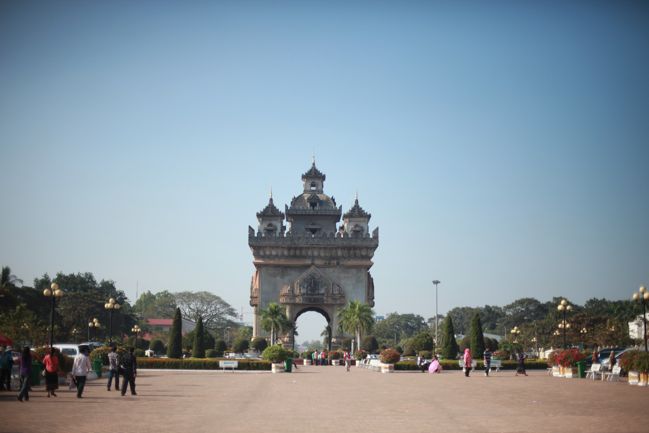 Anyway, we figure out the numbering of this street – or at least some pattern that seems to be working – and realise we have been walking the wrong direction. We should probably go in the opposite way to what we were told by the truck driver. Of course, when we do, we see the name of our hotel in gigantic lighted letters, high above anything else in our field of vision. Well, at least we are now sure we are not lost.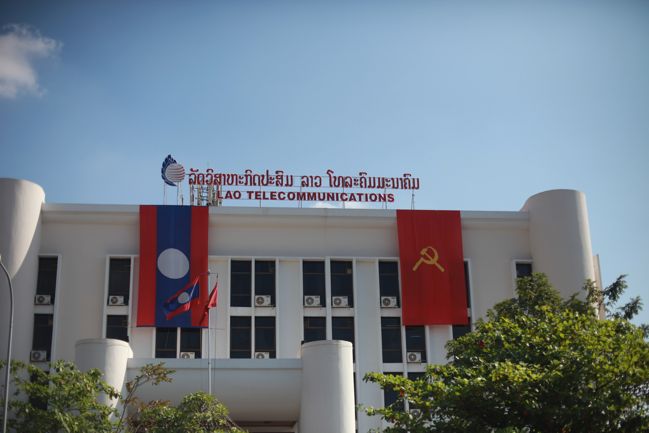 Vientiane is the capital city of Laos. The official buildings are mostly in a French colonial style, though the only other French influence that still seems evident is in the cooking (never a bad thing). This town has become to southeast Asia what Brussels is to Europe – so there are diplomats here and plenty of embassies and meeting halls and the occasional unbelievably expensive car, like a shiny Aston-Martin or Rolls Royce, rolling down the road with thirty year old sedans that really wish their upholstery was still made with something other than duct tape. Calling it Brussels makes it sound like a significantly sized place. It isn't. One can walk all of Vientiane in a day or two. Almost everyone seems to do this by bicycle, which might make it possible to see everything by lunchtime, perhaps. It's a bit like a capital town rather than a city, and that is quite sweet really.
But there are things here that are not sweet. Like the street we nicknamed 'Open Sewer Avenue', for the sidewalk is paved there, but every so often there's an entire section of paving missing and absolutely nothing – except the open sewer system – to catch you if you're not looking at the ground. I have to admit we quickly learned another way to get from A to B to bypass Open Sewer Avenue completely, and I would suggest anyone who wants to keep their head up do the same frankly.
Our overnight stop in Nong Khai was my introduction to backpacker lodging. The sort of place where everyone is friendly and happy to talk about their journey and doesn't really care where you come from or where you live. But also the sort of place where you need a flashlight to unlock the door to your room, where the mosquito netting is for practical reasons rather than to make your room feel aesthetically exotic and where the air-conditioned rooms are pretty much always available rather than being the first rooms to be booked. Oh, and when you check in? You don't give a check-out date. You just decide when you're going to leave and let them know that day, be it one night or ninety. It's a whole other world to Howard Johnson's, for sure.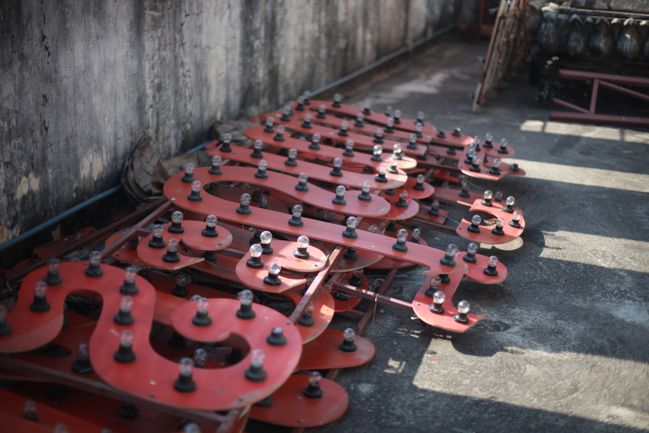 Between sleeper trains, backpacker central and all that communal transportation in the heat, I managed to hit my threshold of OH MY GOODNESS I AM NEARLY NOT HUMAN right about the time we checked into our hotel in Vientiane. A hotel with a perfumed lobby. And check out dates. And hot showers. A blow-dryer, a kettle and laundry service. It wasn't what anyone back home would define as a fancy hotel, but I was ready to rate it right up there with the Ritz. I do believe I danced with the hair-dryer like something out of a chick flick, celebrating the first time in a bit over a week that I had been able to do something somewhat respectable with my hair.
Wait. A bit over a week? Nine days into this trip and I'm already freaking out about the hairdryer? Goodness me, how am I going to make it to Argentina at this rate?
Taking a deep breath (and joyfully, it was a deep breath of steam from the hot shower!) I made some sort of decision: I will take what I can get when I can get it. And I will agree to just get over the rest. Exhale.
I resolve that it is okay to dance with the hairdryer when one appears, and spend the extra ten minutes constructing some hilariously inappropriate-for-backpacking hairdo as a result. I resolve that it is okay to indulge in the cheapest manicures I've ever seen when I find one and have time (so far, that has meant a £4 mani/pedi in Vientiane and a £1 manicure in a Saigon market). I resolve to not let it phase me when yet another backpacker asks me 'really, you're doing this trip in a dress?' and to not feel ashamed of the glory of a hot shower, the smallest bit of make up, chick lit to read on the bus, window shopping and the occasional pink cocktail.
At the same time, I accept these things will not be available every day. I accept the entire world does not share my need for pristine public toilets. I will learn to check my food for bugs before I dig in. I will not whine excessively about how my feet have more blisters than when I wore pointe shoes every day.* I will understand that sometimes you have to step just a tiny bit into the unknown in order to get anything from an adventure. Without the unknown, there is no adventure at all.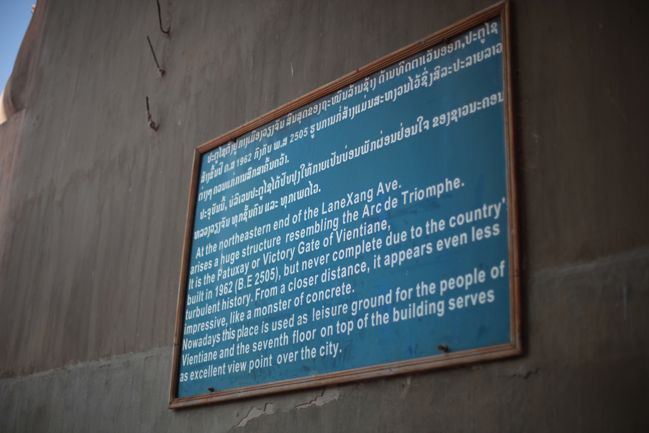 Vientiane is a small place. The most obvious tourist spot is a sort of Laotian Arc de Triumph that was never finished with a sign that describes it as a 'monster of concrete'. There's that, a few temples, a few government buildings, a pretty view of the Mekong and Open Sewer Avenue. It's nice enough, but not exactly the sort of place where you need to stay ages to get a feel for everything.
Just long enough to catch that deep breath. Then onto the next stop with an entirely new outlook.
xlovesx
*To those of you with a special concern for my health and well-being, I promise at the time of writing my feet are a bit blistered, but perfectly fine, I have only eaten bugs once that I know of and it ended up not being a problem (and The Boy has actually ordered bugs on purpose!), and I have mostly perfected a system to cope with scary toilets. Oh, and I have only had one pink cocktail too, actually. You can sleep without worry.

Read more about: travel i-will-scrapbook-this
13 January 2011

Next post: Five ideas with the Martha Stewart Butterfly Punch
Previous post: Scrapbooking Sketch of the week