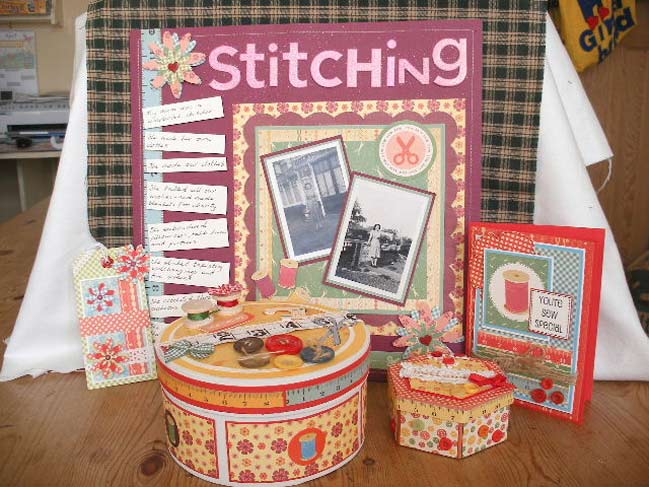 Today guest poster Jacky Scales has five ideas for you – from her favourite paper collection! And as an added bonus, the collection pack is on sale right now, in case it's not already in your stash! Take it away, Jacky.
Cosmo Cricket make so many gorgeous papers. I expect you have a favourite, but the slightly retro Material Girl range is probably mine. It's so versatile, but particularly perfect for making stitching related pages, cards and altered items.
Apart from the scrapbook page, all the items in this post have been made for a stitch-mad friend, so Material Girl allows them to complement each other perfectly.
All the papers used in the projects are from the Cosmo Cricket Material Girl collection, with the addition of Bazzill cardstock and a few extra embellishments.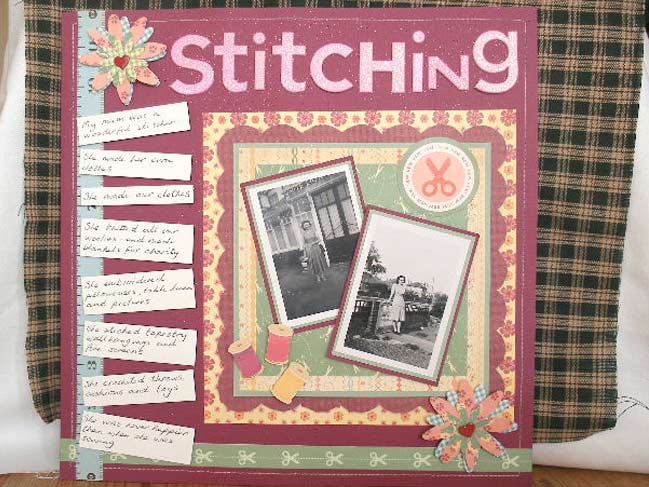 Dedicate a scrapbook page to someone 'sew' special
My mother was a dedicated stitcher, and this page using some original photos of her pays tribute to how this was a large part of her life. I've used a variety of different Material Girl papers, all layered on Bazzill card plus a glittery chipboard title, some Material Girl stickers and the flowers were die cut and punched out of all the little scraps!
Tip: Put the little pieces of paper to work in the details of your scrapbook pages!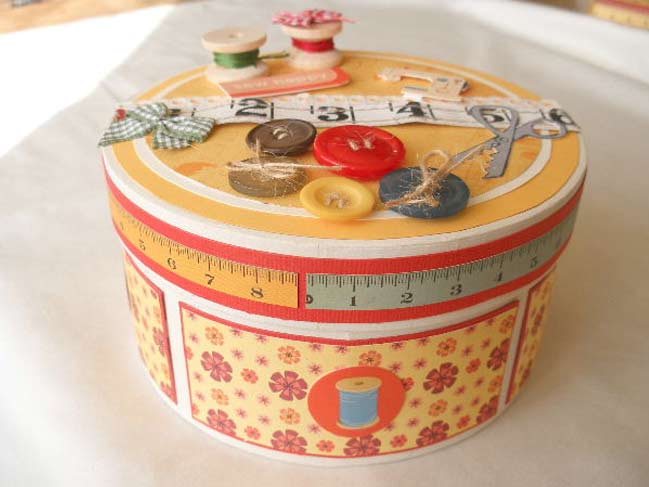 Alter a box for needles and threads
I wanted to alter a couple of boxes as a gift for a friend to keep some of her stitching bits in style. You can start with any colour or pattern of box then paint it white with acrylic paint. From there, card and patterned papers are layered around the outside. You can add paper inside to match too. The lid of the box had a variety of stitching related embellishments added: cotton reels, buttons, ribbon, lace, some Tim Holtz measuring tape plus some Material Girl stickers.
Tip: Use silicone glue to attach large items like wooden spools, especially with projects that will be used on a regular basis.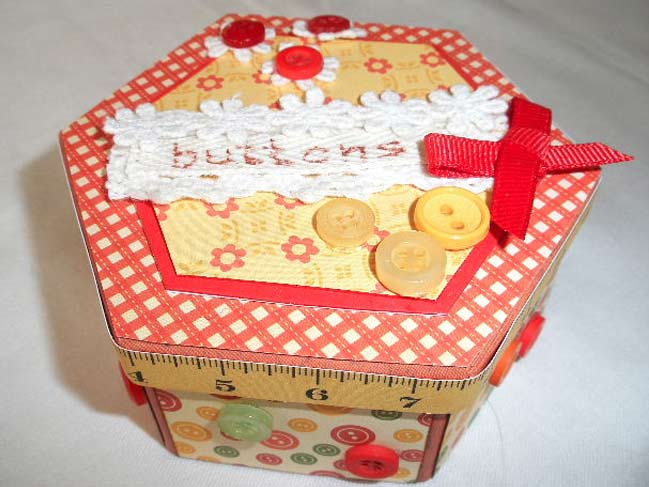 Then make a second box just for buttons
The same techniques work on boxes of varying shapes and sizes, and with a collection pack of papers you'll be able to make a set to coordinate. This hexagonal box is smaller and perfect for keeping buttons handy.
Tip: Use letter stamps on cotton twill tape for custom labels with a sewing theme.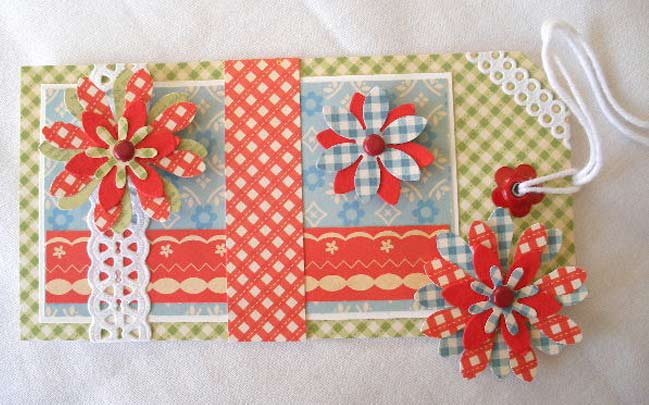 Dress up a gift tag
The final touch is a little tag to go with the gift. It's just a case of more layering, this time with lots of die cutting and punching to make the flowers. They are all held together with a brad. I also added some paper lace, and the red checked piece across the centre will have her name added to it.
Tip: Making gift tags with leftover papers from the project gives a little sneak peek to the recipient!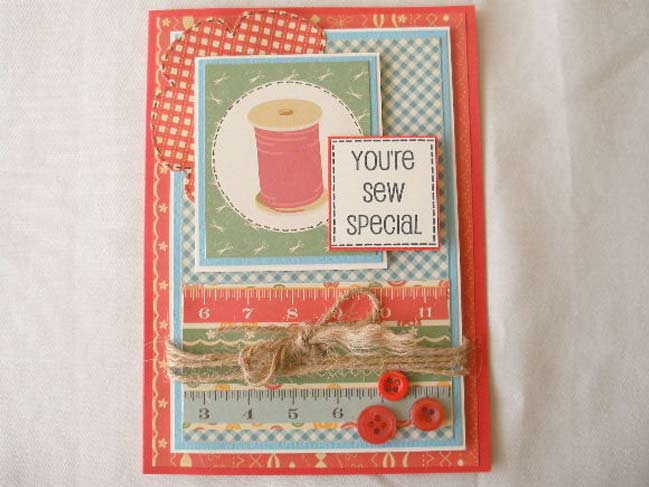 And a card to accompany it all!
Of course, I can't give them to her without a card, so I layered boxes of Material Girl patterned papers and topped with some twine and buttons, and the perfect sentiment courtesy of one of SJ's lovely downloads.
Tip: Print out digital scrapbooking elements and file them with patterned paper collections that fit the same theme.
---
| | |
| --- | --- |
| Jacky's day job is teaching a range of courses for parents, including both academic and creative courses. In her own time she is an avid papercrafter, as well as a dabbler in stitch crafts. You can read more about Jacky and her crafty work on her blog. | |

Read more about:
21 January 2011

Next post: Scrapbooking giveaway day
Previous post: Scrapbooking Sketch of the week