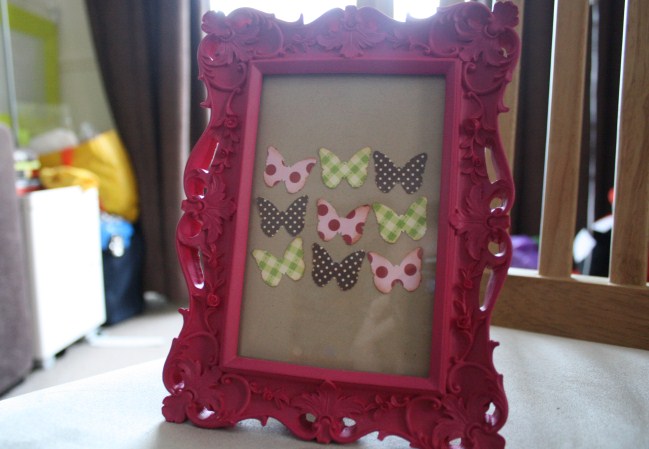 Today the lovely Leanne Inkpen is joining us for a guest post about one of my favourite scrapbooking tools: the butterfly punch! I love cropping with Leanne and her ideas never fail to inspire me, so I hope you love her creativity just as much! Take it away, Leanne!
So it might be kind of obvious when you look over my recent layouts that I love butterflies. Even my little man has butterflies on his page on a regular occurrence. The Martha Stewart butterfly punch is my go to embellishment. It works in so many ways and always works well. And seeing as I love to use my punch so much I thought it would be cool to see what else can be done with the punch rather than just adding to a page for a bit of interest – though this is still my fave thing to do!
Butterflies in a frame
First off a framed picture, you could use your favourite papers at the moment or ones which match your decor. I've stuck this straight done to a piece of kraft but if you have a shadow box frame this would look great with them stuck on 3-D foam. I only had a small frame at home but I think a larger frame would look amazing. This would also work with any other fave punch you have. I'm thinking of doing one for my son's room using stars instead of butterflies.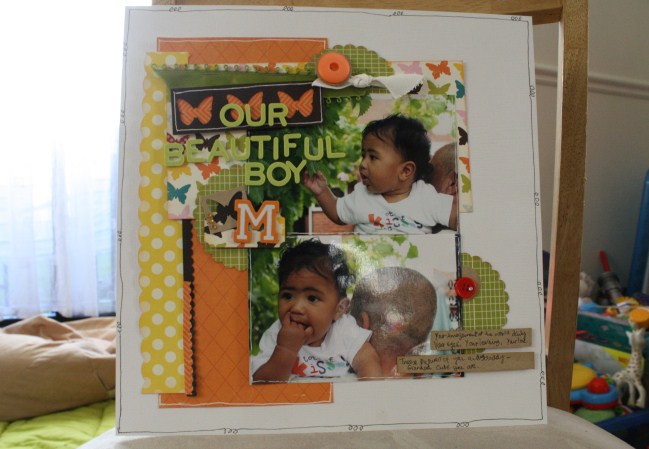 Use the negative
A layout using the punch in a slightly different way, instead of using the punched element I used the butterfly negative. I started off by punching a whole strip out of a 12×12 sheet of cardstock, which eventually got cut down to the strip of 3 used behind the title. I then chose patterned paper to sit behind the negative. I wanted this layout to be really bright, but the butterfly embellishment was not working when I tried bright cardstock as well. By using a darker tone really helped pull the layout together, and made the butterflies stand out.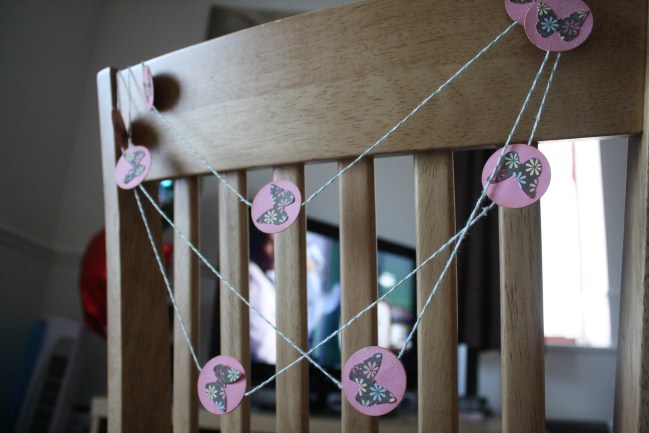 String a garland
Paper garlands are very on trend at the moment, and didn't go the whole way of getting the sewing machine out to make mine (anyone who knows me knows i have a slight fear of sewing machines, even though I dream of creating gorgeous fabric items for home). Instead I used some bakers twine and glued punched out circles back to back with punched butterflies on top. I then gave them a quick spritz of a Mister Huey. I think this is very pretty. Just got to decide where to hang it now.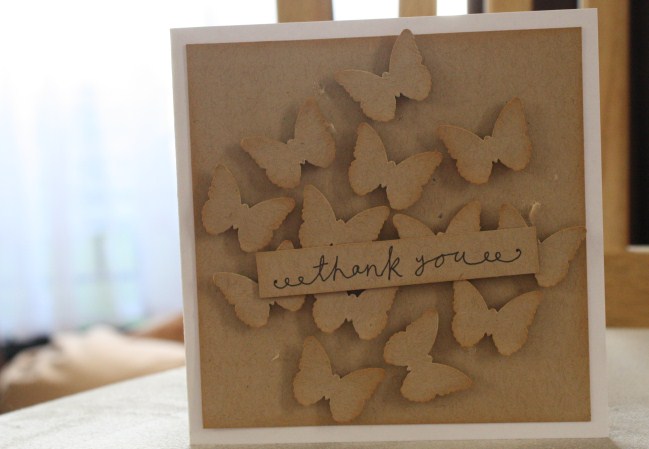 Tone-on-tone card
If you are like me and have in the past made the odd card here and there, people soon come to expect a handmade card. Because of this I have developed a quick but impressive design I can use and adapt. I actually made a similar card for Laura when she got married, and when I told her about my idea to write a guest post about the Martha Stewart punch, she suggested that I made another card like it. So here is a similar card! Extremely quick but looks fancy. I just punched kraft butterflies and attached them with foam squares onto a kraft background. I inked the edges using a distress ink in brown. I have in the past done white on white butterflies but inked in brighter colours. This card there is a 'flock' of butterflies (not sure this is the right terminology for them!) but you could do it more uniform like the frame if you prefer. I hand wrote a greeting again on kraft, but stamped or printed would work just as well.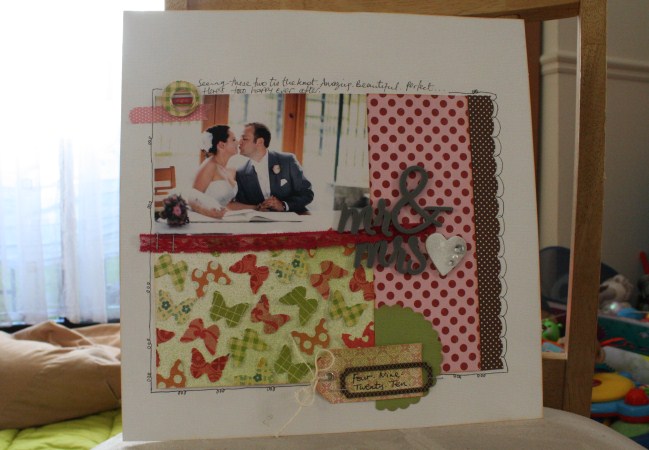 Design your own patterned paper
And finally. I am a recent user of mists and spray inks, but I am fast falling in love with them. What I loved about using them on this project as it unified all the patterned papers together. My initial idea for this page was to make my own patterned paper using punched butterflies, but I opted for a small panel instead of a whole sheet. This is great for using up scraps. I went through my scrap bag and pulled out papers that co ordinated. I punched out a load of butterflies and then glues them onto white card. After this, I sprayed them with the lime green maya road mist. I then trimmed the panel down to size. Make sure you stick your butterflies on a larger area than you intend to use, so that when you trim the panel you have that patterned paper look. If you don't have any mists, this would still look great without. I opted for pinks and greens as this was the colour theme for Laura's wedding.
I hope this has inspired you to think up new and exciting ways to use those punches rather than just for the added dimension.
And for those of you who love the Martha Stewart butterflies, you might want to check out her newest butterfly addition: the classic design in an anywhere punch format, so you can use it right in the middle of the page or anywhere else you would like!
---


Hi, My name is Leanne Inkpen and I am a paper addict. There you go I said it. I love scrapbooking and have been doing so for about five years. There are so many things I love about this hobby (paper being one of them!) Through it I have made some wonderful friends, have a great support network and mostly I love recording the memories and taking the photos. I have been with my boyfriend for nearly ten years and he just proposed! Happy Times. We also have a rather lovely little boy together which has really changed my approach to scrapping. I love looking back at my albums and pages, it really does bring the memories alive again.

You can read more about Leanne on her blog.






Read more about:
14 January 2011

Next post: Scrapbooking giveaway day
Previous post: Travel Notes from Vientiane, Laos