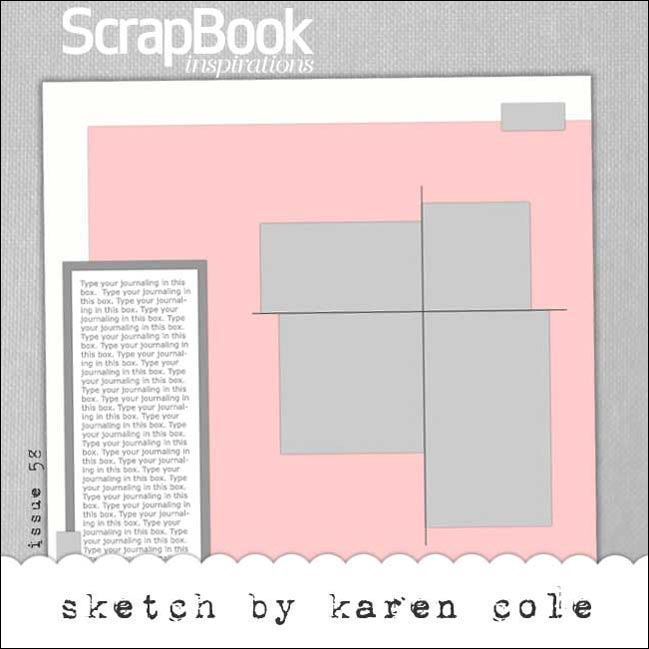 Click to download layered .psd template.
Every month, Scrapbook Inspirations includes a sketch and six corresponding scrapbook pages, but how about a little bit more? Karen Cole contributed the sketch in our October issue, and it's here today for you to download as a digital template or use as a starting point for a paper page.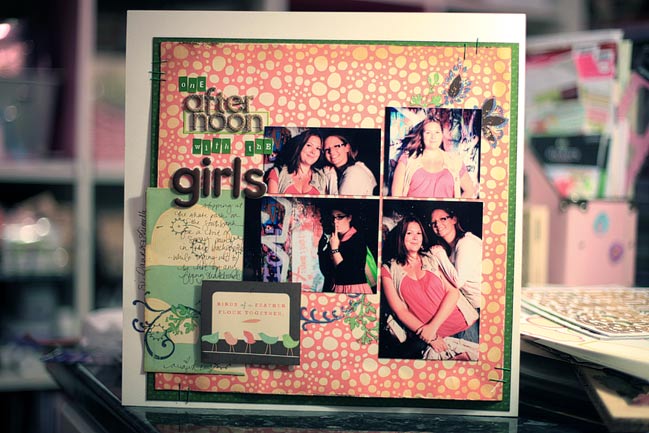 Supplies: Cosmo Cricket Earth Love patterned papers, My Little Shoebox Mini Alpha Stickers, Bazzill Basics Dotted Swiss cardstock, and letters from American Crafts and Basic Grey.
Here's my paper page derived from the sketch — with some Cosmo love, which I do believe has developed into a requirement for every page lately! Quite happily, I might add. Their papers always look so lovely.

Supplies: papers by Meredith Fenwick, Holly McCaig and The Queen of Quirk Worn Frames by Mary Ann Wise Hand-stamped alpha by Meredith Fenwick plus title alpha & flowers from Paislee Press/Audacious Designs collab kit and spatter brush set by Rhonna Farrer.
And a little something digital from the layered template — photos from the Japan Festival held in East London a few weeks back. Crowded but delicious fun.
(By the way, does anyone else suffer from a Juno-induced problem with Benihana? I can't walk by the place or hear it referenced without saying…either to myself or aloud..that the plan is to go to Benihana, then the prom, then Vijay's parents' cabin. Seriously, it's a problem. Thankfully I am easily distracted back again by Japanese food. Otherwise I will get really angry about Katrina Devorte, perhaps. And no one wants to see that. Wait. It's just me, isn't it? Rubbish. Back to scrapbooking now.)
You can also catch Karen's original layout and Rachel Ward's layout for more inspiration.
We're always looking for layouts that our readers create when they've been inspired by something in the magazine, like the sketch. If you tell us about them, you might even find your page on the SI blog or on the pages of the magazine. So it's your turn now: let's see what you do with this sketch. If you upload your page online, make sure to leave a link in the comments so we can find your page!
xlovesx

Read more about: scrapbook-inspirations-magazine free-digital-downloads
13 October 2009

Next post: 3 years of sketches for scrapbooking
Previous post: Wanted :: Your photography wishes